FUMBLE-FINGERED RESEARCH ABOUT ANTISEMITISM MEANDERS TO A CORRECT CONCLUSION
There is an academic paper
here
that has recently (August 2006) found publication in the
Journal of Conflict Resolution
-- a peacenik journal containing articles of very "uneven" (polite academic word) quality. I myself had
one article
published in the same journal years ago but that article was essentially a reply to an incredibly stupid article that had previously appeared in the journal.
The authors of the recent study (by Kaplan and Small) had available to them a large body of survey data that allowed them to show whether people with anti-Israel attitudes also had generally antisemitic attitudes. No prizes for guessing what they found. But, obviously, neither of the authors concerned has ever done a proper course in statistics. If they had they could have expressed their findings in both a more informative and vastly simpler way -- by a single correlation coefficient. Instead they have categorized their data in a variety of arbitrary ways and presented cross tabulations of it in a whole series of tables and figures that take a lot of brain-strain to decipher even for me -- and I used to teach statistics at university level.
Unfortunately, their report does leave open the conclusion that the underlying correlation coefficient between the two variables may in fact be rather weak. They certainly need to clarify that.
Note that the research concerned comes from Yale! Just another episode in the dumbing down of American education. When even
Harvard
has to give 20% of its freshman intake remedial courses in the "3rs", one wonders how low standards can go. Maybe we have to be thankful that Kaplan and Small can at least read and write.
**************************
THE POISONED FRUIT OF LEFTIST HATE SPEECH:
(Lifted from John Gibson)
How much hate is there for George Bush in the country today? A ton. Just look at the drubbing Rumsfeld took today at a Senate hearing. This was all about the war. Hillary Clinton had to bash Rummy - Bush's proxy for this war - even though she voted for the war and still supports it. But even a war supporter has to show he or she doesn't like Bush and his cohorts.
Then there is the new poll from Scripps Howard, the news chain. It shows that one-third of Americans now believe the U.S. government had something to do with the 9/11 attacks. This madness has long been afoot among the America haters in Europe and Canada and Arab nations. A best-selling book in France started it. Another in Germany contributed to this notion that the 9/11 attacks were not the work of Usama bin Laden, but instead it was George Bush. This notion has gained considerable currency despite the fact that bin Laden has admitted he did it.
Now they say, "Hey, the bin Laden tapes were faked." They also say the Twin Towers couldn't have been brought down by the two hijacked jets, that it must have been demolition explosives planted in the building by the U.S. government. They say the attack on the Pentagon was U.S. missiles, not American Flight 77.
You say, "Well, where is Flight 77? Where are the people that were on board?" I have personally interviewed every major purveyor of this garbage. None of them have an answer to the Flight 77 question - just more empty-headed questions that lead to truly sick conclusions that somehow Bush attacked his own country on 9/11. The truth is: People don't believe the 9/11 story because they hate George Bush and don't believe anything he says. If he says Usama did 9/11, they don't believe it. If he says the Twin Towers were felled by two hijacked jetliners, they don't believe it. If Bush says there were 19 hijackers and they took four airliners and crashed all four in the largest attack on American soil ever, they don't believe it.
So now we have one-third of the American people as blinded by hate as many Europeans and many Canadians and many Arabs. They're so blinded they cannot see or hear the hundreds if not thousands of experts who have told them exactly what happened on 9/11. Instead they rush to so-called evidence and so-called investigations that are much closer to alien spaceships than they are to observable and verifiable fact.
***************************
ELSEWHERE

Nobody seems to know who drew the above brilliantly accurate cartoon. Any ideas? It sure sums up what scum most Arabs seem to be.
There is an amusing example
here
of Leftist "debate". Prolonged abuse with hardly a shred of rational argument in it. The
egotistical motivation
that underlies so much Leftism is extremely evident, though.
British ID card in trouble
: "MPs attacked plans for identity cards as inconsistent and lacking clarity yesterday and called for a rethink of the technology to be used. The Commons Science and Technology Committee published a report expressing incredulity that the Home Office claimed to be able to produce firm estimates of the costs of running ID cards when fundamental technical decisions were still unclear. The Home Office has said that running costs would be 584 million pounds a year, whereas the London School of Economics, in a controversial report, has put the total costs of setting up and running ID cards at between 10.6 billion and 19.2 billion. The report called on the Government to disclose more information about how the scheme would operate, particularly the database on which personal details would eventually be held. The criticism comes after the admission by the Home Office last month that the introduction of identity cards as a voluntary measure was likely to be delayed past the target date of 2008 because of practical difficulties in implementing a scheme of that size".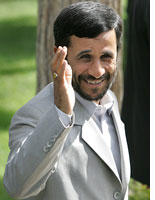 Thanks for the sanctions
: "A quick survey: We began our economic embargo against North Korea in 1950. We've had one against Cuba since 1962. We first applied economic sanctions to Iran during the hostage crisis in 1979 and are currently trying for international sanctions aimed at getting the government there to suspend uranium enrichment. We attached trade sanctions to Burma beginning in 1990 and froze the assets of Sudan beginning in 1997. President Bush ordered sanctions against Zimbabwe in 2003 and against Syria beginning in 2004. We have also led major international sanctions campaigns against regimes since brought down by force of arms: Milosevic's Yugoslavia, Saddam's Iraq, and Taliban Afghanistan. America's sanctions policy is largely consistent, and in a certain sense, admirable. By applying economic restraints, we label the most oppressive and dangerous governments in the world pariahs. We wash our hands of evil, declining to help despots finance their depredations, even at a cost to ourselves of some economic growth. We wincingly accept the collateral damage that falls on civilian populations in the nations we target. But as the above list of countries suggests, sanctions have one serious drawback. They don't work."
For more postings, see
TONGUE-TIED
,
EDUCATION WATCH
,
GREENIE WATCH
,
POLITICAL CORRECTNESS WATCH
,
GUN WATCH
,
SOCIALIZED MEDICINE
and
AUSTRALIAN POLITICS
. (Mirror sites
here
,
here
,
here
,
here
,
here
,
here
and
here
).
**************************
"All the worth which the human being possesses, all spiritual reality, he possesses only through the State." -- 19th century German philosopher Georg Wilhelm Friedrich Hegel. Hegel is the most influential philosopher of the Left -- inspiring Karl Marx, the American "Progressives" of the early 20th century and university socialists to this day.
The Big Lie of the late 20th century was that Nazism was Rightist. It was in fact
typical of the Leftism
of its day. It was only to the Right of Stalin's Communism. The very word "Nazi" is a German abbreviation for "National Socialist" (
Nationalsozialistisch
)
Comments? Email me
here
(Hotmail address).
If there are no recent posts here
blame Blogger.com and visit my
mirror site
here
or
here
. My Home Pages are
here
or
here
or
here
.
****************************