Communism and Nazism
Excerpt from a review of: 'Lenin, Stalin and Hitler: The Age of Social Catastrophe' by Robert Gellately. There is a longer review here. That the Hitler regime differed in being more popular is undoubted. Detailed background on the Hitler regime here
In their different ways they were as bad as each other, the three monsters of 20th-century Europe. That is an oddly controversial statement. Hitler is almost universally vilified; Lenin remains entombed on Red Square as Russia's most distinguished corpse; and modern Russia is looking more kindly on Stalin's memory.
Robert Gellately elegantly scrutinises their differences and highlights their similarities. He places all three men in the context of a Europe shattered by the first world war. "Before 1914 they were marginal figures," he writes, without "the slightest hope of entering political life." The whirlwind of destruction that started in 1914 turned their fantasies of racial purity and class dictatorship into reality, killing people on a scale unknown in human history.
Anyone who still believes in the myth-assiduously propagated by the Soviet Union and its admirers-of the "good Lenin" will find the book uncomfortable reading. The author outlines with exemplary clarity Lenin's cruelty, his illegal and brutal seizure of power, his glee in ordering executions, the institution of mass terror as a means of political control and the construction of the first camps in what later became the gulag. "Far from perverting or undermining Lenin's legacy, as is sometimes assumed, Stalin was Lenin's logical heir," he writes icily.
Mr Gellately busts another myth too: that Hitler seized power by fear and force. The combination of anti-Jewish and anti-Bolshevik rhetoric played well with the German public. People felt humiliated by defeat and impoverished by recession, and Hitler blamed "the Jews" for both. Hitler looked on Soviet methods with contempt. His model was what Mr Gellately calls "consensus dictatorship": cautious, sounding out public opinion and changing course when necessary. Unlike Stalin, Hitler did not make a habit of murdering his closest allies. The Nazi party never experienced the ritual purges that were a habitual feature of Soviet Communist Party life under Stalin. Hitler's adversaries were so demoralised by the seeming success of his regime that few offered systematic resistance. It was only as defeat loomed in the last months of the war that ordinary Germans had a taste of the official paranoia that had been their Soviet counterparts' daily fare for 25 years.
The argument about the origins of Nazism will run and run. But there is little danger of Germany rehabilitating Hitler, even in the driest and most academic corners of historical theory. In Russia, by contrast, Stalin's memory is being burnished. A new guide for history teachers describes Stalin as the Soviet Union's "most successful leader"; it admits that "political repression" took place, but says it "was used to mobilise not only rank-and-file citizens but also the ruling elite." President Vladimir Putin, welcoming this guide, compared Stalin's Great Terror of 1937 with the allied bombing of Hiroshima. It would be interesting to hear Mr Putin's tame historians debate the Stalin era with Mr Gellately.
Source
********************************
ELSEWHERE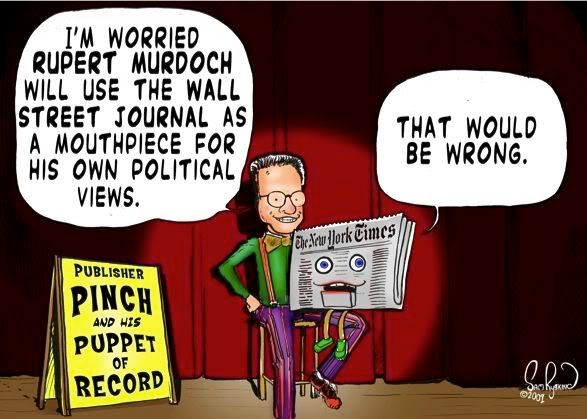 Some good sarcasm from Mark Steyn on the new NASA climate data
: "Four of America's Top 10 hottest years turn out to be from the 1930s, that notorious decade when we all drove around in huge SUVs with the air-conditioning on full-blast"
[The 1930s were of course the time of the Great Depression]
Misleading Reuters picture again
: "News agency Reuters has been forced to admit that footage it released last week purportedly showing Russian submersibles on the seabed of the North Pole actually came from the movie Titanic.... it has now emerged that the footage actually showed two Finnish-made Mir submersibles that were employed on location filming at the scene of the wreck of the RMS Titanic ship in the north Atlantic some 10 years ago. This footage was used in sequences in James Cameron's 1997 blockbuster about the 1912 disaster. The mistake was only revealed after a 13-year-old Finnish schoolboy contacted a local newspaper to tell them the images looked identical to those used in the movie.... The incident is doubly embarrassing for the agency since it follows a case in August last year in which it published an image by a freelancer of Israeli bombings in Lebanon that had been dramatised using photo manipulation, with the addition of smoke rising from allegedly burning buildings"
Liberals and the Gift that Keeps Taking
: "While we're on the subject, yet another reason why I am not a leftist is that it is an ideology that undermines true brotherly love, which is to say, caritas. It is astonishing to me that the Democrats are able to fraudulently depict themselves as the "party of compassion," when their central program involves half the population voting to force the other half to give it stuff. You can be in favor of that, but just don't call it "charitable" or "compassionate." Call it what it is: a form of misguided self-interest. It is misguided because, as Tom Nugent explains today on NRO -- repeat after me -- "tax revenues will fall -- not rise -- when an economy slowed by tax hikes produces lower tax revenues. In all of this, the little guy -- not the rich guy -- is the one who's going to get hurt...."
FDR has got a lot to answer for
: "When Europeans express anti-American sentiments, in my opinion, they are actually acting as loyal servants of the America that conquered them six decades ago. Of course, Europe was invaded by tanks, airplanes and infantry - not diplomats, educators and aid workers. But the America that won World War II was a one-party state that had no place for the Right, and it recreated Europe in its own image. The cold war between State and Defense, eggheads and jocks, blue-state and red-state, broke out only after the shooting had stopped."
[For more on the "Progressive" dominance of pre-WWII America, see here]
Dress standards still alive in British horseracing
: "Don't come to Glorious Goodwood if you're a "chav". That's the supposed message from the Earl of March, heir to the Goodwood Estate, if you fancy attending the Flat season's most varied and joyful meeting this week. At least, that's how I would currently describe it. Comments like that risk sucking out all the fun. These five days celebrate Flat racing in all its guises against the country's most beautiful racecourse backdrop. More relaxed than Royal Ascot, it nonetheless retains an effortless sense of occasion. It's also a microcosm of British society enjoying itself at whatever level of expense they choose. So it's disappointing that the Earl hankers after a more rigorous dress code. Although he insists he did not use the word "chav", he does seem to have pretty fixed ideas on how best to dress. "I won't be asking that visitors wear morning coats but I would like to see the ladies in nice traditional English summer frocks, with linen suits and Panama hats for the gentlemen," he was quoted as saying."
[In Britain, a "chav" is a flashily dressed working-class person -- generally considered to be stupid]
Some of our best people are in the military
: "I spent a week in Iraq recently, and here's what impressed me most: the Americans. In particular, the quality and character of the American soldiers and Marines who are fighting there and trying to help rebuild the nation. I don't mean to slight, in some ethnocentric way, the steadfastness and courage of the Iraqi people. But it was meeting and watching the American soldiers at work that I found most interesting.... the soldiers who have done well in Iraq will be major figures in American life for the next couple of decades. These men and women are no less suited to national leadership than are entrepreneurs, lawyers or local community leaders. In fact, they've had to show more courage, they've had to operate in a more fluid and volatile environment--and they've risked their lives for their country".
For more postings from me, see
TONGUE-TIED
,
EDUCATION WATCH INTERNATIONAL
,
GREENIE WATCH
,
POLITICAL CORRECTNESS WATCH
,
GUN WATCH
,
SOCIALIZED MEDICINE
,
FOOD & HEALTH SKEPTIC
,
AUSTRALIAN POLITICS
,
IMMIGRATION WATCH INTERNATIONAL
and
EYE ON BRITAIN
.
List of backup or "mirror" sites
here
or
here
-- for readers in China or for everyone when blogspot is "down" or failing to update. Email me
here
(Hotmail address). My Home Pages are
here
or
here
or
here
****************************
"Why should the German be interested in the liberation of the Jew, if the Jew is not interested in the liberation of the German?... We recognize in Judaism, therefore, a general anti-social element of the present time... In the final analysis, the emancipation of the Jews is the emancipation of mankind from Judaism.... Indeed, in North America, the practical domination of Judaism over the Christian world has achieved as its unambiguous and normal expression that the preaching of the Gospel itself and the Christian ministry have become articles of trade... Money is the jealous god of Israel, in face of which no other god may exist". Who said that? Hitler? No. It was
Karl Marx
. See also
here
and
here
and
here
.
The Big Lie of the late 20th century was that Nazism was Rightist. It was in fact
typical of the Leftism
of its day. It was only to the Right of Stalin's Communism. The very word "Nazi" is a German abbreviation for "National Socialist" (
Nationalsozialistisch
) and the full name of Hitler's political party (translated) was "The National Socialist German Workers' Party".
****************************