Leftists worldwide are moving Right -- except in America
The excerpt below comments on European developments but it perhaps even more so in Australia -- where the Leftist leader (Rudd) sounds very conservative indeed on most issues. He even seems to be a genuine Christian
In Europe, reforms are in vogue. Though many special interests are fiercely resisting change, it is striking to see just how many European Social Democrats have come to recognize the need for structural reforms to welfare states.
Witness Gerhard Schroeder, the center-left former chancellor of Germany: in 2003, he called for a "change of mentality" in his own party, the SPD, as well as in German society as a whole. "Much will have to be changed to keep our welfare and social security at least at its current level," he added, as he argued in favor of reforms that would trim entitlements, and cut taxes. The chairman of the SPD, Franz Muentefering, supported Mr. Schroeder by saying that "we believe that things must be rearranged and restarted in Germany in this decade." Not long thereafter, Mr., Schroeder took the lead in making German labor laws more flexible.
In France, Socialist former prime minister Lionel Jospin shocked the left several years ago: When asked on TV what he was going to do to help laid-off factory workers beyond the public assistance already on the books, he said that "the state cannot do everything." It was not so much the truth of the statement that came as a shock; it was that a leader of the French left would say it so candidly. Throughout his tenure, Mr. Jospin privatized numerous state-owned companies, including Air France, even as he criticized capitalism.
Labour former British prime minister Tony Blair became famous for his "Third Way" philosophy, which he said moved "beyond an old left preoccupied by state control, high taxation and producer interests."
And in Italy, on July 20, center-left prime minister Romano Prodi announced a deal raising the retirement age to 61 from 57. Though the deal was a somewhat watered-down version of the pension reform plan originally passed by his center-right predecessor, Silvio Berlusconi, it shows that the Italian left is aware that structural reforms are urgently needed.
Source
***************************
ELSEWHERE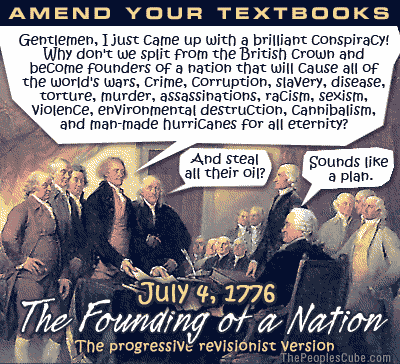 Rushbo liked the above rendition of American "liberal" thinking.
There's a post
here
showing the complete empty-headedness of Andrew Sullivan.
Leftist Boris Reznick wakes up to Cesar Chavez
: "Like so many other Americans, I cheered Hugo Chavez' early work to restore dignity to the people of Venezuela. I chuckled when I listened to Chavez express many of the same opinions of president Bush as many Americans have. I was deeply engaged when Mr. Chavez talked about education and health improvements and put the resources into programs to do so.... Today, to see the end of criticism, the end of the legislative progress, in fact the entire process of democratic give and take makes me feel like a fool for believing Hugo Chavez would be any different than any other leader. Hugo Chavez may have been a socialist democrat at one time ... but he has become a nothing more than the egocentric dictator Aleksander Boyd warned me about. God help the people of Venezuela."
The world's least favourite airline
: "British Airways has been named as the worst performing of all Europe's major airlines, with its passengers more likely to face delays than those on any other airline. Between April and June, 35.7 per cent of short or medium haul flights did not arrive on time and 32.7 per cent were delayed on departure, according to a report by the Association of European Airlines (AEA). The airline's performance on long haul flights was even worse with 44 per cent of these arriving late and 36.6 per cent departing later than scheduled. The figures come after BA was fined almost 270 million pounds ($646m) for price fixing after colluding over fuel surcharges with Virgin Atlantic. AEA said that for every 1000 passengers travelling in the three months between April and June, an average of 28 bags were delayed on BA flights compared with around three bags for every 1000 Air Malta travellers"
Defeatism defeated?
: "If victory in Iraq was oversold at the outset, there are now signs that defeat is likewise being oversold today. One of the earliest signs of this was that Senate Majority Leader Harry Reid has said that he could not wait for General David Petraeus' September report on conditions in Iraq but tried to get an immediate Congressional mandate to pull the troops out. Having waited for years, why could he not wait until September for the report by the general who is actually on the ground in Iraq every day? Why was it necessary for politicians in Washington to declare the troop surge a failure from 8,000 miles away? The most obvious answer is that Senator Reid feared that the surge would turn out not to be a failure -- and the Democrats had bet everything, including their chances in the 2008 elections, on an American defeat in Iraq. Senator Reid had to pre-empt defeat before General Petraeus could report progress. The Majority Leader's failure to get the Senate to do that suggests that not enough others were convinced that declaring failure now was the right political strategy."
The empty vessel now wants to invade Pakistan!
: "Democratic presidential candidate Barack Obama issued a pointed warning Wednesday to Pakistani President Pervez Musharraf by saying, as president, he would be prepared to order U.S. troops into that country unilaterally if it failed to act on its own against Islamic extremists. In his most comprehensive statement on terrorism, the Illinois senator said the Iraq war has left the U.S. less safe than it was before the attacks of Sept. 11, 2001, and said he would seek to withdraw U.S. troops as president and shift the country's military focus to threats in Afghanistan and Pakistan".
Don't let them grind you down
: "An Italian politician whose party represents Christian values has been embroiled in a scandal involving two prostitutes, a hotel room, and a large amount of cocaine. Cosimo Mele, 50, a Christian Democrat UDC MP, was caught out when he had to call an ambulance to the hotel in Rome after one of the girls suffered breathing problems.... Mr. Mele said, "I did nothing other than go to dinner with a friend who introduced me to this girl. Since it was late, she came to bed with me. How many politicians go to bed with young girls?" He said he had nothing to do with the other girl who had "taken drugs or something else." She had felt ill, and he had called reception. He added: "So politicians in the UDC do not make love? Of course, I recognize Christian values. But what has that got to do with going with a prostitute? It is a personal matter. This affair has nothing to do with family values. I cannot be branded a bad father and a bad husband simply because after five or six days away from home, an occasion presented itself.""
[Having a mistress as well as a wife has a long history of acceptance in Italy]
For more postings from me, see
TONGUE-TIED
,
EDUCATION WATCH INTERNATIONAL
,
GREENIE WATCH
,
POLITICAL CORRECTNESS WATCH
,
GUN WATCH
,
SOCIALIZED MEDICINE
,
FOOD & HEALTH SKEPTIC
,
AUSTRALIAN POLITICS
,
IMMIGRATION WATCH INTERNATIONAL
and
EYE ON BRITAIN
.
List of backup or "mirror" sites
here
or
here
-- for readers in China or for everyone when blogspot is "down" or failing to update. Email me
here
(Hotmail address). My Home Pages are
here
or
here
or
here
****************************
"Why should the German be interested in the liberation of the Jew, if the Jew is not interested in the liberation of the German?... We recognize in Judaism, therefore, a general anti-social element of the present time... In the final analysis, the emancipation of the Jews is the emancipation of mankind from Judaism.... Indeed, in North America, the practical domination of Judaism over the Christian world has achieved as its unambiguous and normal expression that the preaching of the Gospel itself and the Christian ministry have become articles of trade... Money is the jealous god of Israel, in face of which no other god may exist". Who said that? Hitler? No. It was
Karl Marx
. See also
here
and
here
and
here
.
The Big Lie of the late 20th century was that Nazism was Rightist. It was in fact
typical of the Leftism
of its day. It was only to the Right of Stalin's Communism. The very word "Nazi" is a German abbreviation for "National Socialist" (
Nationalsozialistisch
) and the full name of Hitler's political party (translated) was "The National Socialist German Workers' Party".
****************************