Can anyone help? Arbitrary treatment of Polish immigrant
Below are two comments left on my IMMIGRATION WATCH blog that point to very poor treatment of a legal immigrant by the notoriously arbitrary U.S. immigration bureaucracy. I have a special feeling for the heroic people of Poland (How would YOU like to be the ham in the sandwich between Germany and Russia?) so I find this story quite upsetting. The comments can be found on this post
Debra Antoniak said on November 14, 2008
My husband, Robert Antoniak, came to the US legally. He made application for green card with his then wife, Christina. The marriage did not last and Rober and I were married Jan 2007. He has been a wonderful husband and father to my two children, one of which is severely disabled. His application for a permenant green card was denied in July 2008 based upon the opinion of a woman who appeared to be an immigrant herself. She told my husband off, took his green card and stamped "NO" on his folder. She would not allow him to speak (and he speaks perfect english) or to show her any of the documentation we had brought with us. In fact, she told me to sit "like a dog" and stay - I'm a US Citizen - I was born here.and I was shocked at how he and I were being treated. Now that she took his green card - he is unable to work. She told us we were to wait for a letter in the mail and that we could go before the Judge. It is now November and the letter has yet to arrive. My husband has been forced to leave the US and go back to Poland in an effort to find work to at least provide support to us. He left yesterday and I've been in tears. We love him so much. I'm trying to figure out why Poland is subject to obtaining a visa to enter? Perhaps I'm missing something? I sure hope that someone out there takes the time to fix this problem so I can have my husband back.
Debra Antoniak said on January 21, 2009
It is now January 20, 2009. My phone rings off the hook from bill collectors, they came and took Robert's truck and my car is next. I've had to make application for food stamps and any other welfare program I can find. Robert supported our family. Caring for my disabled daughter makes it impossible for me to find and keep a job. I'm trying to keep the mortgage payments up to date, but my money has run out. Robert is not fairing well in Poland either, so he can not send money back to us. It is middle of winter there and not much construction work going on. So, I mailed letters to every politition I could think of last week. No response yet, but I'm hopeful - I have nothing left but hope. I pray that someone with importance/influence will find and read our story. We love and miss you Robert.
*******************************
I've been trumped!
In
my recent onomastic post
I remarked that blacks and whites in America tend to give their children different names -- something that I imagine is well-known to almost every American. A reader has subsequently alerted me to what those hilarious villains at
The Onion
have to say about the matter:
*******************
ELSEWHERE
There is an amusing "translation" of Obama's inaugural speech
here
The inaugural speech
: "There were few truly memorable pieces of phraseology - no Kennedyesque, or Rooseveltian quotations for the ages. He laboured hard to echo the tone and cadence of his biggest campaign performances. And there was more than a hint of a self-conscious echo - distractingly - of the speeches of his hero and fellow Illinoisan, Abraham Lincoln. The language in particular sounded decidedly 19th century in parts - all those commands to "know" some or other intent of US policy, all those glancing biblical references. But it wasn't up to Lincoln's standards - which perhaps is asking too much. In fact, it may not have been really memorable at all. It's unlikely that most people will remember a phrase from it a few weeks from now, let alone a century. In fairness it was a speech more obviously measured to the practical enormity of the immediate challenges. It was directed at two audiences: a hopeful but anxious one at home, and an uncertain but hopeful one overseas."
A new era?
: "In his campaign and during the transition, Obama didn't have many kind words for the free market economy. In his speech, however, he did. `Its power to generate wealth and expand freedom is unmatched,' he declared. He praised `the risk takers, the doers, the makers of things.' Okay, Obama didn't get carried away about the joys of capitalism. He said the economy needs `the watchful eye' of government to keep it from spinning `out of control.' Still, as one who wondered if Obama understands why free markets are so important, I was mildly, though perhaps only momentarily, relieved. I suspect some Republicans were as well."
US Stocks slide in Dow average's worst Inauguration Day drop
: "U.S. stocks sank, sending the Dow Jones Industrial Average to its worst Inauguration Day decline, as speculation banks must raise more capital sent financial shares to an almost 14-year low. State Street Corp., the largest money manager for institutions, tumbled 59 percent after unrealized bond losses almost doubled. Wells Fargo & Co. and Bank of America Corp. slumped more than 23 percent on an analyst's prediction that they'll need to take steps to shore up their balance sheets. The Dow's 4 percent slide was the most on an Inauguration Day in the measure's 112-year history, according to data compiled by Bloomberg and the Stock Trader's Almanac."
That dress
: "There was fanfare, a bit of a stumble over the oath, a suitably inspiring speech, but for fashionistas the big question is: What about the dress? Michelle Obama made a bold choice for the inauguration of her husband with a a pale gold dress and matching coat by Cuban-American designer Isabel Toledo.
[You can't expect Nordic taste from a black, I guess. My personal reaction is that it looks like something the dog brought up. A sad comedown from the impeccable Laura Bush. Below is my favourite picture of a formally-dressed political lady. It is Vigdis Finnbogadottir, a former President of Iceland. Much more dignified and restrained]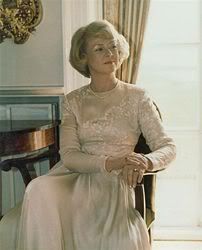 An Anglo-Saxon White House?
"The club that Barack Obama now joins has traditionally been far more exclusive than just all white and all male. There has never been an Italian, Hungarian, Lithuanian, Russian, Greek, Spaniard or Hispanic elected to the White House. No descendent of the great waves of immigration from southern and eastern Europe that washed over this country in the 19th century has ever made it. . In more than 200 years there has never been a Jew, and only one Catholic, John Kennedy. The genealogical background of presidents has been conspicuously narrow. Many are distant relatives of each other. The Bushes are allegedly related to 16 presidents and Franklin Roosevelt to 17."
On false unity
: "One of the big themes of the upcoming inauguration, and indeed Obama's administration (if media reports about his agenda are to be believed) is a concept of `unity.' All Americans, we learn, are to unite around a `common purpose.' There's just one problem - it's not so much `unity' as `collectivism.' And sorry, Obama, but I'm not interested. And fortunately, neither are millions of other Americans. First, there's the little problem that `unity' isn't really what these guys are interested in. Oh, sure, they'll invite Rick Warren (but not David Duke) to show that even people who dislike other groups and use laws to attack their fellow citizens are part of the Great Patriotic Union. But if you're in an unfavored group, you're still lacking basic access to various legal statuses. `Unity' for you means, 'sit down and shut up.'"
For more postings from me, see
TONGUE-TIED
,
EDUCATION WATCH INTERNATIONAL
,
GREENIE WATCH
,
POLITICAL CORRECTNESS WATCH
,
GUN WATCH
,
SOCIALIZED MEDICINE
,
FOOD & HEALTH SKEPTIC
,
AUSTRALIAN POLITICS
,
IMMIGRATION WATCH INTERNATIONAL
,
EYE ON BRITAIN
and
Paralipomena
List of backup or "mirror" sites
here
or
here
-- for readers in China or for everyone when blogspot is "down" or failing to update. Email me
here
(Hotmail address). My Home Pages are
here
or
here
or
here
****************************
The Big Lie of the late 20th century was that Nazism was Rightist. It was in fact
typical of the Leftism
of its day. It was only to the Right of Stalin's Communism. The very word "Nazi" is a German abbreviation for "National Socialist" (
Nationalsozialist
) and the full name of Hitler's political party (translated) was "The National Socialist German Workers' Party" (In German:
Nationalsozialistische Deutsche Arbeiterpartei
)
****************************