Sarah hits back at biased media over gaffes
SARAH Palin, who has been hammered by critics for making the occasional verbal gaffe, used her Thanksgiving message today to point out a number of bungles made by US President Barack Obama.
The former Republican vice-presidential nominee, tipped as a potential 2012 presidential candidate, posted the message titled, "A Thanksgiving Message to All 57 States", on her Facebook account.
In May 2008, while campaigning to be president, Mr Obama wrongly told an audience in Oregon that he "had been in 57 states, [with] I think one left to go."
Ms Palin opened her message today by listing what she termed "misstatements and verbal gaffes made by Barack Obama", along with accompanying YouTube clips. They include Mr Obama calling Europe a country; the US continuing to fight "to halt the rise of privacy" - when he meant "piracy" - in Somalia; and Israel being a "strong friend of Israel's".
"I didn't have enough time to do one for Joe Biden," Ms Palin added, in a reference to the famously outspoken vice-president.
"YouTube links are provided just in case you doubt the accuracy of these all too human slips-of-the-tongue. "If you can't remember hearing about them, that's because for the most part the media didn't consider them newsworthy. I have no complaint about that. Everybody makes the occasional verbal gaffe."
Yesterday, Ms Palin was lambasted in sections of the media after she mistakenly called North Korea an ally of the US. "The one word slip occurred yesterday during one of my seven back-to-back interviews wherein I was privileged to speak to the American public about the important, world-changing issues before us," Ms Palin explained.
"If the media had bothered to actually listen to all of my remarks on Glenn Beck's radio show, they would have noticed that I refer to South Korea as our ally throughout, that I corrected myself seconds after my slip-of-the-tongue, and that I made it abundantly clear that pressure should be put on China to restrict energy exports to the North Korean regime.
"The media could even have done due diligence and checked my previous statements on the subject, which have always been consistent, and in fact even ahead of the curve. But why let the facts get in the way of a good story?"
The Twittersphere lit up after the publication of Ms Palin's message, with critics jumping on her mention of 57 states - clearly not realising it was her joke aimed at Mr Obama.
Ms Palin also used the same Facebook message to deny reports this week she had been trying to convince the producers of Dancing With The Stars to cast Christine O'Donnell, the defeated Republican candidate in the Delaware Senate race, in the next series of the hit show. Ms Palin's daughter Bristol finished second runner-up on the show earlier this week.
"Why not just make up stories out of thin air - like the totally false hard news story which has run for three days now reporting that I lobbied the producers of Dancing With The Stars to cast a former Senate candidate on their show," Mr Palin said. "That lie is further clear proof that the media completely makes things up without doing even rudimentary fact-checking."
Ms Palin was lampooned during her failed vice-presidential campaign in 2008 for her emphasis on Russia's proximity to Alaska. "They're our next door neighbours and you can actually see Russia from land here in Alaska," she said.
Earlier this year she was ridiculed her for using the non-existent word "refudiate", that seemed to be a cross between "refute" and "repudiate". It was this month named 2010 Word of the Year by the New Oxford American Dictionary.
SOURCE
*************************
Giving thanks for the 'invisible hand'
by Jeff Jacoby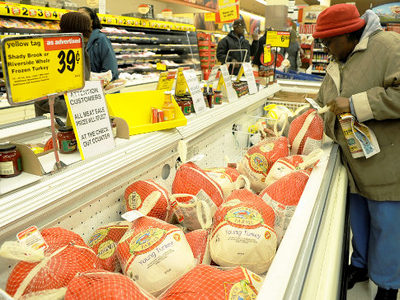 Where is the national turkey czar who arranged for turkeys to be in all the stores before Thanksgiving?
Today, in millions of homes across the nation, God will be thanked for many gifts -- for the feast on the table and the company of loved ones, for health and good fortune in the year gone by, for peace at home in a time of war, for the incalculable privilege of having been born -- or having become -- American.
But it probably won't occur to too many of us to give thanks for the fact that the local supermarket had plenty of turkey for sale this week. Even the devout aren't likely to thank God for airline schedules that made it possible for some of those loved ones to fly home for Thanksgiving. Or for the arrival of "Master and Commander" at the local movie theater in time for the holiday weekend. Or for that great cranberry-apple pie recipe in the food section of the newspaper.
Those things we take more or less for granted. It hardly takes a miracle to explain why grocery stores stock up on turkey before Thanksgiving, or why Hollywood releases big movies in time for big holidays. That's what they do. Where is God in that?
And yet, isn't there something wondrous -- something almost inexplicable -- in the way your Thanksgiving weekend is made possible by the skill and labor of vast numbers of total strangers?
To bring that turkey to the dining room table, for example, required the efforts of thousands of people -- the poultry farmers who raised the birds, of course, but also the feed distributors who supplied their nourishment and the truckers who brought it to the farm, not to mention the architect who designed the hatchery, the workmen who built it, and the technicians who keep it running. The bird had to be slaughtered and defeathered and inspected and transported and unloaded and wrapped and priced and displayed. The people who accomplished those tasks were supported in turn by armies of other people accomplishing other tasks -- from refining the gasoline that fueled the trucks to manufacturing the plastic in which the meat was packaged.
The activities of countless far-flung men and women over the course of many months had to be intricately choreographed and precisely timed, so that when you showed up to buy a fresh Thanksgiving turkey, there would be one -- or more likely, a few dozen -- waiting. The level of coordination that was required to pull it off is mind-boggling. But what is even more mind-boggling is this: No one coordinated it.
No turkey czar sat in a command post somewhere, consulting a master plan and issuing orders. No one rode herd on all those people, forcing them to cooperate for your benefit. And yet they did cooperate. When you arrived at the supermarket, your turkey was there. You didn't have to do anything but show up to buy it. If that isn't a miracle, what should we call it?
Adam Smith called it "the invisible hand" -- the mysterious power that leads innumerable people, each working for his own gain, to promote ends that benefit many. Out of the seeming chaos of millions of uncoordinated private transactions emerges the spontaneous order of the market. Free human beings freely interact, and the result is an array of goods and services more immense than the human mind can comprehend. No dictator, no bureaucracy, no supercomputer plans it in advance. Indeed, the more an economy is planned, the more it is plagued by shortages, dislocation, and failure.
It is commonplace to speak of seeing God's signature in the intricacy of a spider's web or the animation of a beehive. But they pale in comparison to the kaleidoscopic energy and productivity of the free market. If it is a blessing from Heaven when seeds are transformed into grain, how much more of a blessing is it when our private, voluntary exchanges are transformed -- without our ever intending it -- into prosperity, innovation, and growth?
The social order of freedom, like the wealth and the progress it makes possible, is an extraordinary gift from above. On this Thanksgiving Day and every day, may we be grateful.
More
here
**************************
The difficulty of winding back entitlements
Every time the Democrats create a new entitlement, the more difficult it is to cut spending, and hence taxes
During Al Simpson's nearly 50 years in government, he hasn't been afraid to take on critics and naysayers of his work in the U.S. Senate or on a variety of high-profile commissions and committees.
But as the co-chair of President Obama's debt commission, the Wyoming Republican said he's been taking an unprecedented amount of flak for the commission's draft proposals to help erase the nation's $13.8 trillion debt.
"I've never had any nastier mail or [been in a] more difficult position in my life," said the 79-year-old Simpson. "Just vicious. People I've known, relatives [saying], "'You son of a bitch. How could you do this?'"
Not surprisingly, many of the debt commission's draft proposals to cut the debt by nearly $4 trillion by 2020 -- from raising the retirement age to 69 by 2075 to bringing in $1 trillion more in tax revenue -- have won strong opposition from liberals and conservatives alike.
But Simpson said that while every interest group that testified before his committee agreed that the mounting federal debt is a national tragedy, they would then talk about why government funding to their area of interest shouldn't be touched.
More
HERE
*************************
More of Obama's carefully hidden history comes out
Guy Benson
Have you ever heard of a group called UNO of Chicago? No, not the deep dish pizza chain; the Left-wing community organizing outfit. How about the Midwest Academy? Does the name James Cone ring a bell? If you're like most Americans – including many who consider themselves fairly well informed about President Obama's background and associations – you're probably drawing a blank on all three questions. That's why Stanley Kurtz's new book,
Radical-In-Chief: Barack Obama and the Untold Story of American Socialism
, is so important.
The key word in the title is "untold." Kurtz, a respected investigative journalist and public intellectual, pored over reams of heretofore unseen documents and data from the president's enigmatic past, and concluded that Barack Obama has been a movement socialist for much of his adult life. Despite its explosive title, the book is neither conspiratorial in nature, nor sensationalistic. It's well-researched, and meticulously documented.
I sat down with Kurtz for a two-hour interview that will air in its entirety this Sunday evening on my radio program. For a flavor of the interview, here's a partial transcript of just one exchange from our discussion, in which Kurtz details Obama's relationship to the leader of a radical, ACORN-style group called UNO of Chicago:
BEGIN TRANSCRIPT
GB: It's 1985, and Barack Obama lands in Chicago, at which point he becomes caught up in an alphabet soup of community organization groups. Some of them, of course, I'd heard of – including ACORN – but others that I had not, such as UNO. Tell us about UNO, because that was one of the bigger eye-openers to me as I read [Radical In Chief].
SK: That is one of the more amazing things I stumbled across. Who knew that Obama had been part of a community organization that no one had ever heard of before? And yet Obama really was closely connected to a top leader…of a group called UNO Chicago. 'UNO' standing for "United Neighborhood Organizations."
GB: This was a really poisonous group.
SK: They were hardcore Alinskyites. They really were kind of a predominantly Hispanic counterpart to ACORN, in that they were extremely confrontational in their tactics. They were famous, for example, for having trapped Republican Illinois Senator Charles Percy in a ladies' bathroom to punish him. He was supposed to debate [Democrat] Paul Simon when they were running against each other [in 1984].
GB: And UNO members chased him into a women's restroom?
SK: That's right. They trapped him inside.
GB: Over what?
SK: He had refused to attend a forum they had set up. He quite rightly realized it was a set-up, that they were working with Simon, and that there would have been orchestrated boos and attacks in order to embarrass him.
More
HERE
************************
None Dare Call It Desperation
Following two years of poor economic performance and electoral repudiation, liberalism is casting around for narratives to explain its failure -- narratives that don't involve the admission of inadequacies in liberalism itself.
For some, the solution is to lay the blame on President Obama. He hasn't been liberal enough. He can't communicate. "I cannot recall a president," says Robert Kuttner in the Huffington Post, "who generated so much excitement as a candidate but who turned out to be such a political dud as a chief executive." Obama is "fast becoming more albatross than ally."
This is an ideological movement at its most cynical, attempting to throw overboard its once-revered leader to avoid the taint of his problems.
But there is an alternative narrative, developed by those who can't shake their reverence for Obama. If a president of this quality and insight has failed, it must be because his opponents are uniquely evil, coordinated and effective. The problem is not Obama but the ruthless conspiracy against him.
So Matt Yglesias warns the White House to be prepared for "deliberate economic sabotage" from the GOP -- as though Chamber of Commerce SWAT teams, no doubt funded by foreigners, are preparing attacks on the electrical grid. Paul Krugman contends "Republicans want the economy to stay weak as long as there's a Democrat in the White House." Steve Benen explains, "We're talking about a major political party ... possibly undermining the strength of the country -- on purpose, in public, without apology or shame -- for no other reason than to give themselves a campaign advantage in 2012." Benen's posting was titled, "None Dare Call it Sabotage."
It is difficult to overstate how offensive elected Republicans find the sabotage accusation, which Obama himself has come very close to making. During the run-up to the midterm election, the president told a town hall meeting in Racine, Wis.: "Before I was even inaugurated, there were leaders on the other side of the aisle who got together and they made the calculation that if Obama fails, then we win." Some Republican leaders naturally took this as an attack on their motives. Was the president really contending that Republican representatives want their constituents to be unemployed in order to gain a political benefit for themselves? No charge from the campaign more effectively undermined the possibility of future cooperation.
The sabotage accusation, once implicit, is now direct among panicked progressives. Part of the intention seems to be strategic -- to discourage Obama from considering Clintonian ideological triangulation. No centrist concessions, the argument goes, will appease Republicans who hate the president more than they love the country. So Obama should double down on liberalism, once again.
It is very bad political advice. It also indicates a movement losing contact with political reality. When an ideology stumbles, its adherents can always turn to alcohol -- or to conspiracy theories. It is easier to recover from alcohol. Conspiracy thinking is not only addictive, it is tiresome. It precludes the possibility of interesting policy debate or genuine disagreement -- how can you argue with a plot?
More
here
My Twitter.com identity: jonjayray. My Facebook page is also accessible as jonjayray (In full: http://www.facebook.com/jonjayray). For more blog postings from me, see
TONGUE-TIED
,
EDUCATION WATCH INTERNATIONAL
,
GREENIE WATCH
,
POLITICAL CORRECTNESS WATCH
,
GUN WATCH
,
FOOD & HEALTH SKEPTIC
,
AUSTRALIAN POLITICS
,
IMMIGRATION WATCH INTERNATIONAL
,
EYE ON BRITAIN
and
Paralipomena
List of backup or "mirror" sites
here
or
here
-- for readers in China or for everyone when blogspot is "down" or failing to update. Email me
here
(Hotmail address). My Home Pages are
here
(Academic) or
here
(Pictorial) or
here
(Personal)
****************************
The Big Lie of the late 20th century was that Nazism was Rightist. It was in fact
typical of the Leftism
of its day. It was only to the Right of Stalin's Communism. The very word "Nazi" is a German abbreviation for "National Socialist" (
Nationalsozialist
) and the full name of Hitler's political party (translated) was "The National Socialist German Workers' Party" (In German:
Nationalsozialistische Deutsche Arbeiterpartei
)
****************************