Pathological Altruism
As JAMES TARANTO suggests below, the concept of Pathological Altruism could become a powerful and widely-used concept in debunking Leftist proposals. It has the virtue of being polite. It assumes that Leftists have altruistic intentions. I am less polite. Given the regularly destructive overall results of Leftist actions and policies, I think we have to assume that the motives are destructive too. It is absurd to say that Leftists never get the results they intend. They are often smart people. The results they get are therefore the results they intend. There is nothing altruistic about Leftism. It is just a camouflage coat that they wear. They are haters, not helpers. -- JR
We don't think we'd ever heard of Oakland University, a second-tier institution in suburban Rochester, Mich., but Barbara Oakley, an associate professor in engineering, may help put the place on the map. Earlier this week Oakland's Oakley published a fascinating paper, "Concepts and Implications of Altruism Bias and Pathological Altruism," in the Proceedings of the National Academy of Sciences.
The paper is a concise summary of an innovative idea that informed Oakley's two recent books: "Cold-Blooded Kindness: Neuroquirks of a Codependent Killer, or Just Give Me a Shot at Loving You, Dear, and Other Reflections on Helping That Hurts" (Prometheus, 2011) and "Pathological Altruism" (Oxford University Press, 2012). The former has been described as a true-crime thriller; the latter is a dense, 496-page collection of 31 academic papers, edited by Oakley and three other scholars.
The PNAS paper has the virtue of brevity, running only eight pages despite including 110 footnotes. Yet it's remarkable for its breadth and depth. It introduces a simple yet versatile idea that could revolutionize scientific and social thought.
Oakley defines pathological altruism as "altruism in which attempts to promote the welfare of others instead result in unanticipated harm." A crucial qualification is that while the altruistic actor fails to anticipate the harm, "an external observer would conclude [that it] was reasonably foreseeable." Thus, she explains, if you offer to help a friend move, then accidentally break an expensive item, your altruism probably isn't pathological; whereas if your brother is addicted to painkillers and you help him obtain them, it is.
As the latter example suggests, the idea of "codependency" is a subset of pathological altruism. "Feelings of empathic caring . . . appear to lie at the core of . . . codependent behavior," Oakley notes. People in codependent relationships genuinely care for each other, but that empathy leads them to do destructive things.
Yet according to Oakley, "the vital topic of codependency has received almost no hard-science research focus, leaving 'research' to those with limited or no scientific research qualifications." That is to say, it is largely the domain of pop psychology. "It is reasonable to wonder if the lack of scientific research involving codependency may relate to the fact that there is a strong academic bias against studying possible negative outcomes of empathy."
That is a provocative charge, and one that Oakley levels more generally at the scientific establishment:
"Both altruism and empathy have rightly received an extraordinary amount of research attention. This focus has permitted better characterization of these qualities and how they might have evolved. However, it has also served to reify their value without realistic consideration about when those qualities contain the potential for significant harm.
Part of the reason that pathologies of altruism have not been studied extensively or integrated into the public discourse appears to be fear that such knowledge might be used to discount the importance of altruism. Indeed, there has been a long history in science of avoiding paradigm-shifting approaches, such as Darwinian evolution and acknowledgment of the influence of biological factors on personality, arising in part from fears that such knowledge somehow would diminish human altruistic motivations.
Such fears always have proven unfounded. However, these doubts have minimized scientists' ability to see the widespread, vitally important nature of pathologies of altruism. As psychologist Jonathan Haidt notes, "Morality binds and blinds."
"Empathy," Oakley notes, "is not a uniformly positive attribute. It is associated with emotional contagion; hindsight bias; motivated reasoning; caring only for those we like or who comprise our in-group (parochial altruism); jumping to conclusions; and inappropriate feelings of guilt in nonco-operators who refuse to follow orders to hurt others." It also can produce bad public policy:
"Ostensibly well-meaning governmental policy promoted home ownership, a beneficial goal that stabilizes families and communities. The government-sponsored enterprises Freddie Mac and Fannie Mae allowed less-than-qualified individuals to receive housing loans and encouraged more-qualified borrowers to overextend themselves. Typical risk–reward considerations were marginalized because of implicit government support. The government used these agencies to promote social goals without acknowledging the risk or cost. When economic conditions faltered, many lost their homes or found themselves with properties worth far less than they originally had paid. Government policy then shifted . . . the cost of this "altruism" to the public, to pay off the too-big-to-fail banks then holding securitized subprime loans. . . . Altruistic intentions played a critical role in the development and unfolding of the housing bubble in the United States."
The same is true of the higher-education bubble. As we've argued, college degrees became increasingly necessary for entry-level professional jobs as the result of a well-intentioned Supreme Court decision that restricted employers from using IQ tests because of their "disparate impact" on minorities.
Universities altruistically established admissions standards that discriminated in favor of minorities, a policy that proved pathological because underqualified minority students struggled to succeed and even qualified ones face the stigma of being assumed to be "affirmative action" beneficiaries. The institutions tried to help by setting up separate orientations, which of course only reinforced their separation from the broader student body.
And when, in 2003, the discriminatory admissions standards faced a constitutional challenge, the Supreme Court upheld them. In Grutter v. Bollinger, a five-justice majority declared that administrators' declaration of altruistic intent--"obtaining the educational benefits that flow from a diverse student body"--was sufficient to meet the court's purportedly exacting standard of "strict scrutiny."
It was left to Justice Anthony Kennedy, in dissent, to note the absence of "empirical evidence." The court is currently revisiting the question-- Fisher v. Texas is expected to be decided in the next few weeks--and one hopes that, if it stands by the "diversity" rationale, Kennedy will finally succeed in imposing some scientific rigor.
Pathological altruism is at the root of the liberal left's crisis of authority, which we discussed in our May 20 column. The left derives its sense of moral authority from the supposition that its intentions are altruistic and its opponents' are selfish. That sense of moral superiority makes it easy to justify immoral behavior, like slandering critics of President Obama as racist--or using the power of the Internal Revenue Service to suppress them. It seems entirely plausible that the Internal Revenue Service officials who targeted and harassed conservative groups thought they were doing their patriotic duty. If so, what a perfect example of pathological altruism.
Oakley concludes by noting that "during the twentieth century, tens of millions [of] individuals were killed under despotic regimes that rose to power through appeals to altruism." An understanding that altruism can produce great evil as well as good is crucial to the defense of human freedom and dignity.
SOURCE
*************************
Democrats just LOVE Obama's domestic spy operations
Because they are afraid of their fellow Americans and see spying as a way of gaining control over them. They fear that aroused patriots might do to them what they would like to do to those who oppose them. Glenn Greenwald reviews some of the facts below
What Democratic Rep. Loretta Sanchez said after Congress on Wednesday was given a classified briefing by NSA officials on the agency's previously secret surveillance activities:
"What we learned in there is significantly more than what is out in the media today. . . . I can't speak to what we learned in there, and I don't know if there are other leaks, if there's more information somewhere, if somebody else is going to step up, but I will tell you that I believe it's the tip of the iceberg . . . . I think it's just broader than most people even realize, and I think that's, in one way, what astounded most of us, too."
The Congresswoman is absolutely right: what we have reported thus far is merely "the tip of the iceberg" of what the NSA is doing in spying on Americans and the world. She's also right that when it comes to NSA spying, "there is significantly more than what is out in the media today", and that's exactly what we're working to rectify.
But just consider what she's saying: as a member of Congress, she had no idea how invasive and vast the NSA's surveillance activities are. Sen. Jon Tester, who is a member of the Homeland Security Committee, said the same thing, telling MSNBC about the disclosures that "I don't see how that compromises the security of this country whatsoever" and adding: "quite frankly, it helps people like me become aware of a situation that I wasn't aware of before because I don't sit on that Intelligence Committee."
How can anyone think that it's remotely healthy in a democracy to have the NSA building a massive spying apparatus about which even members of Congress, including Senators on the Homeland Security Committee, are totally ignorant and find "astounding" when they learn of them? How can anyone claim with a straight face that there is robust oversight when even members of the Senate Intelligence Committee are so constrained in their ability to act that they are reduced to issuing vague, impotent warnings to the public about what they call radical "secret law" enabling domestic spying that would "stun" Americans to learn about it, but are barred to disclose what it is they're so alarmed by? Put another way, how can anyone contest the value and justifiability of the stories that we were able to publish as a result of Edward Snowden's whistleblowing: stories that informed the American public - including even the US Congress - about these incredibly consequential programs? What kind of person would think that it would be preferable to remain in the dark - totally ignorant - about them?
(1) Much of US politics, and most of the pundit reaction to the NSA stories, are summarized by this one single visual from Pew: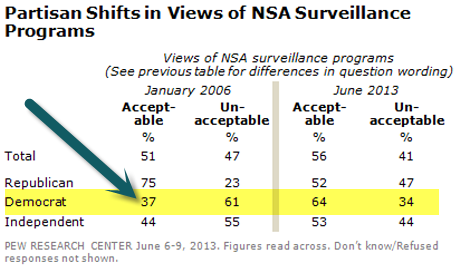 The most vocal media critics of our NSA reporting, and the most vehement defenders of NSA surveillance, have been, by far, Democratic (especially Obama-loyal) pundits. As I've written many times, one of the most significant aspects of the Obama legacy has been the transformation of Democrats from pretend-opponents of the Bush War on Terror and National Security State into their biggest proponents: exactly what the CIA presciently and excitedly predicted in 2008 would happen with Obama's election.
Some Democrats have tried to distinguish 2006 from 2013 by claiming that the former involved illegal spying while the latter does not. But the claim that current NSA spying is legal is dubious in the extreme: the Obama DOJ has repeatedly thwarted efforts by the ACLU, EFF and others to obtain judicial rulings on their legality and constitutionality by invoking procedural claims of secrecy, immunity and standing. If Democrats are so sure these spying programs are legal, why has the Obama DOJ been so eager to block courts from adjudicating that question?
More to the point, Democratic critiques of Bush's spying were about more than just legality. I know that because I actively participated in the campaign to amplify those critiques. Indeed, by 2006, most of Bush's spying programs - definitely his bulk collection of phone records - were already being conducted under the supervision and with the blessing of the FISA court. Moreover, leading members of Congress - including Nancy Pelosi - were repeatedly briefed on all aspects of Bush's NSA spying program. So the distinctions Democrats are seeking to draw are mostly illusory.
To see how that this is so, just listen to then-Senator Joe Biden in 2006 attack the NSA for collecting phone records: he does criticize the program for lacking FISA court supervision (which wasn't actually true), but also claims to be alarmed by just how invasive and privacy-destroying that sort of bulk record collection is. He says he "doesn't think" that the program passes the Fourth Amendment test: how can Bush's bulk record collection program be unconstitutional while Obama's program is constitutional? But Biden also rejected Bush's defense (exactly the argument Obama is making now) - that "we're not listening to the phone calls, we're just looking for patterns" - by saying this:
"I don't have to listen to your phone calls to know what you're doing. If I know every single phone call you made, I'm able to determine every single person you talked to. I can get a pattern about your life that is very, very intrusive. . . . If it's true that 200 million Americans' phone calls were monitored - in terms of not listening to what they said, but to whom they spoke and who spoke to them - I don't know, the Congress should investigative this."
Is collecting everyone's phone records not "very intrusive" when Democrats are doing it? Just listen to that short segment to see how every defense Obama defenders are making now were the ones Bush defenders made back then. Again, leading members of Congress and the FISA court were both briefed on and participants in the Bush telephone record collection program as well, yet Joe Biden and most Democrats found those programs very alarming and "very intrusive" back then.
(2) Notwithstanding the partisan-driven Democratic support for these programs, and notwithstanding the sustained demonization campaign aimed at Edward Snowden from official Washington, polling data, though mixed, has thus far been surprisingly encouraging.
A Time Magazine poll found that 54% of Americans believe Snowden did "a good thing", while only 30% disagreed. That approval rating is higher than the one enjoyed by both Congress and President Obama. While a majority think he should be nonetheless prosecuted, a plurality of young Americans, who overwhelmingly view Snowden favorably, do not even want to see him charged. Reuters found that more Americans see Snowden as a "patriot" than a "traitor". A Gallup poll this week found that more Americans disapprove (53%) than approve (37%) of the two NSA spying programs revealed last week by the Guardian.
(3) Thomas Drake, an NSA whistleblower who was unsuccessfully prosecuted by the Obama DOJ, writes in the Guardian that as a long-time NSA official, he saw all of the same things at the NSA that Edward Snowden is now warning Americans about. Drake calls Snowden's acts "an amazingly brave and courageous act of civil disobedience." William Binney, the mathematician who resigned after a 30-year career as a senior NSA official in protest of post-9/11 domestic surveillance, said on Democracy Now this week that Snowden's claims about the NSA are absolutely true.
Meanwhile, Daniel Ellsberg, writing in the Guardian, wrote that "there has not been in American history a more important leak than Edward Snowden's release of NSA material – and that definitely includes the Pentagon Papers 40 years ago." He added: "Snowden did what he did because he recognized the NSA's surveillance programs for what they are: dangerous, unconstitutional activity."
Listen to actual experts and patriots - people who have spent their careers inside the NSA and/or who risked their liberty for the good of the country - and the truth of Snowden's claims and the justifiability of his acts become manifest....
The predictable personality assaults on Snowden have begun in full force from official Washington and their media spokespeople. They are only going to intensify. There is nobody who political officials and their supine media class hate more than those who meaningfully dissent from their institutional orthodoxies and shine light on what they do. The hatred for such individuals is boundless....
The New York Times reports today that Yahoo went to court in order to vehemently resist the NSA's directive that they join the Prism program, and joined only when the court compelled it to do so. The company specifically "argued that the order violated its users' Fourth Amendment rights against unreasonable searches and seizures."
More
HERE
****************************
For more blog postings from me, see
TONGUE-TIED
,
EDUCATION WATCH INTERNATIONAL
,
GREENIE WATCH
,
POLITICAL CORRECTNESS WATCH
,
FOOD & HEALTH SKEPTIC
,
AUSTRALIAN POLITICS
,
IMMIGRATION WATCH INTERNATIONAL
and
Paralipomena
(Occasionally updated) and
Coral reef compendium
. (Updated as news items come in).
GUN WATCH
is now mainly put together by Dean Weingarten.
List of backup or "mirror" sites
here
or
here
-- for when blogspot is "down" or failing to update. Email me
here
(Hotmail address). My Home Pages are
here
(Academic) or
here
(Pictorial) or
here
(Personal)
****************************