Oh dear! Who's the shrimp in this picture?
The tall man is a King, and a very popular one. He is Willem-Alexander of the Netherlands. The Dutch do tend to be tall. Willem Alexander is 6'3"
And you know who the shrimp is. Hint: The pic was taken in Russia
***************************
More on WWI
On Nov. 7th.
, I put up a post which eneavoured to explain both why wars in general happen and why WWI in particular happened. The sheer awfulness of WWI does however make my explanation in sociological and legal terms seem rather shallow so I would like to put forward deeper levels of explanation as well. Before I do that, however, I reproduce below an essay that stresses how hard it is to understand the awful events of that war.
Why War?

By Richard Koenigsberg

In 1989, I was on the fourth floor of the Bobst library at NYU. Having read most of the books on Nazism, Hitler and the Holocaust, I drifted across the aisle and started browsing through the volumes on the First World War—and was astonished at what I discovered.

I was astonished—not only by the persistence and magnitude of the slaughter—but by the blasé way historians described what had occurred. It seemed as if mass murder was taken for granted: nothing special. At least the Holocaust evoked shock and bewilderment. But the extermination of 9 million human beings (most of them young men) evoked little amazement.

I began studying the topic more deeply, assuming historians would reveal the causes. What was so significant that could generate such massive slaughter? Of course, historians were able to trace how one event led to another. But why did the slaughter take place? Why was it necessary? Gradually, I realized historians were unable to answer these questions.

Orion and I were reading back issues of the New York Review of Books earlier this week—as a model for Library of Social Science Book Reviews—and came across a terrific article by Jason Epstein. In his review essay, Epstein poses several questions I have been thinking about during the past 25 years.

Reviewing John Keegan's The First World War, Epstein conveys this great historian's conclusion: that the nations of Europe (and the world) "had no compelling reason to fight." Keegan asked: "Why did the states of Europe proceed as if in a dead march and a dialogue of the deaf, to the destruction of their continent and its civilization?" It is this question—and others like it—that we pose in this Newsletter, and through our Websites.

The most profound flaw in the thinking of historians and political scientists is their assumption of rationality. They proceed as if it is possible to identify "real reasons" for mass murder—and for the tendency of nation-states to proceed as if self-extermination was their objective.

Epstein cites a sermon presented by the Bishop of London in 1915, who urged Englishmen to kill Germans…to kill the good as well as the bad, to kill the young men as well the old,…to kill them lest the civilization of the world should itself be killed. As I have said a thousand times, I look upon it as a war for purity…for the principles of Christianity. I look upon everyone who dies in it as a martyr.

The words in this brief passage (that easily could have come out of Hitler's mouth) reveal several themes that have emerged from my research on collective forms of violence.

Warfare revolves around the idea that it is necessary to kill or destroy the enemy. There is blind passion in the Bishop's words—he insists it is necessary to "kill Germans," the "good as well as the bad," the "young men as well as the old". Why this belief that it necessary to kill—or kill off—each and every member of another nation or societal group?

Nations and enemies go together. It seems that one requires the other, almost as if nations need enemies in order to energize themselves—to stay alive. The nation's identity seems to be dependent on its capacity to identify an enemy to hate, revile—and possibly kill.

The Bishop asserts that it is necessary to kill Germans "lest the civilization of the world should itself be killed." I have found that the idea of "rescuing civilization" is central in generating warfare. War is not about "primitive aggression." Rather, nations initiate acts of war when they imagine that the future of civilization is at stake.

Somehow, the other civilization (or group) is imagined to threaten the existence of one's own civilization. This principle applies to contemporary political struggles—as well as the First World War. Warfare arises as a form of morality, or moral righteousness. The enemy Other is imagined to be acting to destroy one's own society. Violent acts are therefore necessary—required.

Hitler explained, "We may be inhumane, but if we rescue Germany, we have performed the greatest deed in the world." If you think about any case of political violence that you have studied or are familiar with, you will probably conclude that Hitler's statement is applicable. Collective forms of violence are undertaken in the name of a rescue fantasy. "Yes, we are performing acts of inhumane violence. However, if our nation or society is to survive, we have no other choice but to undertake them."

The Bishop's war cry, Epstein observes, could have "landed him in an asylum" had he delivered it a year earlier. Warfare, it would appear, renders normal what in other circumstances would be judged insane. Outside the context of war, asking men to get out of trenches and to run into machine gun fire and artillery shells for four years—would be considered a form of insanity.

I worked with a psychiatrist in 1998 developing an all-day seminar on warfare. She was not a historian and was unfamiliar with the First World War. We were sitting on a couch watching Stanley Kubrick's Paths of Glory (1957). When we came to the scene in which soldiers were compelled to get out of their trench and move into no man's land—in the face of massive shelling (click the link to view the video), she jumped up from the couch and screamed, "It's crazy. It's insane."

This, perhaps, is the normal or natural reaction of a human being who has not been socialized into the historical discourse on the First World War. And yes, what occurred between 1914 and 1918 was insane. However, we don't like to say this. We shy away from acknowledging that insane forms of behavior are contained within the fabric of civilization.

What's more, human beings to not seem to be ashamed of their proclivity toward mass murder and self-destruction. Leaders who are responsible for the deaths of millions of human beings often live to a ripe old age. Perhaps we are even proud of our willingness to kill and die for abstract ideas—our sacred ideals. It's what distinguishes us from other animals.

Can we begin to "bracket" the ideology of warfare—to conceive of this institution as something other than who we are? Post-modernists have deconstructed nearly everything. However, the idea of warfare (and of the nation-state, which generates war) reigns supreme.

It is easy to be "against" war. However, we have yet to pose and answer fundamental questions: Precisely what is warfare? Why do we need it? Why have human beings become so attached to the idea or ideology of warfare? These are questions we seek to answer through our Library of Social Science Newsletter, our Ideologies of War website, and through Library of Social Science Book Reviews.

We may not be ready to conceive of warfare as an institutionalized form of insanity. So let's say that warfare is like a dream that many people are having at once: a collective fantasy that has been embraced and called "reality."

SOURCE

At least in the essay above, Koenigsberg has no answer as to why those terrible events all happened -- but I think a wider knowledge of history does give a lot of the answers.
The key, as I see it, is that there were many mutually reinforcing tendencies leading to that war. I have dealt with the sociological and legal reasons on 7th., so now I want to mention the anthropological, psychological and strategic reasons. With influences at all five levels pointing in the one direction, the actual events become more understandable.
For a start, let me reinforce something Koenigsberg says: That Britons were told the were defending civilization against the barbaric Germans. Since Germany was at the time arguably the most civilized nation on earth, this is a truly epic example of lying propaganda.
And illogical, though it was, that propaganda message seems to have been widely accepted. A generation later, Hitler greatly admired that. He thought it showed that the British were masters of propaganda, something I would not dispute.
To understand why that bizarre message was even initiated, however, anthropology needs to be called upon. And it helps if you know Melanesians. Melanesians are the black inhabitants of the large island of New Guinea (slightly larger than Texas) and neighboring islands. I rather like Melanesians but they do not like one-another very much. They mostly live in small villages as subsistence farmers.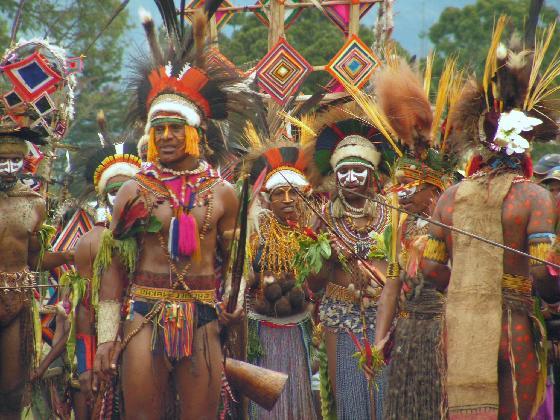 Some Melanesians
There are about 400 languages in New Guinea and a similar number of tribes that speak them. And social relationships are overwhelmingly governed by whether the other person is a "wantok" or not. A "wantok" is someone who speaks your language. Your relationship with a wantok is tightly rule-governed but anything goes with others. A non-wantok is fair game. And that is just one reflection of the attitudes that the different tribes have towards one another: They hate one-another. To us the diffences between the various tribes seem minute but not so to the people concerned.
So to generalize from that, tribalism is deeply human and deeply hostile. A different tribe has to be only slightly different to be hated. So the WWI British portrayal of Germans would be completely understood in New Guinea. And the acceptance of that portrayal by the British public would also be seen as unremarkable. We and Melanesians are more alike that we would like to think. Both of us are quick to think ill of other language groups
It could in fact be argued that Melanesians are more civilized than we are. Anything above a skirmish between wantoks is virtually unknown in New Guinea. But as America's two wars for Yankee supremacy show, Americans have no such scruples. Americans even attack wantoks. And both the war of Independence and the North/South wars were brutal, with the death toll in the second war in the same ballpark as WWI on a per head basis. Such slaughter of wantoks would appall Melanesians.
So we can see that anthropology adds its bit to the motivation behind WWI.
And the psychology was powerful too. Thanks principally to the rather bewildering statesmanship of Otto von Bismarck, Europe had a long and virtually unprecedented period of peace from 1871 on.
And all the nations of Western Europe used this time to catch up with the British industrial revolution. So there was vast modernization and a great improvement in living standards generally. And the people of Europe saw that and were much pleased. And each nation saw its rapid progress over two generations as its own achievement. As the anthropology would lead us to expect, they did NOT see the transformation as riding on the coattails of British innovation and entrepreneurship.
So with vast confidence in their brilliance, all the nations felt invincible in war. They all thought that with their obvious civilizational superiority, any war that they undertook would be over in a matter of weeks. They were spoiling for a fight, a fight which they thought would prove their superiority once and for all. So they rose with alacrity to the challenge when at last it came.
And then there were the strategic considerations, particularly where Britain was concerned. If Britain had stayed out of the war, the outcome would almost certainly have been little more that a re-run of the Franco-Prussian war of 1870. The Germans would have won, carved off a few bits of French territory, and withdrawn to fight the Russians.
And the British were in fact not really obligated to fight. Their treaty with France did not really envisage a war where France declared war without itself first being attacked. So British propaganda could have easily coped with staying out of the war on legal grounds.
So why did Britain join in? Partly as a matter of honour. British waffling to escape a treaty obligation would have degraded Britain's value as an ally and British European policy had always been reliant on having allies. And the "honor" aspect was of course a major focus in British propaganda.
But there was also a very practical strategic reason for Britain to join in. They were worried sick by the German
Hochseeflotte
(navy) -- and this was a chance to sink it -- which they eventually did. Their worries were highly realistic. At the battle of Jutland, the German High Seas Fleet ran rings around the Royal Navy. Britain kept the field only by virtue of superior numbers. And another ten years of competitive shipbuilding on both sides could well have eroded that numerical advantage.
And the navy has always been vital to Britain. As Drake versus the Spanish Armada and and Nelson against the Franco/Spanish fleet at Trafalgar showed, the Royal Navy was instrumental in keeping Britain safe from invasion. And as the British empire expanded the navy assumed the extra burden of keeping a worldwide empire safe. So British naval supremacy was sacrosanct, even if much of the British army had to be sacrificed to preserve that supremacy. And that is exactly what happened.
So the fact that the war persisted for four grisly but largely static years was testimony to the great range of powerful influences that impelled it in the first place.
Koenigsberg would ask WHY we see ourselves as part of a nation or some other collectivity but I treat that as a given. Something that virtually all men do can at least for my purposes be reasonably treated as axiomatic -- JR.
*************************
For more blog postings from me, see
TONGUE-TIED
,
EDUCATION WATCH INTERNATIONAL
,
GREENIE WATCH
,
POLITICAL CORRECTNESS WATCH
,
FOOD & HEALTH SKEPTIC
,
AUSTRALIAN POLITICS
, and
Paralipomena
(Occasionally updated) and
Coral reef compendium
. (Updated as news items come in).
GUN WATCH
is now mainly put together by Dean Weingarten.
List of backup or "mirror" sites
here
or
here
-- for when blogspot is "down" or failing to update. Email me
here
(Hotmail address). My Home Pages are
here
(Academic) or
here
(Pictorial) or
here
(Personal)
****************************