What they signed up for
Commentary
**************************
'Largest Massacre of Christians in Syria' Ignored
One of the worst Christian massacres—complete with mass graves, tortured-to-death women and children, and destroyed churches—recently took place in Syria, at the hands of the U.S.-supported jihadi "rebels"; and the U.S. government and its "mainstream media" mouthpiece are, as usual, silent (that is, when not actively trying to minimize matters).
The massacre took place in Sadad, an ancient Syriac Orthodox Christian habitation, so old as to be mentioned in the Old Testament. Most of the region's inhabitants are poor, as Sadad is situated in the remote desert between Homs and Damascus (desert regions, till now, apparently the only places Syria's Christians could feel secure; 600 Christian families had earlier fled there for sanctuary from the jihad, only to be followed by it).
In late October, the U.S-supported "opposition" invaded and occupied Sadad for over a week, till ousted by the nation's military. Among other atrocities, 45 Christians—including women and children—were killed, several tortured to death; Sadat's 14 churches, some ancient, were ransacked and destroyed; the bodies of six people from one family, ranging from ages 16 to 90, were found at the bottom of a well (an increasingly common fate for "subhuman" Christians).
The jihadis even made a graphic video (with English subtitles) of those whom they massacred, while shouting Islam's victory-cry, "Allahu Akbar" (which John McCain equates to a Christian saying "thank God"). Another video, made after Sadad was liberated shows more graphic atrocities.
Here are the words of Archbishop Selwanos Boutros Alnemeh, Syriac Orthodox Metropolitan of Homs and Hama (another detailed account, with pictures, appears here):
What happened in Sadad is the most serious and biggest massacre of Christians in Syria in the past two years and a half… 45 innocent civilians were martyred for no reason, and among them several women and children, many thrown into mass graves. Other civilians were threatened and terrorized. 30 were wounded and 10 are still missing. For one week, 1,500 families were held as hostages and human shields. Among them children, the elderly, the young, men and women…. All the houses of Sadad were robbed and property looted. The churches are damaged and desecrated, deprived of old books and precious furniture… What happened in Sadad is the largest massacre of Christians in Syria and the second in the Middle East, after the one in the Church of Our Lady of Salvation in Iraq, in 2010.
In the Iraqi attack of 2010, al-Qaeda linked jihadis stormed the church during service killing some 60 Christian worshippers (see here for graphic images of the aftermath).
While the archbishop is correct that this is the "largest massacre of Christians in Syria," it is but the tip of the iceberg of the persecution the nation's Christian minority has suffered—including beheadings, church bombings, kidnappings, rapes, and dislocation of hundreds of thousands of Christians—since the war broke out (see Syria entries in monthly persecution series).
A month before Sadad, another ancient Christian region, Ma'loula, one of the world's very few regions that still spoke Aramaic, the language of Jesus, was besieged by the jihadis, its churches bombarded and plundered, its inhabitants forced to convert to Islam or die. The last words of one man who refused were: "I am a Christian, and if you want to kill me for this, I do not object to it."
The archbishop concluded his statement concerning Sadad by asking: "We have shouted aid to the world but no one has listened to us. Where is the Christian conscience? Where is human consciousness? Where are my brothers? I think of all those who are suffering today in mourning and discomfort: We ask everyone to pray for us."
Serge Trifkovic—who hails from a European region especially acquainted with Islamic jihad—responds to the archbishop as follows:
That no "human consciousness" is to be found in the White House, or in the editorial offices of the leading Western media, is now a matter of well-established record. Just try searching for "Sadad" (or alternatively "Saddad") on the websites of the Department of State or The New York Times. Ditto the leading European dailies, the CNN/BBC/RTF, the human-rights defending "NGOs" et al.
The problem, of which Archbishop Selwanos Boutros Alnemeh appears unaware, is no longer in the Western elite's mere indifference to the impending demise of Christianity in the lands of its birth, but in its active, ongoing, and open contribution to that demise. Cyprus (1974) and the Balkans (1991-9) provided the test, Iraq (2003-today) the conclusive proof. In Syria the Obama administration remains committed to supporting the rebels—ah, yes, only the "moderate" ones, like the Christian-murdering "Free Syrian Army" (discretion advised again), not "even though" the result will be the same, but precisely because it will be.
In one of the Arabic videos documenting the aftermath of the Sadad massacre, as the mutilated bodies of one family are drawn from a well (around :30 second mark), a middle-aged male relative, in tears, says:
The most precious in the whole universe [his family], are now gone, leaving me alone, but thank God I am still surrounded by these loving people who remain. I want to say, let people [the jihadis] return to their minds. The problems of the world can only be solved by knowledge and brains. Enough insanity, the nerves of the people are shredded. Enough, enough—return to your minds; you people, you humans—return to your humanity, enough crimes.
As a sign of the times, here is a Syrian, an "easterner," evoking rationalism and humanity, products of the Christian West, at a time when the post-Christian West is governed by anything and everything—propaganda, emotionalism, mindless indoctrination—but the twain.
SOURCE
*************************
A lot of People Won't Be Able to Keep Their Doctors Either
Senate Democrats' historic power-grab may have consumed the Beltway news cycle today, but out in the real world, the Obamacare reckoning continues. The Washington Post addresses the "access shock" issue that millions of Americans will begin confronting in 2014, with millions more waiting in the wings.
As Americans have begun shopping for health plans on the insurance exchanges, they are discovering that insurers are restricting their choice of doctors and hospitals in order to keep costs low, and that many of the plans exclude top-rated hospitals. The Obama administration made it a priority to keep down the cost of insurance on the exchanges, the online marketplaces that are central to the Affordable Care Act. But one way that insurers have been able to offer lower rates is by creating networks that are far smaller than what most Americans are accustomed to. The decisions have provoked a backlash...The result, some argue, is a two-tiered system of health care: Many of the people who buy health plans on the exchanges have fewer hospitals and doctors to choose from than those with coverage through their employers. A number of the nation's top hospitals — including the Mayo Clinic in Minnesota, Cedars-Sinai in Los Angeles, and children's hospitals in Seattle, Houston and St. Louis — are cut out of most plans sold on the exchange.
The Obamacare exchanges don't include a function that allows consumers to check whether their doctors and hospitals of choice are covered under their new plans, so many of the unpleasant dropped-doctor discoveries will happen on the fly. "What do you mean I can't keep my doctor? I need her. Now". The harsh reality is that many doctors are taking a looking at their new, significantly lower reimbursement rates under Obamacare, and are heading for the exits. As mentioned above, this trend is fueling concerns that the president's healthcare law is creating a new underclass of Americans. These people may be "insured," but in many cases, their options for care will be severely limited -- an outcome that the White House might describe as "junk" or "substandard" coverage. As for the White House's "priority" of keeping rates low, how's that going?
Many Americans browsing the Obamacare exchanges are finding the Affordable Care Act isn't living up to its name. It's not just premiums that are bringing up the costs. Consumers are finding high deductibles, co-payments and other expenses that make the Obamacare policies seem more like catastrophic plans than comprehensive insurance. Those picking a bronze plan, which carry the lowest monthly rates, may have to spend $5,000 or more before the insurance kicks in. The next highest level of coverage, the silver tier, can carry $2,000 deductibles. And once they hit their deductibles, policy holders still have to pay for doctor visits, lab tests and medication.
"All we ever heard about Obamacare is that it would lower our deductibles and premiums," said Jennifer Slafter, 40 of Mabel, Minn. "That's just not what's happened." Slafter and her husband, Steve, are scrambling to find affordable care for themselves and their two children. The exchange's Blue Cross Blue Shield plan was $1,087 a month with a $6,000 deductible, while a Medica plan was $877 a month with a $12,700 deductible. Both are steeper than their current plan. "Everything got higher," said Slafter, who is still waiting to hear whether they qualify for a premium subsidy. But even if they do, she said she'd still find it very tough to meet the deductibles.
These stories are ubiquitous. Here's one Florida family whose previous plan ($408 monthly premiums, $5,000 deductible) has been dropped and replaced with coverage that costs $671 per month in premiums with an eye-popping $12,500 deductible:
But the experience of Washington State resident Charlene Hopkins represents a different variety of human tragedy. Obamacare has robbed this self-sufficient, conscientious woman of her dignity by effectively forcing her to enroll in a state-run Medicaid program:
Since she couldn't afford the new plan offered by her insurer, she told me she was eager to explore her new choices under the Affordable Care Act. Washington Healthplanfinder is one of the better health-exchange sites, and she was actually able to log on. She entered her personal and financial data. With efficiency uncommon to the ObamaCare process, the site quickly presented her with a health-care option. That is not a typo: There was just one option—at the very affordable monthly rate of zero. The exchange had determined that my mother was not eligible to choose to pay for a plan, and so she was slated immediately for Medicaid. She couldn't believe it was true and held off completing the application. "How has it come to this?" she asked in one of our several talks over the past few weeks about what was happening. When she was a working mother and I was young, she easily carried health insurance for our whole family. "How have I fallen this far?"
Leftists cannot understand how this is bad news. Hey, she's getting free insurance! She should stop whining. This attitude clearly ignores the empirical failure of Medicaid and the terrible coverage it offers (this applies to other programs as well), and it fails to grasp how being shoved onto the dole is a scarring and humiliating experience for many people. Read the whole piece. It's deeply sad, but it should remind conservatives why the struggle against statism is worth the frustration and effort.
SOURCE
****************************
Obama loses Time magazine
Now that the Big Lie has been exposed for everyone to see, it's going to take some time for it to sufficiently sink in. I imagine most low-information voters who don't follow politics regularly -- the obvious exception being people who've already been negatively impacted by the Affordable Care Act -- aren't too familiar with the president's now-broken "if you like your health care plan, you can keep your health care plan" pledge. That will all change soon enough.
Now, of course, when Americans head to the grocery store -- or perhaps to their local pharmacy -- this cover will be staring them blankly in the face as they wait in the check-out line. Oof: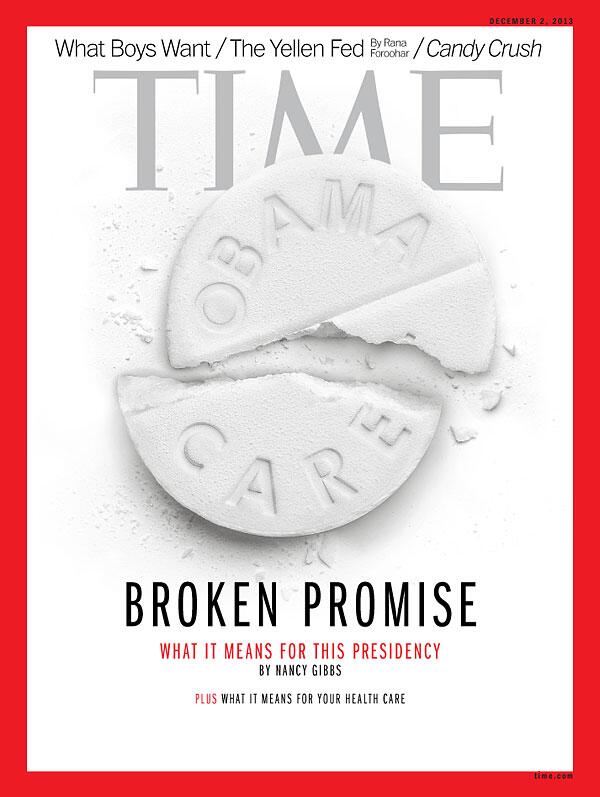 SOURCE
****************************
A small revival
Over 90% of what appears on my blogs are words written by others that I find some merit in. But I also write a great deal myself. And I have been writing for a long time. So sometimes when I want to refer back to something in my previous writings, I can't find it. I have written too much to keep mental track of when and where I wrote it.
So in such circumstances I use good old Google to find my own writings. I add the term "John Ray" to a subject search and I can usually find what I want.
An odd thing I notice however is that
my discontinued blog "A Western Heart"
seems to be in some way preferred by Google. Quite often I have put up a post in more than one place and when that is so the post on
Western Heart
is the one that comes up first -- with the other sites not mentioned at all or being given way down in the list.
I don't know why that is but I think I should take advantage of it. So posts that I would not like to get "lost" I am going to put up on
Western Heart
occasionally -- JR.
There is a new lot of postings by
Chris Brand
just up -- on his usual vastly "incorrect" themes of race, genes, IQ etc
*******************************
For more blog postings from me, see
TONGUE-TIED
,
EDUCATION WATCH INTERNATIONAL
,
GREENIE WATCH
,
POLITICAL CORRECTNESS WATCH
,
FOOD & HEALTH SKEPTIC
,
AUSTRALIAN POLITICS
, and
Paralipomena
(Occasionally updated) and
Coral reef compendium
. (Updated as news items come in).
GUN WATCH
is now mainly put together by Dean Weingarten.
List of backup or "mirror" sites
here
or
here
-- for when blogspot is "down" or failing to update. Email me
here
(Hotmail address). My Home Pages are
here
(Academic) or
here
(Pictorial) or
here
(Personal)
****************************