Blaming Their Troubles on Koch
Reid's Koch fixation is troubling
When economic policies don't work and ideas thought to be brilliant fail, the last thing a politician does is blame himself. It's always someone else's fault.
Senate Majority Leader Harry Reid (D-NV), who has another two years left in his current term, is looking at the 2014 political landscape and has obviously made the decision that he has no desire to be in the minority party to finish his term. But what successes can his Democrat Senate point to? Fellow Sen. Orrin Hatch (R-UT) correctly noted, "Democrats are simply seeking to distract from their failure to address the real issues facing our country, like our sluggish economy and the president's disastrous health care law." So what does Reid do? Blame the Koch brothers, of course.
Granted, the entrepreneurial philanthropist Koch brothers are major conservative players, among other things bankrolling the advocacy group known as Americans for Prosperity. Who could be against prosperity besides the current administration? Harry Reid could. That's why he incessantly screeches about private citizens from the Senate floor. "None of us should be afraid of the Koch brothers," he said. "These two multi-billionaires may spend hundreds of millions of dollars rigging the political process for their own benefit. But I will do whatever it takes to expose their campaign to rig the American political system to benefit the wealthy at the expense of the middle class." Matthew 7:3-5 (first remove the log from your own eye) comes to mind, particularly when Democrat coffers are overflowing with millions of dollars from the pockets of George Soros and Tom Steyer.
But Reid sits in a position to do great harm. He and other Democrats are championing a constitutional amendment that would undo several Supreme Court precedents, beginning with Buckley v. Valeo -- a 1976 case in which money was first equated with political speech -- and continuing on through the more recent Citizens United and McCutcheon decisions striking down parts of the McCain-Feingold campaign finance "reform" law from a decade ago. Reid's is a populist appeal to hide the fact that the biggest in-kind donations to leftist campaigns come from the Leftmedia, which trumpet news when it's bad for conservatives but downplay the negative about the Left.
More to the point, The Washington Times explains, "Mr. Reid and his fellow Democrats say the government should have the ability to decide who can spend money in elections and how much they are allowed to spend."
Democrats' plan to amend the Constitution to limit campaign contributions from certain categories of people practically amounts to an unconstitutional bill of attainder -- a law aimed to punish a person or group. Reid nearly admitted as much, saying, "Amending our Constitution is not something we take lightly. But the flood of special interest money into our American democracy is one of the greatest threats our system of government has ever faced. Let's keep our elections from becoming speculative ventures for the wealthy and put a stop to the hostile takeover of our democratic system by a couple of billionaire oil barons. ... There is absolutely no question the Koch brothers are in a category of their own. No one else is pumping money into the shadowy campaign organizations and campaigns like they are. There isn't even a close second. They are doing this to promote issues that make themselves even richer."
So Reid is going to try to amend the Constitution to stop the Koch brothers. His singular obsession with them has become severely disturbing. As Hot Air's Ed Morrissey quips, the amendment should be titled "*The Koch Brothers Are So Un-American That I Have Lost My Mind Act*."
One would think this amendment is a non-starter with congressional Republicans, but at one time we thought ObamaCare would never see the light of day, and then Republicans would defund it the first chance they got. As an "incumbent protection plan," Reid's proposal possibly has legs. Perhaps Reid would like to call a constitutional convention. We have some ideas for amendments to rein in abuse of power.
SOURCE
*****************************
Mr. Politically Correct Obama, Meet Your Opposite, India's Mr. Modi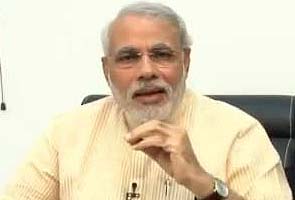 When Barack Obama was made aware that Narendra Modi would be India's next prime minister, the chances are that he moaned softly to himself…and cringed.
India's voters had brought to power a man who is not permitted to visit the United States, having been denied a U.S. visa in 2005 on account of a State Department determination that he had violated religious freedoms in the Indian state of Gujarat. (Some 2,000 Muslims had died in riots that scarred Gujarat in 2002. Modi was the state's chief minister at the time, and his critics hold him responsible for the deaths.) The visa ban was still in place when Modi was nominated last September to lead theBharatiya Janata [Indian People's] Party into the elections; and most awkwardly for Obama, the ban was still technically in place on the day of his victory. American diplomacy has been decidedly maladroit.
As if jolted awake by the obtuseness of his own State Department, Obama invited Modi to visit the U.S. "at a mutually agreeable time" when he called the Indian on Saturday to congratulate him on his triumph.
A meeting between the two men, when it occurs, could be fascinating to observe. Obama and Modi are from two different planets, and each, in his heart, is likely to have vigorous contempt for the other. The former is an exquisitely calibrated product of American liberalism, ever attentive to such notions as "inclusiveness." He is the acme of political correctness (notwithstanding the odd drone directed at "AfPak"). Modi, by contrast, is a blunt-spoken nationalist, opposed to welfare, and to the "appeasement" of minorities.
Obama and Modi are from two different planets, and each, in his heart, is likely to have a hearty contempt for the other.
Unlike Obama, who can scarcely bring himself to embrace the notion of American Exceptionalism, Modi is an Indian exceptionalist—although not in the manner of Indian leaders who have preceded him. Traditional Indian foreign policy, mired in a reflexive, postcolonial non-alignment, has always held that India has moral lessons to impart to other nations. Its international posturing has had a preachy (and frequently hypocritical) quality to it, of the sort that can get on the nerves of American presidents and other Western leaders. Modi's foreign projection is likely to be more assertive: It is plain that he envisions a strong India that is accorded respect by other nations, and that also pulls its weight in the world.
This assertiveness comes with its dangers, of course. Will he show restraint in the event of a cross-border terrorist incursion into India from Pakistan? Will he provoke a crisis with neighboring Bangladesh—that rarest of societies, a secular Muslim-majority democracy—by cracking down hard on the movement of its migrants into India? How will he react to Chinese provocations, which are sure to come, given Beijing's increasingly bellicose insistence on its territorial claims on land and at sea?
The foreign leader he will bond with best is unlikely to be Obama, an American president who has none of the instinctive feel for India, or for the enormous potential of a U.S.-India alliance, that George W. Bush had. The withering of that alliance has been one of the bleak, untold stories of Obama's period in office, and one senses that India will have to wait for Hillary Clinton to reach the White House before the Delhi-Washington relationship blossoms again.
Modi's keenest ally—potentially his BFF—is likely to be Japan's Shinzo Abe, who was one of the first to send his congratulations to the Indian politician when it became apparent that he would be the next prime minister. Abe and Modi are, in many ways, made for each other: Ardent nationalists yearning to break free from their respective nations' patterns of international passivity, they both face the terrifying challenge of a China that plays by its own unyielding rules, a maximalist hegemon which has the economic and military heft to dispense with diplomacy as the primary means of dispute resolution.
Shinzo Abe, disconcerted by the ebbing of American influence—and by the reluctance of Obama to project (much less deploy) American power in the service of its allies—has every reason to cultivate Narendra Modi. Japan has a lot to offer India in the renovation of the latter's appalling infrastructure, and Tokyo is raring to ramp up the rate of its business with India. India is a fellow democracy, and, like Japan, feels acutely vulnerable to Chinese territorial and economic expansionism. By linking up, Tokyo and Delhi can bolster each others' defense, each others' confidence, and give heart also to the other nations in the region that feel the burn of the Chinese nationalist furnace.
Although national security is a primary concern for Modi, his foreign policy is likely to be carried on the back of his economic policy. He is aware that India can only be consequential if its economy is growing: not only would growth enable India to afford the military hardware it needs to match China; it would also ensure that the widest possible range of international business interests come to have a stake in India. As the case of China shows, a sufficiently extensive foreign business presence confers on the host country a high degree of immunity from foreign criticism and sanctions. So the American leaders with whom Modi will have the most direct dialogue will not be in Washington but on Wall Street, and in the American corporate sector. And he will not need a visa to see them; they will come to Delhi.
Modi's victory will also energize the large and wealthy Indian diaspora in the United States. He has many supporters in that country, and it was an invitation from an Indian-American business group that gave rise to the need for a visa in 2005. Modi, one suspects, will be in no hurry to visit the land that considered him unfit for entry only a short while ago. And Obama, one also suspects, is in no great hurry to see Modi, in spite of his pro forma invitation on Saturday. It's not that the twain will never meet: it's that they don't particularly relish the prospect of ever doing so.
SOURCE
***************************
'If You Have a Choice Between Going to a Dumpster or to a VA Hospital, Head for the Dumpster Every Time'
COLONEL KENNETH ALLARD (US ARMY, RET.)
Brutally honest and politically incorrect, this unofficial advice was given just before I retired from the US Army. My 30-year career was challenging but consisted mostly of garrison assignments typical of the Cold War. My retirement health challenges were smoothly handled by Tricare, the public-private health-care partnership used by most military retirees.
All that changed after 9/11, when the military pivoted to the new normal of a permanently deployed expeditionary force. According to a recent RAND Study, nearly 75% of all American soldiers are now on their third or fourth combat deployment.
Whether their wounds involved lost limbs, traumatic brain injuries, or post-traumatic stress disorder, the Veterans Administration was - and still is - unprepared for the new generation of combat veterans.
No one should have been surprised that the VA - a classic traditional, top-down hierarchy - reacted with typical bureaucratic subterfuge, including lying, lost records and phantom waiting lists. Here's why:
Rule #1: In government organizations, everything always rolls downhill. You carry out Washington's orders even when they no longer make sense, even if that means doctoring the patient waiting lists. The vets wait forever for an appointment but executive bonuses still get paid, because of...
Rule #2: Don't rock the boat. VA is a bureaucracy which takes care of itself first and the vet second - but only if no one makes waves. Its procedures and organizations are eternal and time-tested, meaning that nothing much has changed since Vietnam. So if whistle-blowing begins just because some malcontents had the nerve to die, the VA instinctively circles the wagons and promises to get to the bottom of things. But mostly they just mumble until the threat of accountability dies too.
Rule #3: No one ever gets fired. Although some dedicated public servants work for the VA, its bureaucracy is the medical equivalent of academic tenure. If you are a supervisor conscientious enough to set and enforce standards, you can expect to be accused of sexism, racism, or worse. Don't be surprised if your superiors won't back you up either (see Rule #2). The whole system resembles the Soviet economy where foot-soldiers in the worker's paradise grumbled, "We pretend to work and they pretend to pay us." Same idea at VA, except we pay them a lot more.
Rule #4: Who they gonna' call? Any bureaucratic crisis inevitably has three phases: They ignore you, then dispute your findings, and finally attack you personally. But stonewalling at VA makes sense because today's vets represent just one-half of one percent of the American people. Since more than 99% of us don't serve anyone except ourselves, just how long do you expect public outrage to endure? That's a tough question, but every VA bureaucrat is betting that his department, his supervisors, and their internal agendas will endure a lot longer.
They might be wrong, because the White House just appointed a top aide to spend time over at VA finding already well-known facts. Maybe they're worried that Breitbart or Fox News will start pointing out that the current debacle shows what can happen with socialized medicine, including Obamacare. The alternative, at least for the veteran, is the Tricare system mentioned above.
I live in San Antonio, now rivaling Houston as a center of medical excellence. After my third stroke, Tricare allowed me to be treated at a leading civilian hospital, where I met Dr. David Friedman. "Colonel, I've done some genetic testing. Your clotting factors are 80 times higher than average, which is why you're having these strokes." That was five years ago, all of them stroke-free because Tricare allows Dr. Friedman to check my blood thinners every six weeks. Hey, you like your doctor, Tricare allows you to keep your doctor, right?
Even had I been lucky enough to get an appointment, would the VA have been that good? Nope, I don't think so either. So why not kill a dysfunctional bureaucracy before it kills another veteran - while gobbling up our tax dollars? After fighting in Iraq and Afghanistan, haven't those kids suffered enough?
SOURCE
*************************
For more blog postings from me, see
TONGUE-TIED
,
EDUCATION WATCH INTERNATIONAL
,
GREENIE WATCH
,
POLITICAL CORRECTNESS WATCH
,
FOOD & HEALTH SKEPTIC
,
AUSTRALIAN POLITICS
, and
Paralipomena
(Occasionally updated) and
Coral reef compendium
. (Updated as news items come in).
GUN WATCH
is now mainly put together by Dean Weingarten.
List of backup or "mirror" sites
here
or
here
-- for when blogspot is "down" or failing to update. Email me
here
(Hotmail address). My Home Pages are
here
(Academic) or
here
(Pictorial) or
here
(Personal)
******************************