Just another Leftist psychopathic liar
Remember Bill Clinton claiming that Hillary was named after Sir Edmund? Problem: Edmund Hillary was just a New Zealand sheep farmer at the time she was born. Climbing Everest came years later. A typical psychopathic lie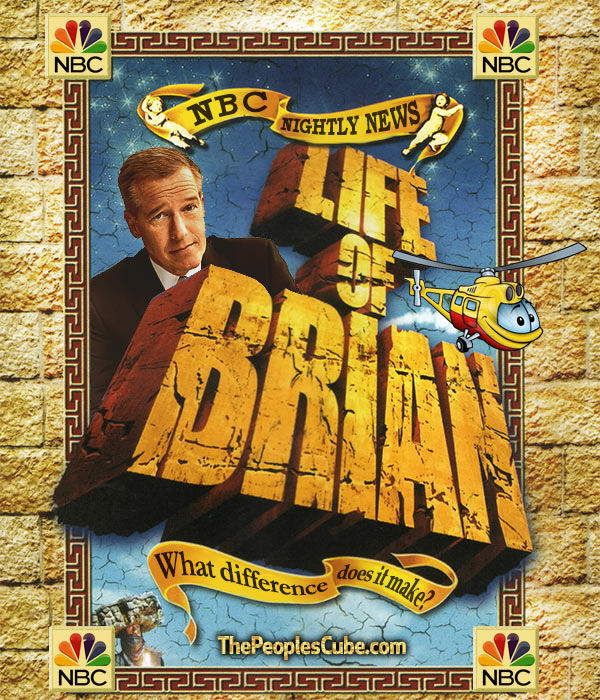 Longtime residents of French Quarter say the NBC News anchor's vivid claims about Katrina since the August 2005 hurricane have been overblown.
Williams' past reporting has come under new scrutiny after revelations earlier this week that he had peddled a false story about what he described as a near-death experience in which a US army helicopter he was riding in in Iraq in 2003 came under RPG and AK-47 fire. The story was exposed by US soldiers as false. Williams called it a "mistake" and apologized.
Longtime residents of New Orleans' French Quarter say they believe Williams' vivid claims about his Katrina reporting in the years since the devastating August 2005 storm have also been overblown. They shake their heads at Williams' having said that he saw a body floating face-down outside his hotel. They say it is highly unlikely that Williams' hotel was "overrun with gangs", as the anchor has said. They say there was no dysentery, a disease Williams has said that he caught while he was in the city reporting, and that bottled water was plentiful in the area – despite Williams' claims to the contrary.
"I saw one of his tapes last night. He said he was told not to drink bottled water in front of people because people would kill you for it?" said Dr Brobson Lutz, a former director of the New Orleans city health department who is a longtime resident of the French Quarter and who ran an EMS station there after the storm. "That's absolutely hogwash."
SOURCE
********************************
Fallout hits Hildabeest
There's an emerging consensus among some political gabbers that Brian Williams' long-running misrepresentations about his time in Iraq does serious damage to a major national figure.
The twist: The figure being skewered is not the embattled NBC anchorman but Hillary Rodham Clinton.
Why would misstatements by Williams — that a helicopter he rode in a dozen years ago in Iraq came under enemy fire — damage the once and likely future presidential candidate?
Because the former secretary of state and frontrunner-in-waiting for the 2016 Democratic presidential nomination had her own Williams-esque flight of war-zone "misspeak."
Clinton's error came in the thick of her 2008 run for the presidency, when she claimed in a speech that she and her party once ducked sniper fire on an airport tarmac in Bosnia. It wasn't true.
The NBC anchor's career-threatening failure on the Iraq story now has commentators, particularly on the political right, saying Clinton should be in just as much trouble.
At least one seasoned hand in Clintonworld theorizes, though, that Hillary's 2008 campaign trail plotz will not ultimately be as damaging as Williams' meltdown. Here's why: Williams has told the tale of the attack on a U.S. military helicopter many times over the years since he embedded with the Army during the 2003 Iraqi invasion. His problem is that he has expanded and embellished the alleged brush with danger many times.
According to reporting led by the military journal Stars & Stripes, aviators on the scene at the time said the copter carrying Williams was an hour behind another Chinook forced to land, after being hit by a rocket-propelled grenade.
In multiple retellings over the years, though, the NBC anchor has gone from saying he was "on the ground" when he learned about the RPG threat to suggesting the copter immediately in front of his took the hit to saying his own chopper was battered by both the RPG and AK-47 fire.
Williams told Stars & Stripes he "misremembered" the incident and that he doesn't "know what screwed up in my mind that caused me to conflate one aircraft with another." An on-air apology Wednesday night has done little to quell the furor.
Flashing back a couple of campaign seasons, NBC News was among the outlets that hit hardest when Hillary Clinton got her own war story wrong. Though Williams was on the periphery of that reporting, his network reported Clinton's flub and how it took her a week to correct it.
When first learning of Williams' own veracity problem this week, one former Clinton aide said he was "chagrined," thinking, "This will bring back something from that campaign, and those parallels will be drawn as if what she did was exactly like what Brian Williams did."
Clinton had said during a March 2008 speech that, while visiting Bosnia in 1996 as first lady, she remembered "landing under sniper fire." A greeting ceremony had to be cancelled, she said, as her party "ran with our heads down to get into the vehicles to get to our base."
Videotape instead showed Clinton, her daughter Chelsea and their entourage simply striding across a tarmac with smiles and greeting a retinue of well-wishers.
SOURCE
*****************************
The Big Unemployment Lie
The U.S. economy added 257,000 jobs in January, but the headline unemployment rate rose one-tenth of a point to 5.7%. The broader measure, known as the U-6 rate, also climbed from 11.2% to 11.3%. That's mixed good news, since slight growth in record-low labor participation likely caused the rate spike. Even when we create jobs in the Obama economy, we seem to lose ground.
One of the problems is that each month's jobs report pushes the same fraudulent narrative embraced by Barack Obama's administration since before his re-election. To hear Obama tell it, the country's current unemployment rate is pretty much back to where it was before the Great Recession. Therefore, the economy is on the mend, and we have the Great One's policies to thank for it.
None of this is true.
The so-called official unemployment rate that is recorded and made public by the Bureau of Labor Statistics is known as the U-3 rate, but it doesn't provide the full jobs picture for the country. The U-3 number records only those people who are currently out of work, not receiving any employment income and actively seeking new employment.
Yet there is an alarmingly vast swath of people who aren't counted in these "official" unemployment numbers. Skilled laborers who have been out of work for a sustained period of time who earn at least $20 in a week are not considered unemployed under U-3. Nor are people working part-time but seeking full-time work to support their families.
Jim Clifford, Chairman and CEO of Gallup, wrote this week, "The official unemployment rate, which cruelly overlooks the suffering of the long-term and often permanently unemployed as well as the depressingly underemployed, amounts to a Big Lie."
In fact, the unemployment rate "goes down" when more people leave the workforce than continue looking for work. So the worse reality gets, the better the headlines can be.
If we want a true sense of the unemployment picture, we should focus on the U-6 rate. This unemployment figure is publicly available, though it never receives the fanfare or public scrutiny that the U-3 number does. Indeed, one has to dig for the U-6 number; the Obama administration would never deliberately bring it up in a press release or a news conference. The U-6 rate is a look at real unemployment – not just those who are out of work, but also those who've been out of work so long that they're no longer counted in the U-3 report.
That's why we note the U-6 rate every month.
The underemployment picture is even worse. This group, including those mentioned above who are working but not at the level they should be based on skill or economic need, is 15.9%. If you adhere to Gallup's definition of a good job as 30-plus hours per week with a regular paycheck, then only 44% of the eligible adult population is working full-time. (Stay-at-home moms and certain others aren't counted in the working population, but 44% is still a shockingly low rate in a supposedly healthy economy.)
Politicians in Washington can't seem to understand why unemployment is down and people just aren't "feeling it." Well, they're not feeling it because most of them aren't seeing it. Regardless of the rosy picture that the White House paints with its misleading data, Clifton notes, "Right now, as many as 30 million Americans are either out of work or severely underemployed. Trust me, the vast majority of them aren't throwing parties to toast 'falling' unemployment."
If we continue to gloss over this very real jobs problem, we can't create the conditions that are necessary for a real economic recovery.
Dictators and leftists often embrace the old saw that if a lie is repeated often enough, it becomes reality. Such is the case with our "official" unemployment rate. The White House embraces it for the sake of political expediency. The Leftmedia embrace it because they love to report good news when there's a Democrat in the White House. Wall Street embraces it because they want investors to keep buying stocks. And so, the rest of the country is led to believe that all is well and getting better.
The time has come to face the facts as they exist, not as the Leftmedia want us to see them.
SOURCE
***************************
Obama Wants to Remove Funding for Veterans!
We receive emails on a daily basis calling us racists for opposing Obama. The President's race and skin color has absolutely NOTHING to do with it. Here's an example of why we oppose this man's Presidency:
This past August, Obama signed the Veterans Choice Program into law, allowing military veterans to seek medical assistance outside the VA instead of waiting on endless lines. It set aside $10 Billion to pay for veterans' medical care outside the VA.
We praised the President and Congress for getting the ball rolling and fixing at least some of the problems plaguing the VA for years.
Well, yesterday Obama sent his proposed budget to Congress for consideration. And guess what… he wants to DEFUND this important program!
As I said, this legislation was signed into law last August. It passed through the GOP-held House of Representatives and then the Democrat-controlled Senate. This was bipartisan legislation the American people DEMANDED.
And now, Obama wants to let the Department of Veterans Affairs to raid this $10 billion fund and allocate this money towards programs that only seem to fail our vets!
I will confess that in the past, I have held off from placing the blame where it was due. I have been desperately trying to convince myself that Obama's policies were the result of his weakness or stupidity. I think that many of his decisions still are. I didn't want to believe that the President of the United States was doing these things on purpose.
But this is undeniable. For the President to submit a budget that dismantles an entire program for serving veterans is unacceptable. That wasn't an accident… Obama and his staffers deliberately chose to dismantle this crucial aid program.
When I find out about treachery like this, it immediately gives me pause. I understand that this makes it easy to become discouraged. All in all, we sent close to 100,000 faxes to Congress demanding that they alleviate the fatal wait times at VA hospitals. And it worked. We helped get legislation signed into law.
But now, just 6 months after this law was passed, the President wants to cannibalize it to fund other failing VA policies. He touted this program as a success in August but now apparently it is too successful for his liking.
If anything, this is just more proof of how Barack H. Obama doesn't care about our veterans. How else do you explain the President signing this into law and then wanting to defund it a few months later?
We fought so hard to reform the VA and get our veterans the medical care they deserve outside the VA hospital system. Now, Obama wants to throw these veterans back into a failed system so they can die while waiting months to be seen by a doctor!
SOURCE
*****************************
What French McDonald's Restaurants Tell Us About the Pros and Cons of a Minimum Wage Hike
President Obama said in a YouTube interview last month that he wanted to focus, during his last two years as president on helping people get ahead.
"In particular, how can I make sure that folks who are working hard…cannot just survive, but how can they thrive? How can they get ahead?" Obama said.
Many think the answer to helping Americans thrive and get ahead is to increase the minimum wage—and Obama has often talked about his support for hiking it. But it's a mistake to think hiking the minimum wage will help.
In fact, a hiked minimum wage could harm people, not help them thrive.
The Heritage Foundation's James Sherk says that raising wages would have a particular impact on the fast food industry, where many low skilled and young workers get their start in a journey to better and higher paying jobs. Sherk states that by raising worker wages, "many fast-food restaurants would respond by restructuring dramatically in order to use less labor." In other words, there would be fewer jobs as a result of the mandated higher wages—and fewer opportunities for low-skilled and young-workers to be employed.
The president only has to look at McDonald's restaurants in France to see the impact a higher minimum wage would have. France's minimum wage is $10.60 an hour. Not surprisingly, every McDonald's has resorted to using touch screen ordering rather than workers. It simply doesn't make sense, when minimum wage starts that high, to employ people when machines can do the job.
This is reality. When faced with high operating costs, corporations such as McDonald's will find ways to cut costs, whether by substituting technology for labor or forgoing improvements and investments in the company's future.
Ultimately passing a minimum wage hike would provide fewer, not more, opportunities to Americans. If Obama wants to see all Americans thrive, he should make sure they have as many opportunities to do so as possible—and stop promoting a minimum wage hike.
SOURCE
**************************
For more blog postings from me, see
TONGUE-TIED
,
EDUCATION WATCH INTERNATIONAL
,
GREENIE WATCH
,
POLITICAL CORRECTNESS WATCH
,
AUSTRALIAN POLITICS
, and
Paralipomena
(Occasionally updated) and
Coral reef compendium
. (Updated as news items come in).
GUN WATCH
is now mainly put together by Dean Weingarten.
List of backup or "mirror" sites
here
or
here
-- for when blogspot is "down" or failing to update. Email me
here
(Hotmail address). My Home Pages are
here
(Academic) or
here
(Pictorial) or
here
(Personal)
****************************