Why is the Diet of Worms not a diet of worms?
Forgive the riddle
The Diet of Worms of 1521 was of course one of the major turning points in the development of Western civilization. It has nothing to do with either food or invertebrates. How come?
The Diet of Worms (
Reichstag zu Worms
in German) was set up to try Martin Luther (1483 - 1546) for heresy. He did appear there to defend his claims but when he saw the way the wind was blowing he escaped. He was however very popular in his native Saxony and among his fans was his King, Frederick "The Wise". So his King hid him in the old Wartburg castle until the heat had gone off the hunt for him. So Luther became the first Protestant reformer not to lose his head. Giordano Bruno (1548 – 1600), Savonarola (1452 - 1498) and Jan Hus (1369 - 1415) were not so lucky.
So why do we call the
Reichstag zu Worms
("National assembly at Worms") the Diet of Worms? The last part is easy. Worms is a German city pronounced as "Vorms", where the "or" is pronounced as the "or" in "horse". The name is ancient and goes back to the Latin. It is just a coincidence that the name also means something in English.
"Diet" is more interesting. The German word "Tag" can mean either "day" or "assembly", perhaps because early assemblies tended to last only one day. But the language of scholarship at the time of the
Reichstag zu Worms
was Latin. So the
Reichstag zu Worms
had to be translated into Latin if it was to be discussed at all. And the Latin translators got it wrong. They translated the "Tag" in "Reichstag" as if it meant "day" rather than as if it meant "assembly". And the Latin for "day" is "Dies" (Pronunciation varies but "dee-ayz" is common). So the assembly came to be called a "diet" as a variant of "dies".
And the usage stuck. An important gathering can to this day be called a Diet. The Japanese Diet, for instance is not rice and fish but the Japanese Parliament.
Footnote: I imagine some readers may object to my calling Luther "The first Protestant reformer not to lose his head". What about Wycliffe (1320 - 1384)? It is true that he was a severe critic of the church but he did not create a schism and was saying mass in his church until the end. He died in his bed.
The church would certainly have liked to excommunicate him but, like Luther, he was popular, and people of all ranks, including the monarchy, protected him. Any move against him got howled down. He was a great man.
Another footnote: The mistranslation of "Tag" was not original to the
Reichstag zu Worms
. The names of much earlier assemblies had also been mistranslated into Latin that way.
And Latin in fact was affected by the mistranslation too. People realized that it was more than a day that was being referred to so a new Latin word -- dieta -- arose in medieval times to mean a public meeting.
**************************
New anti-Nazi bill attacks campaign to boycott Israel
Scholars for Peace in the Middle East (SPME) expresses its support for the new Congressional bill that will seek to battle efforts to boycott Israel by linking rejection of BDS to a trade agreement being negotiated with the European Union, the largest free trade deal in history.
The bill, "The United States-Israel Trade and Commercial Enhancement Act," enjoys bipartisan sponsorship, which backers hope will help it advance quickly through Congress.
Representatives Peter Roskam (R-IL) and Juan Vargas (D-CA), who co-sponsored the bipartisan legislation, believe it will "leverage ongoing trade negotiations to discourage prospective U.S. trade partners from engaging in economic discrimination against Israel."
The bill's sponsors drew parallels to laws passed by Congress in the 1970s regarding the Arab League boycott of Israel, and noted that more recent trade agreements with Bahrain and Oman included anti-boycott clauses.
Further, the bill will also establish the monitoring of BDS-related activities by requiring foreign companies traded on U.S. stock exchanges to disclose whether they have participated in, or have faced pressure to participate in, acts of economic discrimination against Israel. The legislation does not, however, establish any penalty for doing so.
The bill also contains statements reaffirming the economic relationship between the U.S. and Israel, including the "strategic importance of trade and commercial relations to the pursuit of sustainable peace and regional stability."
The sentiments critical of boycotts by the bill's sponsors are important, not just because they put Congress "on the record" against BDS as antithetical to the notion of free trade, but also because boycotts and divestment efforts undermine the possibilities for a peace agreement between Israel and the Palestinians.
Richard Cravatts, SPME's president, said that "as academics interested in trying to rid campuses of the corrosive effects of the virulent BDS movement, we, of course, support any efforts by policy makers and others outside of academia to condemn boycotts divestment efforts and to take steps to neutralize some of their deleterious effects. If our policymakers take a reasoned and moral stand on the issue of boycotting and divesting from companies doing business with Israel, perhaps it will make it easier for those in higher education to follow that lead and start to neutralize the BDS campaign on campus."
SOURCE
*****************************
It's Called Recovery, but Where's the Beef?
Many economists and other analysts have recognized that the recovery from the U.S. economy's most recent contraction has been unusually weak—weaker, for example, than any other since World War II. But analysts have disagreed in characterizing the current recovery, which according to the National Bureau of Economic Research, the semi-official arbiter of business-cycle chronology, began in mid-2009 after a contraction that had continued for ten quarters. Some aspects of the economy, such as real GDP and consumer spending, have recovered their pre-recession highs and continued to increase. The rate of unemployment has fallen by several percentage points from its high of more than 10 percent. Net private business investment, which took an especially steep tumble during the contraction, has regained much of its loss.
Some of the most-cited indexes of recovery, however, are ambiguous, at best. The rate of unemployment, for example, has fallen in large part because millions of potential workers have left the labor force. The employment/population ratio, which fell by about 5 percentage points during the contraction, has barely budged from its new, much lower plateau. A growing GDP, despite its near-universal acceptance as the best measure of economic growth, actually tells us little about changes in the public's well-being. Some components of GDP, especially some of the elements that pertain to government spending, actually should be deducted from, rather than added to, the domestic product, inasmuch as the related government activities—military aggression abroad, domestic spying on the entire population, enforcement of counter-productive and even destructive regulations, prosecution and incarceration of people whose "crimes" have no victims—harm the public, rather than improving their welfare.
Arguably the best single, currently available measure of the entire public's payoff from economic activity is real disposable income per capita. This is the average amount per annum that Americans receive in exchange for the use of their labor and other input services, after taxes, corrected for changes in the purchasing power of the dollar. As the chart below shows, this measure of economic well-being has scarcely increased at all since 2007.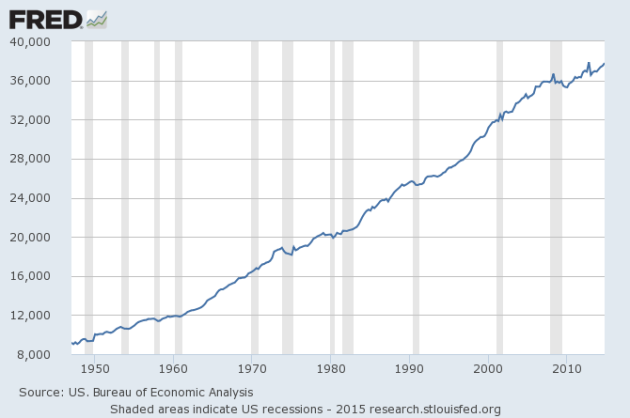 Real Disposable Personal Income per Capita (chained 2009 dollars)
To give greater precision to one's visual impressions, I have computed the average compound rate of growth of the variable in the succeeding stages of faster or slower growth visible in the chart. The results are as follows:
Period
Average annual percentage rate of growth
1949–1961
2.2%
1961–1973
3.7%
1973–1983
1.3%
1983–1996
2.1%
1996–2007
2.4%
2007–2014
0.6%
These figures demonstrate that even though the rate of increase has varied substantially in the past, it has never remained so low as it has been in recent years. Even during the decade of so-called stagflation from the early 1970s to the early 1980s, real disposable income per capita grew more than twice as fast as it has grown in the past seven years. In the past, recessions were always followed by relatively brisk growth during the first several years of the ensuing recovery. Such has not been the case this time. Nor do forecasters anticipate any such surge of growth in the future. Might it be that the state's burdens loaded onto the private producers of wealth—taxes, regulations, uncertainties, intrusions of all sorts, including demands for elaborate reports, asset seizures, and threats of felony prosecution for completely innocent and harmless actions—have finally become the "last straw" for these long-suffering camels?
However that may be, the current situation is clear enough. The U.S. economy, though not yet completely stagnant, has made little headway for more than seven years, and there is little reason to foresee any great change in this regard. Although some indexes of economic performance have recovered substantially since mid-2009, others have done so much less or not at all. And, without a doubt, the alleged recovery process has failed to deliver the "beef" that means the most to the people: substantial growth of real disposable personal income per capita.
SOURCE
****************************
Some quick catch-ups
How to remove Superfish adware from your computer
: "We recently learned that PC manufacturer Lenovo is selling computers preinstalled with a dangerous piece of software, called Superfish, that uses a man-in-the-middle attack to break Windows' encrypted Web connections for the sake of advertising. (Here's a list of affected products.) Research from EFF's Decentralized SSL Observatory has seen many thousands of Superfish certificates that have all been signed with the same root certificate, showing that HTTPS security for at least Internet Explorer, Chrome, and Safari for Windows, on all of these Lenovo laptops, is now broken. Firefox users also have the problem, because Superfish also inserts its certificate into the Firefox root store."
Nigeria: Massive Boko Haram casualties in counter offensive
: "Hundreds of Boko Haram militants have been killed in a major offensive by Nigerian forces to recaptures key towns and cities from the control of Islamist fighters, officials said Wednesday. Defense spokesman Chris Olukolade said that many militants have been arrested and weapons and equipment seized in the operation that began at the start of this week."
Turkey, US sign deal to train, arm Syrian rebels
: "The U.S. Embassy in Ankara says that Turkey and the United States have signed an agreement to train and arm Syrian rebels fighting the Islamic State group. The two countries have been in talks about such a pact for several months. The deal was signed Thursday evening by U.S Ambassador John Bass and a senior Turkish foreign ministry official, said Embassy spokesman Joe Wierichs."
Obama to permit sale of armed drones to other states
: "The Obama administration will permit the export of armed military drones to friendly nations and allies. The new policy, announced after a long internal review, is a significant step for U.S. arms policy as allied nations from Italy to Turkey to the Persian Gulf region clamor for the aircraft. It would also give a boost to U.S. defense firms scrambling to secure a greater share of a growing global drone market."
CA: "Superbug" linked to two deaths at LA hospital
: "Nearly 180 patients at UCLA's Ronald Reagan Medical Center may have been exposed to a drug-resistant bacteria that's already been linked to two deaths at the Los Angeles Hospital, health officials said. A spokeswoman for the UCLA Health Systems, Roxanne Yamaguchi, said Wednesday seven patients who were treated at the hospital were infected by carbapenem-resistant enterobacteriaceae (CRE). She said the deadly superbug was a contributing factor in the death of two of those patients."
The most expensive ingredient in beer? Taxes
: "Whether you like craft beer brewed in small batches or the mass-produced variety, the most costly ingredient that goes into every pint of beer in the United States is taxes. With federal, state and local levies, taxes make up, on average, more than 40 percent of the cost of beer purchased in the United States. In an effort to reduce the excessive tax bite, two competing bills have been proposed this month on Capitol Hill, along with legislation at the state level. One of the proposed bills, the Small BREW Act, would, if passed, provide targeted federal excise-tax cuts for beer made by domestic brewers, with tax relief based on volume. This bipartisan bill would change the definition of a small brewer."
Rent control hurts the poor
: "If you thought rent control helped to provide affordable housing to the most needy and deserving among us you need a lesson in basic economics. That sounds a little harsh but one need look no further than New York City to see the damage rent control has done to low income real estate there. Since January 2014 zombie foreclosures jumped 54 percent -- to 16,777. Zombie foreclosures refers to homes abandoned by the owner or landlord and the banks and are now stuck in limbo. Some residents have decided to take matters into their own hands and take over the abandoned properties for themselves. But the question of whether or not they should be allowed to do so is, in my opinion, missing the point."
Wal-Mart plans to boost pay of U.S. workers
: "Wal-Mart Stores Inc. on Thursday said it plans to boost the pay of its U.S. employees above the federal minimum wage in a push to help entry-level workers and amid a national debate about income inequality. The retailer said it plans to pay its workers at least $9 an hour by the first half of the year, or $1.75 above the federal minimum wage, and $10 an hour by Feb. 1. The raises affect the company's 500,000 full-time and part-time associates at U.S. Wal-Mart stores and Sam's Clubs, or about a third of the company's 1.4 million U.S. workers."
[Approval-seeking behavior]
***************************
For more blog postings from me, see
TONGUE-TIED
,
EDUCATION WATCH INTERNATIONAL
,
GREENIE WATCH
,
POLITICAL CORRECTNESS WATCH
,
AUSTRALIAN POLITICS
, and
Paralipomena
(Occasionally updated) and
Coral reef compendium
. (Updated as news items come in).
GUN WATCH
is now mainly put together by Dean Weingarten. I also put up occasional updates on my
Personal blog
List of backup or "mirror" sites
here
or
here
-- for when blogspot is "down" or failing to update. Email me
here
(Hotmail address). My Home Pages are
here
(Academic) or
here
(Pictorial) or
here
(Personal)
****************************