Italians: Sheriff Joe and Silvio Berlusconi
I want to put in a broader context the current outpouring of media hate against hero sheriff Joe Arpaio. Joe's parents originated from Lacedonia, an ancient town in Southern Italy and I want to suggest that there is much about him that is Italian.
I grew up among Italians and have the warmest feelings towards them. I see them as cheerful, hard-working, family-oriented, warm people who have an instictive irreverence for authority. Italians are notorious scofflaws. Just about everyone in Italy regards the law as an obstacle to be gotten around. They have their own personal and family-oriented values and have a healthy disrespect for the edicts thrown down at them by government. It would not be too far from the truth to say that most Italians regard even the Ten Commandments as the Ten Suggestions.
So you see where I am going there. Italy may be the most libertarian society on earth. Their "black" economy is certainly huge. It was their inability to raise much tax revenue that caused successive Italian governments to inflate the currency. The Lira was constantly being devalued. Now that they have the Euro, they borrow at an unsustainable rate instead. The Germans have propped that up so far but awareness of that puts the average German into a rage so who knows how and when that bubble will pop?
And a set of rules that are constantly being forced down all our throats are the onerous and inconsistent idiocies of political correctness. So it should be no surprise that most Italians don't take to political correctness at all.
A minor example of that was when the EU handed down an edict that government schools could not have religious imagery in them. But virtually no Italian could imagine a school without aids to contemplation such as a picture of the Blessed Virgin or the Sacred Heart of Jesus. That was just not done. I forget how it was gotten around but I gather that Italian schools still feature their holy pictures and statuary. And you can be in no doubt that NYC Italians will fiercely defend their statues of Cristoforo Colombo.
And the king of political correctness is without a doubt, Silvio Berlusconi, by far the most popular and successful Italian politican of the postwar era. Because of their individuality, Italians constantly depose their political leadership. Nobody impresses them for long. For a long time the average life of a Prime Ministership in Italy was one year or thereabouts. Then along came Silvio. He smiles a lot, is a little short guy, a media mogul and a billionaire. He was also once a cruise ship crooner. He would have been (and has been) laughed to scorn in countries with colder climates but to Italians he was a real Italian and many loved him for just that. So he had amazingly long runs in office as Prime Minister. He was Prime Minister for nine years in total, making him the longest-serving post-war Prime Minister of Italy.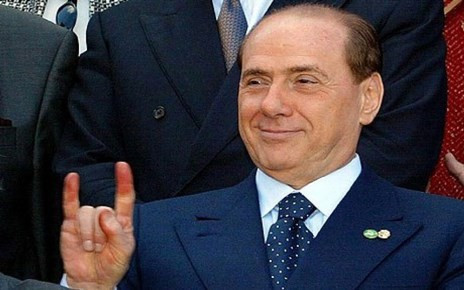 And his political incorrectness was legendary. He was constantly being accused by outsiders of "gaffes", some of which were jokes, some of which were simple truths and all of which were him speaking his mind at the time, political correctness regardless.
Time magazine
did a collection of some of them a few years ago.
His repeated expressions of admiration for the "suntans" of Africans would forever condemn him to the outer darkness of American politics but to Italians they were just humor. And there was also worldwide horror when he said to a female Italian doctor doing earthquake relief work that,
"I wouldn't mind being resuscitated by you"
. But the lady, being Italian, quipped back and insisted that he was just being gallant.
And so we come back to sheriff Joe. He did not at all like people strolling into his country uninvited and had no time for the politically correct view that they were simply "undocumented". And even under great pressure from the politically correct Obama administration he stuck by his values. He is a great Italian as well as a great American. And as for the media, how about a bit of cross-cultural sensitivity? Cultural sensitivity is their bag, is it not?
****************************
That double standard again
The media and the Left generally have roundly condemned the pardon given to Sheriff Joe because his offence was to disobey an order from a judge while being a government officer. Strange that the events in 2015 described below elicited no outcry from the same people. Only conservatives have to obey judges, it seems:
In another midnight filing last week in the immigration lawsuit filed by 26 states against the Obama administration in the Southern District of Texas, the U.S. Justice Department admitted that the Department of Homeland Security had violated federal Judge Andrew Hanen's Feb. 16 injunction against President Obama's immigration amnesty plan.
This was not the first such admission by the government. It had previously filed an "Advisory" on March 3 informing Judge Hanen that between Nov. 20, 2014, when the president announced his immigration plan, and Feb. 16 when the injunction was issued, the Department of Homeland Security had begun implementing part of the president's plan by issuing three-year deferrals to over 100,000 illegal aliens.
In other words, despite having told Judge Hanen both in court and in written pleadings that no part of the president's plan was being implemented until late February at the earliest, government officials were doing exactly the opposite.
On April 7, Judge Hanen issued an order with a scathing analysis of the Justice Department's misbehavior, finding that "attorneys for the government misrepresented the facts" to the court. He told the Justice Department that he expected all of the parties in the case, including the government, "to act in a forthright manner and not hide behind deceptive representations and half-truths."
Hanen also gave the Justice Department lawyers a hard time over not having informed him immediately upon their discovery of this misrepresentation, saying that their claim that they took prompt, remedial action was "belied by the facts" – namely, that they waited over two weeks to tell the judge.
In a separate, supplemental three-page order issued on May 8, Judge Hanen cites additional evidence to support his finding that the states have standing to challenge Obama's immigration plan. In his Feb. 16 injunction order, Hanen referenced statements by Obama that there would be consequences for any Homeland Security employee who did not follow the requirements of the Nov. 20 amnesty plan. The Justice Department had tried to downplay the president's statements.
However, Judge Hanen notes that while testifying on April 14 – after the injunction was issued – before the House Judiciary Committee, Sarah Saldana, the director of Immigration and Customs Enforcement, "reiterated that any officer or agent who did not follow the dictates of the 2014 DHS Directive would face the entire gamut of possible employee sanctions, including termination."
Hanen said that "the President's statements have now been reaffirmed under oath by the very person in charge of immigration enforcement."
Thus, according to Hanen, the government "has announced, and has now confirmed under oath, that it is pursuing a policy of mandatory non-compliance (with the [Immigration and Nationality Act], and that any agent who seeks to enforce the duly-enacted immigration laws will face sanctions – which could include the loss of his or her job."
It is this "clear abdication of the law by the Government – a law that is only enforceable by the Government and outside the province of the states" that gives the states standing to bring suit.
SOURCE
******************************
The growing political power of silicon valley
For decades now, all of America's major institutions – have been broadly, unquestionably Leftist, and rigidly opposed to any deviance from the entrenched doctrine. Colleges and universities, Hollywood and entertainment, the Sciences and the News Media – all deeply in Leftism's thrall.
And then there is the Silicon Valley – now the biggest, baddest, broadest institution of them all. Because of their dominance of the Internet – they have their hands in all of the legacy institutions.
The Silicon Valley has had for more than a decade a license to print money. And they bestow tens of millions of dollars of it in endowments to Leftist colleges – including tons of coin in directed "science" like global warming…oops, I mean climate change.
The Valley is out Hollywood-ing Hollywood – self-producing a great and growing number of movies and television shows.
And then…there's the News Media. As we have documented, the News Media cartel's nexus has shifted from the New York City-Washington, D.C. corridor- to the heart of the Valley. Because with every passing day subscriptions matter less and less – and clicks, Tweets and Shares matter more and more.
And since the Silicon Valley controls clicks, Tweets and Shares – they are more and more controlling the news. Which is…really bad news for those of us who like less government.
Because in case you haven't noticed – the Valley is decidedly, overwhelmingly Leftist. As Leftist as the News Media NYC-DC cabal is – the Valley, is decidedly, overwhelmingly worse.
The Valley elects people…like Democrat Leader Nancy Pelosi – whom 95+% of Americans find bizarrely, perversely out-of-touch with any semblance of Reality.
The Valley has given hundreds of millions of dollars to all sorts of unbelievably Leftist politicians, people and organizations. Heck, why not cut out the middlemen – Facebook founder Mark Zuckerberg is considering a run for President.
The Silicon Valley is increasingly the gatekeeper to all things News. More and more people get their news via stories shared on Valley platforms – Facebook and Twitter to name but two giants.
And if you want to search for a news story, Google dominates. Three years ago, Google – all by its onesies – was the search engine used on 67% of computers and 83% of mobile devices.
Which is yet another reason why the Google Memo debacle – is such a debacle. Google scientist James Damore wrote an internal document that, amongst other things, decried Google's uniform Leftism. It became an external document – and Google made Damore an ex-Google scientist. Reinforcing Damore's point about Google's uniform Leftism.
Google Chief Executive Officer (CEO) Sundar Pichai immediately thereafter asserted: "Over the past two days, I have had the chance to meet with so many people here, and I have read each of your emails carefully. The vast majority of you are very supportive of our decision."
But a poll of Googlers – begs to differ: "When Blind asked its users if they thought Google should have fired Damore, over 4,000 from different companies weighed in. Perhaps most pertinently, 441 Google employees responded. Of them, more than half – 56% to be precise – said they didn't think it was right for the company to fire Damore."
Which means the average Googler – is afraid to deviate from the Google political line when interacting with the boss. Further still reinforcing Damore's point.
And again, Google controls the search results for about 3/4 of Americans. Which, again, is really bad news if you like less government.
In 2012, when someone searched Google for "completely wrong" – Google returned a page of images of Republican presidential candidate Mitt Romney. Google favorably "personalized" searches for Romney's incumbent opponent – Democrat Barack Obama – but not for Romney.
And small wonder – Google and the Valley were chiefly responsible for Obama being president in the first place.
Google was no better in 2016. They were caught rigging searches to favor Democrat presidential candidate Hillary Clinton. Google issued a mea culpa – and then was caught STILL rigging searches to favor Clinton.
Yet again: For 3/4 of Americans, these horrendously skewed Google results – are what they're getting when they search for news.
Facebook is no better. They launched a "news feed" – that overwhelmingly featured Leftist "news." It was blatantly biased – so much so that it was quickly scrapped.
We are still left to wonder how Facebook's regular feed algorithm determines which of our Friends' stories we get to see – and not see.
And now the ultimate irony. After spending the last decade-plus skewing the News – Google, Facebook and their Valley brethren are now charging themselves…with battling "fake news." Physicians – heal thyselves.
SOURCE
********************************
For more blog postings from me, see
TONGUE-TIED
,
EDUCATION WATCH INTERNATIONAL
,
GREENIE WATCH
,
POLITICAL CORRECTNESS WATCH
,
AUSTRALIAN POLITICS
, and
Paralipomena
(Occasionally updated), a
Coral reef compendium
and
an IQ compendium
. (Both updated as news items come in).
GUN WATCH
is now mainly put together by Dean Weingarten. I also put up occasional updates on my
Personal blog
and each day I gather together my most substantial current writings on
THE PSYCHOLOGIST
.
Email me
here
(Hotmail address). My Home Pages are
here
(Academic) or
here
(Pictorial) or
here
(Personal)
***************************