Good News for Undoing Harmful Financial Regulation
The Senate passed a bill repealing huge sections of Dodd-Frank. Let's hope the House follows suit
Something very unusual happened on Capitol Hill this week.
Senate Republicans and Democrats joined together to pass the Economic Growth, Regulatory Relief and Consumer Protection Act by a vote of 67-31. The bill was introduced by Republican Sen. Mike Crapo of Idaho, and it's all about undoing the damage of Barack Obama-era financial regulation legislation.
To a significant degree, the act repeals the Dodd-Frank Act of 2010, which Barack Obama and his fellow Democrats passed in response to the financial crisis of 2008 — massive government intervention to address the very same crisis that was caused by Democrat policies of too much government intervention in the banking industry. (It takes a special kind of gall to create a crisis and then claim credit for trying to fix it with more of the same.) Predictably, Dodd-Frank only made matters worse, but the measure passed by the Senate this week repeals key aspects of that ill-conceived legislation.
However, one aspect of the current bill that's not being repealed is the Consumer Financial Protection Bureau, a cadre of unelected and unaccountable government bureaucrats. As such, the CFPB can create new financial regulations without approval from anyone. They can also adolescently join the #Resist Trump movement without consequence.
Nonetheless, the bill raises the threshold for banks considered "too big to fail" from $50 billion to $250 billion. Consequently, more mid-level banks will be spared the federal government's undue regulatory stranglehold. In addition, the act would free local and regional banks from having to comply with a laundry list of federal regulations that are too costly and time consuming. Banks would also have greater autonomy in lending money to small businesses and individuals.
This is how a free-market economy works. And Democrats are naturally opposed to letting the system function without the hands of the federal government pulling the strings. This bill certainly doesn't wipe out all regulation, but it does restore some of the ability of small and mid-size banking institutions to operate efficiently and in the best interests of its customers. Claims that banks will now operate without any oversight are patently false.
In a video on his Senate website, Crapo states, "Currently, Washington's one-size-fits-all regulation treats the smallest financial institutions like they were the largest financial institutions. It doesn't make sense, and leaves Americans with fewer financial services options, depriving deserving people and small businesses of access to credit and capital." He adds, "It keeps consumer protections in place and increases protections for those who fall on hard times or become victims of fraud."
But it's not a done deal yet. The Washington Post reports, "Rep. Jeb Hensarling (R-Texas), chairman of the House Financial Services Committee, has said that House Republicans will want to alter the Senate bill to reflect their priorities. But that could drive away the Senate Democrats needed to pass the legislation, and so the House will face significant pressure to accept the Senate legislation with few, if any, changes." Republicans in the House want to be more aggressive in terms of rolling back regulations, so the passage of the Senate bill is clearly just a first step.
Nonetheless, the ultimate passage of the act will be good for the country and the economy.
White House Press Secretary Sarah Huckabee Sanders lauded the legislation's passage, stating, "The bill provides much-needed relief from the Dodd-Frank Act for thousands of community banks and credit unions and will spur lending and economic growth without creating risks to the financial system."
Despite the bipartisan support for this bill, Democrats were deeply divided over its passage. The Washington Post revealed that, according to an anonymous source, "after Warren called out red-state Democrats and other supporters of the bill by name in a fundraising appeal, Schumer encouraged her to stay focused on the substance in the debate."
But why would such a prominent senator (and a potential 2020 presidential candidate), want to risk undermining unity among Democrats and position herself even farther to the Left than she is already? Because Warren's whole shtick is based on creating the perception that financial institutions can't be trusted. No, in her bizarre alternate reality, only the government can be trusted with managing our money.
Warren repeatedly spreads this narrative to appear to be for the "little guy," even though policies like Dodd-Frank make it even harder for all the little guys out there. But Warren's criticism of the reform bill wasn't enough to keep 12 Democrats from joining the Republicans. This leaves Warren in a precarious situation heading into an election cycle in which her party seems to be thinking about perhaps maybe kinda inching toward the center in order to improve their chances of taking back the House.
Now the bill heads off to that lower chamber, where Republicans still have the power to cut through the red tape and regulations that burden our economy and make it harder for individuals to buy homes or start businesses.
Democrats have always relied on party unity to stand in the way of commonsense policies, but this time they've been divided by President Trump and congressional Republicans, who may finally be figuring out how to govern as the majority.
SOURCE
*******************************
Obama DOJ Forced FBI To Delete 500,000 Fugitives From Background Check Database
The Justice Department under Barack Obama directed the FBI to drop more than 500,000 names of fugitives with outstanding arrest warrants from the National Instant Criminal Background Check System, acting FBI deputy director David Bowdich testified Wednesday.
Fugitives from justice are barred from buying a firearm under federal law. But what is a fugitive from justice? That definition has been under debate by the FBI and the ATF.
According to The Washington Post, the FBI considered any person with an outstanding arrest warrant to be a fugitive. On the other hand, the Bureau of Alcohol Tobacco, Firearms and Explosives defined a fugitive as someone who has an outstanding arrest warrant and has crossed state lines.
That disagreement was settled at the end of Obama's second term, when the Justice Department's Office of Legal Counsel sided with the ATF's interpretation. Under President Donald Trump, the DOJ defined a fugitive as a person who went to another state to dodge criminal prosecution or evade giving testimony in criminal court, and implemented the Office of Legal Counsel's decision. The decision meant that around half a million fugitives were removed from the National Instant Criminal Background Check System.
During a Senate Judiciary Committee hearing about law enforcement's faulty response to Parkland, Florida shooter Nikolas Cruz, California Democratic Sen. Dianne Feinstein asked Bowdich about the removal.
"That was a decision that was made under the previous administration," Bowdich testified. "It was the Department of Justice's Office of Legal Counsel that reviewed the law and believed that it needed to be interpreted so that if someone was a fugitive in a state, there had to be indications that they had crossed state lines."
"Otherwise they were not known to be a fugitive under the law and the way it was interpreted," he added.
Attorney General Jeff Sessions recently announced the Justice Department will "aggressively" pursue any person who lies on their background check.
SOURCE
*********************************
Engineer on Florida bridge project called state TWO DAYS before deadly collapse to report crack - but they never picked up the voicemail
An engineer called the Florida Department of Transportation to report concerns about a crack on their new 'instant' bridge two days before it collapsed - but no one ever picked up their voicemail.
FIGG's lead engineer responsible for the Florida International University, FIU, pedestrian bridge project, W. Denney Pate, left a message warning that they had observed some cracking at the north end of the bridge. The voicemail was not picked up until Friday - a day after the bridge collapsed killing six.
Pate warned that the cracking areas would need repairs but assured that, 'from a safety perspective we don't see that there's any issue.' He ended the call, urging the employee to 'call me back when you can' to discuss the problem.
The message was not picked up by an FDOT employee until Friday as the staff member was out of the office on assignment.
FDOT have since released a statement placing the blame squarely on the shoulders of FIU. 'The responsibility to identify and address life-safety issues and properly communicate them is the sole responsibility of the FIU design build team,' the statement read.
'At no point during any of the communications above did FIGG or any member of the FIU design build team ever communicate a life-safety issue.
The revelation comes after Miami-Dade County Commissioner said he was shocked to discover that the busy seven-lane freeway underneath the bridge wasn't closed while stress tests were performed.
Commissioner Xavier Suarez, who has a background in civil engineering, said he was flabbergasted that the street was not shut down to traffic before or during any stress tests or cable adjustments on the unfinished project. 'Never in my life have I heard of that,' Suarez said. 'That makes no sense. That makes no sense.'
'As a public official, I am saddened by the FIU bridge collapse. As an engineer it baffles me that a brand new bridge with no unusual (or, possibly even expected) loads could collapse in that way. Our prayers are with the victims and their families.
'Collapse of a brand-new pedestrian bridge w/o pedestrians on it @ FIU makes no sense. I will not accept explanation based on 'testing.' U cannot 'test' bridge when people are driving below it. 'I want 2 know what failed - support or span? Either way, somebody was beyond negligent.'
The bridge's internal support cables were being 'tightened' just as the bridge crumbled onto traffic below, crushing eight cars under 950 tons of concrete and steel.
But no one has yet explained why cars were allowed to drive freely under an incomplete bridge while workers were testing to see if it might fall apart.
Dr. Amjad Aref, a civil engineer and researcher at the University of Buffalo's Institute of Bridge Engineering, told the New York Times it wasn't unheard-of to let traffic flow during a stress test under some conditions. But where a bridge is incomplete, the public are generally kept out of the way.
'Normally when we do anything, even a fairly completed bridge or if it's some rehab or even really minor load-testing, there's some sort of traffic control,' Aref says.
Investigators are also looking into why the 'instant' bridge, which collapsed killing six on Thursday in Miami, was not supported by a central tower when it was tested yesterday.
Last week, Florida International University's official Twitter account posted a rendering of the bridge in its completed form as envisioned by the planners before its opening to foot traffic in early 2019.
The rendering shows a tall central column with cables connecting it to the main span.
Engineers say the design is known as a 'cable-stayed bridge,' which is a kind of suspension bridge, according to USA Today.
The bridge did not have the central tower in place, even though experts say it is usually placed at the early stages of construction.
In the absence of a tower, there is usually a temporary support, though in this case it is unclear what the builders were using in the absence of a central structure.
'Whoever is going to investigate, they will ask the fundamental question: shouldn't the tower be there, and the cables ready to connect to the structure, when you lift it?' said Amjad Aref, a professor at University at Buffalo's Department of Civil, Structural and Environmental Engineering. 'That's a question for them to answer.'
When asked about why there was no central column built before the span, the head of the National Transportation Safety Board, Robert Sumwalt, said: 'That's part of our investigation.'
The NTSB is an independent federal agency that probes transportation-related accidents.
SOURCE
****************************
Democrat dog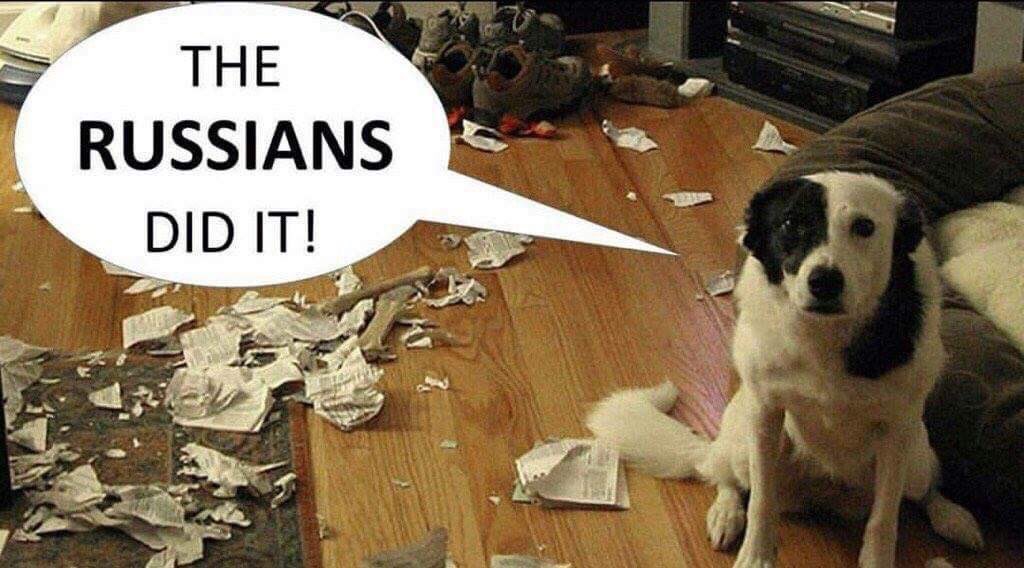 *********************************
How gun grabbers think
*************************
For more blog postings from me, see
TONGUE-TIED
,
EDUCATION WATCH INTERNATIONAL
,
GREENIE WATCH
,
POLITICAL CORRECTNESS WATCH
,
AUSTRALIAN POLITICS
, and
Paralipomena
(Occasionally updated), a
Coral reef compendium
and
an IQ compendium
. (Both updated as news items come in).
GUN WATCH
is now mainly put together by Dean Weingarten. I also put up occasional updates on my
Personal blog
and each day I gather together my most substantial current writings on
THE PSYCHOLOGIST
.
Email me
here
(Hotmail address). My Home Pages are
here
(Academic) or
here
(Pictorial) or
here
(Personal)
***************************