A small but interesting slice of history
Impeachment has become very boring. This may be less so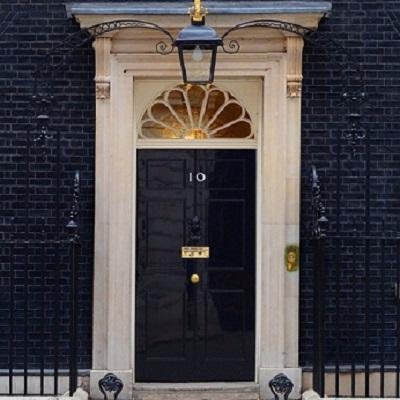 On September 22nd, 1735, Sir Robert Walpole, Britain's first Prime Minister (although the title was not used until much later), moved into Number Ten Downing Street (although it did not have that number then). Its famous door (through which it was not then entered) has become an iconic symbol of Britain's democratic government. That famous door was not added until 40 years later, and was made of oak until after the 1991 IRA mortar attack on the building, following which it was replaced by bomb-proof material. The black bricks that surround the door, separated from it by the cream-coloured casing, are in fact yellow underneath. They were turned black, as were nearly all London buildings, by the 19th and 20th Century smog of the coal fires that heated every home and the smoke from industrial chimneys. Since everyone was by then used to seeing them black, when they were cleaned in the 1960s they were painted black.
Walpole, with the support of two successive monarchs, became Britain's longest-serving Prime Minister, with a spell of more than 40 years. The kings valued his ability to deliver majorities in Parliament to have bills passed to become Acts of Parliament. George II was sufficiently grateful that when Downing Street reverted to the Crown, he offered it to Sir Robert. With admirable restraint, Sir Robert declined it as a personal gift, but suggested it be reserved for holders of the office of First Lord of the Treasury, then the Prime Minister's official title, and one today's Prime Ministers still hold. A brass plate beside the door of Number Ten testifies to this.
Walpole was a moderate. When Europe was at war, he preferred Britain to be out of it, and persuaded George II to stay out of the War of the Polish Succession. In 1733 he proclaimed, "There are 50,000 men slain in Europe this year, and not one Englishman." Without the costs of war, Walpole contrived to reduce taxes. The Land Tax went down from 4s in 1721, to 3s in 1728, 2s in 1731, and finally to 1s in 1732. He also established a Sinking Fund to reduce the National Debt.
He was trying gradually to shift the tax burden away from the gentry, who paid the land tax, and onto the merchants and their customers who paid customs and excise taxes. In modern terms he was trying very sensibly to shift the tax burden from stock to flow, but doing it gradually. He pointed out that gentry "squealed like hogs" at the tax burden, whereas merchants were more like sheep, giving up their wool peaceably.
He built up the Whig ascendency, but his low-key avoidance of controversy and his granting of more tolerance to religious dissenters won him support from moderates of both Whig and Tory groups. The historian H T Dickinson, one of my teachers, wrote, "Walpole was one of the greatest politicians in British history. He played a significant role in sustaining the Whig party, safeguarding the Hanoverian succession, and defending the principles of the Glorious Revolution."
The residence at 10 Downing Street that he occupied is not what it seems. Walpole had the architect William Kent connect two houses, making the Downing Street front one effectively a passage through to the main building behind it. A corridor connects it to the Cabinet Office much further up Whitehall, and there is a tunnel under Whitehall that we're not supposed to know about that connects it to the Defence Ministry. What is now the Cabinet Room was used by Walpole as his study.
In many ways Ten Downing Street resembles the British constitution it safeguards. There is much more to it than the outward appearance might suggest, and it adapts and changes over time to meet the new challenges it is called upon to face. Yet it preserves the outward form, providing reassurance of continuity. It is modest, rather than grandiose, reminding us that the Prime Minister is a person like us, who lives in a house, as we do, rather than some god-like remote dignitary. Its understated presence reminds us, too, that government and Parliament in this country are here to serve the people, not the other way round.
When people move house, a removal van pulls up outside their house. That is, quite rightly, what happens in Ten Downing Street when we change governments.
SOURCE
************************************
Democrats' Excessiveness Will Backfire
How many times do Democrats get to cry wolf before a rational body politic tells them to go fly a kite? Instead of retreating with tails between their legs over their failed Russia hoax, they're already at it again.
Did any Democrats leading the false charge that President Trump colluded with Russia to steal the 2016 election ever apologize for putting the country through this nightmare? Did any of their media water carriers ever backpedal from their anti-Trump sensationalism?
Of course not, because in their minds Trump is so evil and his presidency so bad for the country that even ignoble efforts to remove him are morally warranted. What's wrong with deceit and abuse of process if it will rid the country of the orange scourge?
Alert people should now recognize that Democrats are still willing to go to almost any lengths to undo the 2016 election -- or preempt Trump's 2020 reelection. Their raw contempt for Trump and his supporters knows no bounds, and their just-launched "impeachment inquiry" is further evidence of it.
I note in my soon-to-be-released new book, "Guilty By Reason of Insanity: Why the Democrats Must Not Win," that there is no real fissure in the Democratic Party between the old guard and the young radicals, the latter of whom are led by the "Squad." Sure, there is sometimes spirited debate between the established powers and Rep. Alexandria Ocasio-Cortez's socialist quartet, but in the end, the entire party has embraced a thoroughly extremist leftist agenda.
Even if House Speaker Nancy Pelosi would have us believe that she and her veteran Democratic colleagues are more measured, there is no doubt where her party is headed. Even if in her heart of hearts, she thinks the Young Turks are going too far too fast, which I strongly doubt, the Democratic Party base is not about to allow her to vacillate, much less to moderate.
So it is that Pelosi, despite having long resisted Rep. Jerry Nadler's and other Democratic congressional militants' efforts to initiate impeachment proceedings, has snapped to attention over these new hyped-up allegations concerning Ukraine and opened an impeachment inquiry herself.
Just like the Russia hoax, this one already involves more damning evidence against Democrats than Trump. Democrats, in a monumental act of projection, tried for three years to interfere with an election by falsely claiming Trump interfered with that same election. Now they're alleging that Trump abused his presidential power with Ukraine by trying to expose Joe Biden's possible abuse of power with Ukraine. In addition to Biden's alleged misconduct, three Democratic senators wrote a letter to Ukraine's prosecutor general in May 2018 urging him to cooperate with the Mueller investigation. This is plot thickening on steroids.
Pelosi acted precipitously, before Trump released notes from his call with Ukrainian President Volodymyr Zelensky and before release of the whistleblower complaint against Trump, both of which are turning out to be nothing -- veggie burgers with no fries. Then again, with the liberal media in their pocket (or vice versa), Democrats have little to fear from performing such stunts.
Some commentators argue that though Democrats know they don't have the votes to convict Trump in the Senate, they are pursuing this "inquiry" because their agenda isn't resonating with the people. Corruption charges will distract from their policy bankruptcy and might cripple Trump enough to defeat him in 2020. Others say their angle is more subtle -- to snooker Trump and his officials into committing a process crime by defying court orders to produce documents, or perhaps lying to Congress or the FBI.
Of course, liberal commentators dispute that Democrats are trying to distract from their preposterous agenda, because in their view, the Democrats' insane environmental and fiscal proposals and their ruthless obsession over identity politics are winning ideas. Thus, they don't need to fabricate phony corruption charges. These allegations are legitimate. Though there was manifestly no quid pro quo in Trump's comments to Zelensky, the Trump haters divine evil intent and malice aforethought with every Trump stream-of-consciousness utterance.
That they were all embarrassingly wrong for three years over Russiagate gives them no pause. They are incorrigible and shameless.
Some Trump supporters are concerned about this, fearing that Democratic relentlessness will finally bear fruit. I honestly don't think so. Once again, the Trump haters, so consumed with venom that they've lost objectivity, have overplayed their hands. This impeachment fantasy is going nowhere. Democratic excessiveness is part of what led to Trump's rise in the first place, and there's good reason to believe it will aid in his reelection. People have had enough of this insanity. By becoming more extreme and unreasonable, the left is only solidifying and amplifying Trump support. So bring it on.
SOURCE
*************************************
The Death of American Citizenship
The American founders institutionalized the best of a long Western tradition of representative government with the U.S. Constitution and Bill of Rights. These contracts outlined the rare privileges and responsibilities of new American citizens.
Yet the concept of citizenship is being assaulted on the premodern side by the legal blending of mere residency with citizenship.
Estimates of the number of undocumented American residents range from 11 million to more than 20 million. The undocumented are becoming legally indistinguishable from citizens and enjoy exemption from federal immigration law in some 500 sanctuary jurisdictions. An illegal resident of California will pay substantially less tuition at a California public university than a U.S. citizen of another state.
Multiculturalism has reduced the idea of e pluribus unum to a regressive tribalism. Americans often seem to owe their first allegiance to those who look like they do. Citizens cannot even agree over once-hallowed and shared national holidays such as Christmas, Thanksgiving and the Fourth of July.
It is eerie how such current American retribalization resembles the collapse of Rome, as Goths, Huns and Vandals all squabbled among one another for what was left of 1,200 years of Roman citizenship -- eager to destroy what they could neither create nor emulate.
Citizenship has always been protected by the middle classes -- on the idea that they are more independent and self-reliant than the poor, but can stand up to the influence and power of the elite.
Biden: Undocumented Children 'Become Americans Before a Lot of Americans Become Americans'
Yet until recently, we had seen a decade of stagnant wages and entire regions ossified by outsourcing, offshoring and unfair global trade. Historically, with the demise of the middle class so follows the end of constitutional government.
But citizenship also faces a quite different and even greater postmodern threat.
Many of our coastal elites see nothing much exceptional in America, past and present. They prefer the culture and values of the European Union without worrying that the EU's progressive utopian promises have been wrecked by open borders, economically stultifying regulations, and unapologetic and anti-democratic efforts to curb free expression and local autonomy.
Often, such "citizen of the world" mentalities fuel shame over the origins and traditions of America. Transnational organizations and accords on climate, criminal justice and human rights are seen as superior to their American counterparts.
A new progressive iconoclasm seeks to destroy statues, rename streets and buildings, and wipe away art that does not reflect more global values.
Does voting -- the bedrock right of the democratic citizen -- matter that much anymore? In California, tens of thousands of votes were "harvested" by paid campaign operatives. There was also abuse in state agencies in sending out voter registration forms to those who were not legally entitled to vote.
Lone activist federal judges frequently overturn legislation and referenda they find contrary to their own political take on legal theory -- without worry that the votes of millions are canceled in a nanosecond.
Meanwhile, the proverbial "swamp" of the bureaucratic, administrative and regulatory state is so vast and unaccountable that a few clerks can harass entrepreneurs, issue edicts with the force of legislation that ruins lives, or indict, regulate or audit a targeted individual into legal bankruptcy.
In recent years, we have seen a cake maker, a video maker, and a national security adviser so hounded by federal bureaucrats that they either were nearly bankrupted, ended up in jail or were reduced to penury through legal costs.
We still have a Bill of Rights, but many of our constitutional protections are being rendered impotent. If a rural family cannot find ammunition at the local Walmart or gun store due to organized boycotts and threats to such establishments, then the constitutional right to bear arms is not always exercisable in a practical sense.
Brett Kavanaugh was nominated, audited and confirmed by the Senate as a Supreme Court justice. But if the New York Times and cable news can relentlessly charge without proof that nearly 40 years ago he was a teenage sexual pervert, then a distinguished judge can be rendered impotent without legal impeachment.
If a student cannot safely express opposition to abortion on demand, question the global warming narrative, or object to safe spaces, trigger warnings and race-based theme houses on campuses, does it matter that there is in theory still a First Amendment?
We are unwinding at both ends. Tribalism, the erosion of the middle class and de facto open borders are turning Americans into mere residents of a particular North American region between Mexico and Canada.
Yet even more dangerously, thanks to the fiats of unelected bureaucrats and officials, along with the social media lynch mobs who boycott, harass and shame us, our constitutional rights are now increasingly optional. They mostly hinge on whether we are judged worthy by an unelected, politically correct and morally righteous elite.
In theory, American citizenship remains the same; in reality, it is disappearing fast.
SOURCE
************************************
IN BRIEF
ANOTHER ASYLUM DEAL: "The Trump administration signed an asylum agreement with the Honduran government Wednesday, marking the latest in a string of asylum deals with Latin American countries aimed at controlling the immigration crisis. The Department of Homeland Security announced it reached a deal with Honduran President Juan Orlando Hernandez, allowing the U.S. to send some asylum seekers from 'third' countries back to his country."
BORDER OBSTRUCTION: "The Senate again voted on Wednesday to end President Trump's emergency declaration on the U.S.-Mexico border wall, paving the way for a veto showdown with the White House," The Hill reports. "Senators voted 54-41 on a resolution to end the declaration, which Trump used to shift billions of dollars from the military toward wall construction." Senate Minority Leader Chuck Schumer claimed: "The vote [yesterday] is the surest and likely the only way to restore funding the president has stolen from our troops and military projects across the country." He didn't care to mention the jobs, money, and even lives that have been stolen from the American people as a direct result of illegal immigration.
A NEW SHERIFF IN TOWN: "A new national survey shows Elizabeth Warren now sitting atop the 2020 Democratic field, further cementing her ascendancy in the party's presidential primary after a pair of polls reported her leading in the first two primary states," according to Politico. "Twenty-seven percent of Democrats and Democratic-leaning independents polled by Quinnipiac University said they favor Warren, according to a survey released Wednesday morning. Twenty-five percent said they prefer former Vice President Joe Biden." Rep. Dan Crenshaw speculates: "This impeachment inquiry seems worse for Biden than it is for Trump. Now the Hunter Biden-Ukraine issue is on everyone's radar AND we know that Democrats overstepped with their 'quid pro quo' accusation. Have to wonder whether they did this to help Warren/Sanders."
CAREFUL WHAT YOU WISH FOR: "The marriage vow that usually involves a variation of 'for richer or poorer' may no longer apply. Women may now want to add 'as long as you make as much money as me.' It seems many men aren't getting up to the income level that women prefer in a potential marriage partner, according to the New York Post. That has left successful ladies single and disgruntled, according to a Cornell University study." (Fox Business)
SPENDING BILL PASSES: "The Senate on Thursday cleared a spending bill that will fund the government through Nov. 21, giving lawmakers and the White House more time to reach agreement on the annual appropriations process. The vote was 82-15, with all of the 'no' votes coming from Republicans. President Donald Trump is expected to sign the continuing resolution, holding off another partial government shutdown for at least 51 more days. But this could be the first of several stopgap bills amid tense debates about abortion policy and the border wall." (Roll Call)
REFUGEE ADMISSIONS LOWERED: "The Trump administration is proposing to resettle 18,000 refugees in the United States in the new fiscal year, reducing last year's record-low refugee admission ceiling by a further 40 percent. ... The final ceiling will be decided after consultation with Congress — as required by the Immigration and Nationality Act — but the Departments of State, Homeland Security and Health and Human Services, in a report on Congress, are proposing an 18,000 limit. That's by far the lowest since the modern U.S. refugee resettlement program began in 1980, when the Refugee Act was enacted." (CNSNews.com)
RECORD FOREIGN-BORN RESIDENTS: "The percentage of foreign-born U.S. residents has reached its highest level in more than a century, according to estimates from the 2018 American Community Survey released [yesterday]. A record 44.7 million people are foreign-born, or about 13.7% of the U.S. population. That's the highest rate since 1910 and comes amid a highly-charged political debate over whether the decennial Census survey should include a citizenship question. A subset of the foreign-born figure — the number of people in the U.S. but 'not a U.S. citizen' held at around 22 million in 2018." (Bloomberg)
**********************************
For more blog postings from me, see
TONGUE-TIED
,
EDUCATION WATCH INTERNATIONAL
,
GREENIE WATCH
,
POLITICAL CORRECTNESS WATCH
,
AUSTRALIAN POLITICS
, and
Paralipomena
(Occasionally updated),
A Coral reef compendium
and
an IQ compendium
. (Both updated as news items come in).
GUN WATCH
is now mainly put together by Dean Weingarten. I also put up occasional updates on my
Personal blog
and each day I gather together my most substantial current writings on
THE PSYCHOLOGIST
.
Email me
here
(Hotmail address). My Home Pages are
here
(Academic) or
here
(Personal). My annual picture page is
here
**************************