Trump is taking US down the path to tyranny (?)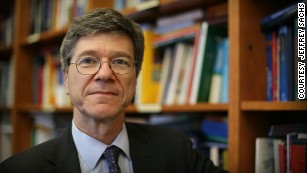 I rather like reading the writings of Leftist intellectual Prof. Jeffrey Sachs. He always sounds so calm and rational. But he is director of the Center for Sustainable Development at Columbia University so you know that he is also gullible and good at self deception. But he always puts up a plausible case for whatever he is pushing. He would probably convince most people who don't know the facts he leaves out. In true Leftist style he only tells half the story and runs very close to outright lies by what he leaves out.

I could challenge almost every sentence of what he writes below but I have no desire to clean out the Augean stables so will offer just a few comments on the first few paragraphs of his latest essay below.

How does he know that "Trump holds the grandiose belief that only he should rule America"? Does Sachs have a mind-reading machine?Is Sachs talking about the man who vowed to use his "pen and phone" to circumvent Congress? No. That was King Obama. Trump by contrast has been punctilious in wiping out regulations that tended to circumvent Congress. Trump is in fact very respectful of Congress.

Next we hear that Trump is good at keeping confidential the substance of sensitive negotiations? That is bad?

The next big laugh is that "Trump abrogated the Iran nuclear deal despite its unanimous support by the UN Security Council". The Security Council? How relevant is that? What about Congress? Congress did not ratify the so-called treaty so once again Trump is siding with Congress.

The next bit of Sachs deception is an outright lie: "Trump used executive authority without Congressional mandate to impose a travel ban on several Muslim-majority states". Congress HAD given Presidents that power years ago, a power that Obama used among others.

OK. One last bit of nonsense and I am done. "Trump changed the status quo regarding Jerusalem against the will of the UN Security Council and UN General Assembly." Once again Sachs quotes the United Nations instead of Congress. Trump was in fact simply obeying a law passed by Congress. Once again Trump went along with Congress rather than defying it. Sachs is talking a quite amazing heap of manure. It just keeps pouring out. He has got the truth exactly backwards. There is no truth in him. (John 8:44)

The United States was born in a revolt against the tyranny of King George III. The Constitution was designed to prevent tyranny through a system of checks and balances, but in President Trump's America, those safeguards are failing.
Donald Trump holds the grandiose belief that only he should rule America. Unchecked by cowed or complicit Republicans in Congress, Trump invokes executive authority to alter policies and practices long established by law and treaty.
Days after his summit meeting with Vladimir Putin, no one knows what the two autocrats agreed to, or even talked about -- not the President's top aides, nor the Pentagon, nor security establishment or Congress, never mind the rest of us. And in the midst of the ensuing uproar, Trump has invited Putin to Washington, without telling his top intelligence official and no doubt most other key aides and officials.
The list of one-man actions grows rapidly. Trump is single-handedly imposing hundreds of billions of dollars of tariffs -- that is, taxes -- on imported goods from key US allies and China, without any explicit or implicit Congressional backing.
Trump abrogated the Iran nuclear deal despite its unanimous support by the UN Security Council. Trump is in the process of imposing new and severe sanctions against Iran, including the cutoff of all of Iran's oil exports, against the international agreement with Iran and with no vote of Congress, presumably to try to topple the Iranian regime.
Not surprisingly, and perhaps as intended, Trump's drumbeat of belligerency triggered an ominous warning from Iran, and now an escalation from Trump, casting the increasingly ominous confrontation with Iran as yet another one-man Trump show.
Trump used executive authority without Congressional mandate to impose a travel ban on several Muslim-majority states; to announce the US withdrawal from the Paris Climate Agreement despite treaty-bound US obligations under the UN Framework Convention on Climate Change; and to change the status quo regarding Jerusalem against the will of the UN Security Council and UN General Assembly. Trump extended the stay of US troops in Syria without oversight or approval by Congress.
SOURCE
*********************************
Another win! Trump trumps the EU
President Trump struck a trade deal Wednesday with the European Union, reaping significant concessions as top E.U. officials moved to avoid an escalating tariff war with the U.S., according to early reports.
The deal involved the E.U. importing more U.S. soybeans, lowering industrial tariffs and working on an agreement to import more liquified natural gas (LNG) from America, according to a Dow Jones report.
The deal followed a high-stakes meeting between Mr. Trump and E.U. Commission President Jean-Claude Juncker.
The two leaders faced off over escalating dispute over tariffs and trade barriers that block U.S. goods. The big dispute is over cars, with Mr. Trump threatening massive tariffs on if for the E.U. didn't lower high tariffs on cars.
Expectations of the announced deal, with reporters summoned to the Rose Garden for an announcement, sent the stock market soaring. The Dow Jones Industrial Average climbed more than 170 points after being down about 50 points early in the afternoon.
SOURCE
********************************
Ignore Media's Trump Hysteria, Look at 'Remarkable' Things He's Actually Done
With the intensity with which those on the left despise President Donald Trump and his policies, and the constant barrage of negative news coverage about the president since he took office, you would think the country is on the verge of chaos.
If that were the case, can somebody explain why the stock market has surged roughly 41 percent from the night Trump won the presidential election to today?
After all, anyone with even a casual knowledge of the markets knows they are extremely sensitive to signs of uncertainty and turmoil. If we hear all of this noise from the media and Democrats about how the country is divided, facing an uncertain future and every other doomsday prediction, why isn't Wall Street paying attention?
Because Wall Street looks at things in a different light than most individuals. Money is not a Republican or Democratic asset. Who the president is doesn't trigger unrealistic emotions — either for or against.
Kevin O'Leary, noted investor and one of the stars of ABC's "Shark Tank," says when you cut through all of the noise surrounding Trump's presidency, he's doing some "remarkable" things to help businesses, specifically the cutting of regulations.
"I would say on a policy basis, I'm going to have to give it an 8 1/2 out of 10 so far," O'Leary told Hill.TV's Buck Sexton of the Trump administration's performance to date.
"The reduction of regulations has been remarkable in how it has accelerated small business," he said. "These things are quietly being changed, and I really — I credit the administration for doing this. They're making it easier to run a small business in pretty well every state I'm involved in. So that's working."
In an Op-Ed O'Leary penned for The Hill.com, he heaped more praise on the administration and said the markets are very confident in the president's economic plans.
Part of that confidence, O'Leary said, is based on looking at the facts of what Trump is doing in terms of fundamental business policies, not the emotions social issues generate.
"Trump is like no president before him: not good, not bad, but different," O'Leary wrote. "Want to manage through the turmoil? Here is a better strategy. Ignore the noise and watch the policy."
O'Leary credits Trump with putting in place competent economic managers such as Commerce Secretary Wilbur Ross, Director Larry Kudlow and Treasury Secretary Steven Mnuchin. O'Leary says deregulation and tax reforms are already a done deal, and trade is the next item on the agenda.
"Their message is clear: They are going to keep ratcheting up tariffs until the eurozone and China come to the table," O'Leary said. "They care about the North American Free Trade Agreement and the Asian trade protocol, too, but these have been pushed to the back burner while they focus on the big dogs, China and Europe."
The president is receiving steady criticism for his tough stances on trade, but if his policies were really that bad, the markets would reflect that, O'Leary said.
"So why has the market not corrected, and why have many stocks continued to hit all-time historic highs?" he asked. "Because the potential to equalize tariffs has such tremendous economic upside for the U.S. economy, investors are willing to put up with pain even if the chance of success is only 50 percent or less."
And the markets are willing to put up with a lot of pain if the payoff is worth it, O'Leary said.
"The markets know this is not going to happen overnight, but the upside is so enticing that it is willing to wait," he said.
O'Leary said that rather than judge a president or other politicians based on whether they have an "R" or "D" after their name, those in the business world know it's best to look at the steak, and not the sizzle.
"My best advice in these extraordinary times? Tune out the circus and focus on the policy that actually gets implemented," O'Leary said.
It's hard for critics of the president to tune out the circus when it seems to have taken up permanent residence in their heads. But you can bet there are some hardcore liberals who are embarrassed to admit just how nice their 401k statements have looked since Trump took office.
SOURCE
****************************************
Liberal war on work
Once upon a time, work for welfare was a pretty accepted notion. In 1996, Bill Clinton signed a strict workfare bill that was so popular, it helped him get re-elected. A Brookings Institute study by welfare scholar Ron Haskins proved those reforms moved more than half of those on welfare (mostly young single moms) into the workforce, and millions eventually gained economic self-sufficiency.
If ever there were a public policy triumph, this was it.
During Barack Obama's first term, those reforms were pretty much eviscerated. The recession was so deep the poverty lobby argued that there were no jobs for the welfare recipients to fill. Moreover, enrollment in the non-work requirement welfare programs, such as food stamps, Medicaid, disability and housing assistance, exploded.
Even as the unemployment rate fell, food stamps, Medicaid and disability enrollment remained at near-record highs. Is it a coincidence that during the Obama presidency, as welfare ballooned, workforce participation rates for those in the prime working ages fell dramatically?
The panoply of more than 20 welfare programs has become a substitute, not a supplement, for work. A Cato Institute studies showed that the full package of federal and state welfare benefits could deliver a family with more than $30,000 of benefits — tax and work-free. Why work?
Earlier this year, Republicans in Congress and the Trump administration tried to add a fairly modest work provision for able-bodied adults in the food stamps financing bill. Democrats en masse voted against the bill to stop workfare. This was more sad evidence that the "new Democrats" of the 1990s have vanished from the landscape.
Some Democrats have equated workfare to a form of "slavery." By the way, the hard left made these same kind of over-the-top accusations in the mid-1990s about the Clinton work requirements, predicting "blood in the streets" if the bill passed. There was no blood in the streets.
The latest chapter in this story comes in the form of a new study by the White House Council of Economic Advisers (CEA) report which finds that only about one in five able-bodied recipients of food stamps and Medicaid work full time. This is scandalous given that today jobs are plentiful and in most states employers are begging for workers.
"These low employment rates of non-disabled working-age recipients" the CEA report concludes, "suggest that legislative changes requiring them to work and supporting their transition into the laborforce for Food Stamps and Medicaid would have positive effects on work participation and self-sufficiency."
Liberals have denounced the CEA report by regurgitating the same discredited arguments used in 1996 that millions of Americans will lose their benefits and poverty rates will soar. Jared Bernstein, a former Obama economist, wrote that the proposal shows that Republicans care more about rich donors than poor people. The Daily Kos headline shouted that Republicans have replaced the War on Poverty with a "war on poor people."
The left says that pretty much everyone on welfare who can be working is working. Raise your hand if you believe this. Incidentally, the work requirement for food stamps that Republicans are pushing would only apply to about one-in-five on welfare. My view is that just because someone has a disability doesn't mean they can't contribute. This is like saying a girl can't throw a football. Nearly every town in America needs Uber drivers and I've often been picked up by "disabled" drivers.
What I don't get is why the left is so knee-jerk opposed to work. The CEA report makes a very valid point that there are "pecuniary and non-pecuniary gains" when people get off welfare and into work. There is dignity and pride in a job well done and earning a paycheck.
Not so in the moral and financial dead end of a welfare check. The left's latest idea to end poverty is to give every American a guaranteed family income. Mr. Trump wants to give everyone a job. The Democrats want to give the poor a fish. Mr. Trump wants to teach people to fish so they can eat for a lifetime. I suspect the American public is solidly behind Mr. Trump in this public policy fight and Republicans would be wise to double down on work requirements to convert welfare into a hand up, not a hand-out.
SOURCE
********************************
CA: Rearmed Pillage People Ride Again
Back in 1990, Gilbert Hyatt invented the first single-chip microprocessor, which earned him a lot of money, so he moved to Nevada, which has no state income tax. California's Franchise Tax Board (FTB) claimed Hyatt lied about his residency, and that he owed millions in state income taxes.
Despite a 2008 ruling in his favor by a Nevada court, FTB snoops kept after the inventor. By the time his case arrived at California's Board of Equalization last August, the FTB was claiming that interest had run up Hyatt's tab to $55 million. Trouble was, a 3-2 vote by California's Board of Equalization determined that Gilbert Hyatt was indeed a Nevada resident when state tax collectors said he lied about his residency.
So the BOE waived $5.7 million in fraud penalties and $5.7 million in taxes from 1992, That left Gilbert Hyatt with a 1991 tax bill of $1.9 million, including interest, a far cry from $55 million. California's pillage people didn't like it and are now deploying in new uniforms.
Governor Jerry Brown and the legislature gutted the BOE and empowered the Office of Tax Appeals, a new state agency. As Dan Walters of CALmatters reports, "the FTB is now trying to persuade the new agency to reopen the residency case." So Hyatt, who turns 81 this year, may be in store for more harassment on top of the many years he already endured. And he may not be the only target. As Walters also notes, in June the U.S. Supreme Court "granted the FTB's petition to decide whether Hyatt's successful harassment case in Nevada courts is valid."
New federal tax law limits the deductibility of California's state income tax, highest in the nation. Many will surely flee to low-tax states and Nevada's ruling in favor of Hyatt shows they will be welcome. That displeases California's rearmed pillage people, not exactly a gang of good losers. How this all shakes out for the tax refugees and Mr. Hyatt is uncertain, but for taxpayers some realities are clear.
Creating an innovative product people want to buy can earn an inventor lots of money. Those who want to keep most of the money they earn are not displaying greed. Greed is what motivates politicians to punish the productive with the nation's highest taxes. Greed is what motivates state agencies to waste millions of dollars pursuing revenues to which they are not entitled. As California's militant Franchise Tax Board and Office of Tax Appeals confirm, government greed is truly fathomless.
SOURCE
*********************************
For more blog postings from me, see
TONGUE-TIED
,
EDUCATION WATCH INTERNATIONAL
,
GREENIE WATCH
,
POLITICAL CORRECTNESS WATCH
,
AUSTRALIAN POLITICS
, and
Paralipomena
(Occasionally updated), a
Coral reef compendium
and
an IQ compendium
. (Both updated as news items come in).
GUN WATCH
is now mainly put together by Dean Weingarten. I also put up occasional updates on my
Personal blog
and each day I gather together my most substantial current writings on
THE PSYCHOLOGIST
.
Email me
here
(Hotmail address). My Home Pages are
here
(Academic) or
here
(Pictorial) or
here
(Personal)
***************************