Which was worse, WWI or WWII?
I understand that the death toll in WWI was greater than WWII but I am not going to base anything on that. Instead I want to submit that the major tragedy of WWI was the Bolshevik revolution and that the major tragedy of WWII was the holocaust. That is of course arguable but, given that, I think the answer is clear.
But first let me spell out why the Bolshevik revolution was attributable to WWI. There are two reasons. The first is that Germany deliberately and with malice aforethought transported the exiled Lenin in a sealed train across Europe to Russia. The German High Command rightly assessed Lenin as a major threat to the Russian war effort and therefore facilitated his trouble-making in that country as part of their own war effort.
Secondly, before the Bolshevik takeover, Russia had become a real parliamentary democracy. The Mensheviks were democrats who believed in elections. The overthrow of the Mensheviks during the war by the Bolsheviks was therefore a violent overthrow of democracy -- which resulted in many millions of deaths both then and across the next 70 years -- and also condemned the world's largest country to tyranny and poverty for all that time.
I am the last to minimize the death of 6 million Jews. But it seems clear to me that the Bolshevik revolution was much more widely harmful.
**************************
A leftist mind on display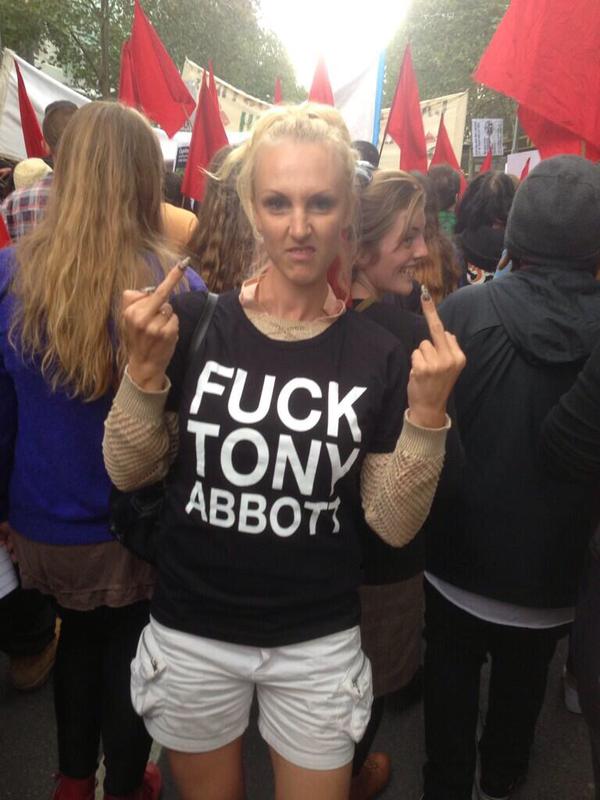 Feel the hate. The image is from Australia. Tony Abbott is the conservative Prime Minister of Australia
************************
Western press hasn't noticed Israel's rapidly growing clout around the world
"Two years from now, Obama will be gone, to be remembered as the worst president in American memory"
Benjamin "Bibi" Netanyahu's triumph in Israel's election this week, so shocking and appalling to the Western press, is many other things, too.
It is a recognition by Israelis of Netanyahu as the Churchill of our times, a statesman who stands apart from virtually all other Western leaders who, whether out of cravenness or wilful blindedness, downplay the gathering storm from Iran.
It is a repudiation by Israelis of those same Western leaders, who funded the "anyone-but-Netanyahu" campaign that tried to install in his place a compliant Jew to endorse their policies of appeasement.
And it is a back of the hand to monopolies and other special interests that oppose Netanyahu's march to freer markets. At root, Israelis understand that they're better off with Bibi.
Israel under the rule of socialist parties, which dominated the country's first half century of existence, was a country of heavy handed state control and of Big Labour — the Histradrut labour federation represented 85 percent of all wage earners in the 1980s. Under Netanyahu's influence, starting in the late 1990s with his first term as prime minister, Israel systematically began dismantling the welfare state, tackling both the social safety net and the vested corporate interests.
He sold off Israel's interests in state enterprises, abolished foreign exchange controls and otherwise liberalized the economy, attracting foreign capital and turning Israel into an entrepreneurial marvel that, according to The Economist, has the world's highest density of startups and, next to Silicon Valley, the largest number of startups. High tech companies now beat a path to this Start-Up Nation's door — an astonishing 250 from the U.S. alone have made Israel home to their R&D centres.
2014 set records for Israeli high-tech and biotech startups — 52 Israeli startups sold to the tune of some $15-billion plus 18 IPOs worth another $10-billion — according to end-of-year reports by accounting firm PricewaterhouseCoopers and Ethosia Human Resources, who expect 2015 to be even bigger. This January alone saw foreign giants such as Microsoft and Amazon shell out $900-million for companies rich in Israel's only abundant renewable resource: ingenuity.
The Western press, operating as it does from its echo chamber, likes to describe Israel as increasingly isolated in the world due to its supposed failure to make peace with the Palestinians. Israel has never been less isolated, never been more embraced. In its immediate neighbourhood, Israel for the first time has de facto allies in Egypt and Saudi Arabia, the leaders of the Arab Sunni world.
In black Africa, Israel now is tight with countries such as Nigeria, Kenya and Rwanda. In Asia, Israel is becoming tight with India, the world's largest democracy, and with China, the world's second largest economy, both of which are establishing free trade deals with Israel. Israel has been expanding trade with Japan, the world's third largest economy. And Israel has close relations with countries of the former East Bloc, including Russia, once a Cold War adversary, now a partner in countering Islamic terrorism.
The watchful Arab press knows exactly why Israel has become so welcome around the world, even if the blinkered Western press doesn't. As explained earlier this year in Al-Araby al-Jadid, a London-based Qatari daily, "Israel's advanced technology developments have become its most prominent soft power tool for boosting diplomatic ties and improving its position in the world, enhancing its own security in the process."
Because of Israel's prowess in both military and civilian fields, it explained, China is cozying up to Israel, India is relying on Israeli instead of U.S. weaponry, and African countries are supporting Israel at the United Nations. Also because of this prowess, Al-Araby al-Jadid expects to see countries that once diplomatically sided with the Palestinians to flip and take pro-Israeli positions.
Israel's technological prowess, and thus the welcome mat it now enjoys in ever-growing regions of the world, comes as a byproduct of Netanyahu's dismantling of the welfare state. That dismantling may now accelerate because in this week's election another dismantler shone — Moshe Kahlon, the Kulanu party leader who ran on an unabashedly pro-business, pro-competition "economic freedom" platform predicated on downsizing government while breaking up Israel's remaining public monopolies and private oligopolies. The Western press may be surprised to learn that Kahlon, who is widely expected to become Netanyahu's next finance minister, is considered centrist in Israeli politics.
Israel, once the darling of the Socialist Internationale, is fast becoming the darling of all but Socialist-leaning Europe, Iran and the ISIS wannabe set. Australia is stalwartly in Israel's corner; Canada's commitment to Israel is at an all-time high; America's remains as strong as ever, President Obama and the American left notwithstanding.
Two years from now, Obama will be gone, to be remembered as the worst American president in memory. Prime Minister Netanyahu will remain in power and on the world stage, to be seen as one of Israel's greatest prime ministers and one of the world's few true statesmen.
SOURCE
****************************
Sanctimony and Grandstanding Are More Fun Than Free Speech
By Ann Coulter
After police officer Darren Wilson fatally shot Michael Brown last summer in Ferguson, Missouri, the media erupted in terror at the prospect of young black men being gunned down by over-excitable white cops.
After two separate, wide-ranging, phenomenally expensive, months-long investigations, including one by Eric Holder's Justice Department, it turned out: Brown had attacked Officer Wilson, he did not have his hands up, he was charging the officer when he was shot, and Wilson acted in justifiable self-defense.
Frustrated at their inability to locate evidence of the endemic racism in America we keep hearing so much about, liberals have turned with a vengeance on the kids. Instead of armed policemen gunning down blacks, we got a secretly recorded video of few drunk 19- and 20-year-olds at the University of Oklahoma singing the n-word. (Everyone assumes the students were racists, but my theory is they were trying to record their own rap video.)
Apparently, the new national sport is destroying the lives of young people.
Today's adults are held responsible for nothing. The president and attorney general aren't held accountable for ginning up frenzied mobs based on a lie, leading to two cops being assassinated in New York City and two cops being shot in Ferguson, in addition to the $250 million in property damage.
Hillary Clinton isn't responsible for Americans being murdered at our embassy in Benghazi as a result of her incompetence.
Democratic senators aren't accountable for passing Obamacare without reading it, and Republican senators aren't accountable for promising voters they'd stop Obama's amnesty and then voting to fully fund it.
Even people who commit violent crimes are given a second chance – especially if they're athletes at the University of Oklahoma, as the Daily Caller has reported.
But 19- and 20-year olds must be punished without mercy for their drunken song using an ugly word. To quote Hillary Clinton, WHAT DIFFERENCE, AT THIS POINT, DOES IT MAKE?
Mr. Third Chance, David Boren, president of the university, proudly rushed to violate the First Amendment rights of these students. Even observers who condemned Boren's laughably unconstitutional move felt compelled to vilify the louts.
Protesters have shown up at the kids' homes in Texas to rail against their parents. (As always, I marvel at the protesters' ability to get so much time off of work.)
I don't remember adults caring this much about what college kids said when we were trying to get their attention with pompous editorials, manifestos and lists of demands. This wasn't a college thesis – and even a college thesis wouldn't be worth so much national angst. This was drunk college kids singing on a bus.
Is this the kind of society we want to live in, where a student can record his intoxicated friends singing a nasty song, and the whole country applauds the Nazi block-watcher and joins in the denunciation of his marks?
Liberals were hopping mad about Linda Tripp secretly recording Monica Lewinsky, but at least she was exposing the wildly felonious obstruction of justice by the president of the United States in a sex discrimination case. She wasn't recording Monica to prove the president had used a bad word.
But no one objects to the aspiring Stasi member recording his friends' drunken song, then broadcasting it to the world, allowing us a joyous round of universal condemnation.
Instead of judging society by the inebriated songs of 19- and 20-year olds, perhaps we should judge it by how cultural and political elites treat their young people.
SOURCE
********************************
Finally, A Bank Stands Up To Obama's Shakedown
After 16 banks caved in to White House demands to refund billions in losses to Fannie Mae and Freddie Mac, one outlier remains unrepentant. Nomura Holdings refuses to succumb to the political shakedown.
The Japanese bank's U.S. unit won't give in to the extortionist regulators protecting Fannie and Freddie who claim it hoodwinked the toxic twins into buying pools of subprime mortgages, like it claimed Bank of America, JPMorgan and other U.S. banks did in the run-up to the mortgage crisis.
The government demands $1 billion in damages. Nomura says it won't give a dime toward the $18 billion ransom the feds already have shaken out of other banks who settled with the Federal Housing Finance Agency. Instead, it will make government prove it in court.
In opening arguments this week, the defendants argued Fannie and Freddie bought the mortgages knowing they were subprime and did so to meet "affordable housing" quotas of their political masters at HUD.
Unfortunately for Nomura, the game is rigged. The federal judge hearing the case — Clinton appointee Denise Cote — is a ringer for the administration.
In recent filings, Cote has shown extreme prejudice in her decisions — virtually all rendered against Nomura.
Even though she concedes that, in buying subprime securities from Nomura, "Freddie Mac considered the extent to which the underlying mortgage loans satisfied these housing goals," Cote claims such evidence is "immaterial" to the case. She argues the regulatory mandates, purchasing quotas and other political pressures heaped on Fannie and Freddie were merely "idiosyncratic" and therefore irrelevant.
Please. The HUD goals are highly relevant to this case. Internal documents from both HUD and Fannie and Freddie show the goals were driving them deeper into the subprime securities market and both complained about a growing risk of losses. So clearly, they understood the risks. There was no "misrepresentation."
And if they failed to perform the proper due diligence, it's because it wouldn't have mattered — they had to buy risky subprime securities to meet HUD quotas for loans to low-income borrowers with bad credit. They were culpable in the recklessness, and therefore culpable in the losses they suffered when those loans defaulted. Nomura shouldn't be on the hook for those losses.
In its defense, Nomura plans to call former Fannie and Freddie officials, including former Fannie CEO Daniel Mudd, to testify about how it was Fannie and Freddie who on orders from HUD lowered underwriting standards, not Nomura.
SOURCE
*****************************
Guess What Canada's Oh-So-Wonderful Single-Payer System Doesn't Cover?
Canadian Alheli Picazo is a writer and former elite gymnast who has suffered from a severe digestive tract problem. Her condition caused her to suffer "from severe acid reflux. This wore down the enamel of her teeth and caused the equivalent of osteoporosis in her oral cavity.
The 30-year-old needs urgent oral surgeries, including bone and tissue grafts, to remove and replace what she described painfully as 'the increasingly diseased bone.'" Unfortunately, "Picazo has to wait until she can amass the $100,000 needed to pay for the procedures" because Canada's system does not cover dental care.
The article, which appeared in Vox, noted that "This is similar to a gap in Obamacare: health plans on the exchange aren't required to offer dental coverage." Guess what? There is another plan in the U.S. that doesn't cover dental care. Here's a hint: it's the program that activists point to when they want to promote single-payer here in America.
SOURCE
*****************************
For more blog postings from me, see
TONGUE-TIED
,
EDUCATION WATCH INTERNATIONAL
,
GREENIE WATCH
,
POLITICAL CORRECTNESS WATCH
,
AUSTRALIAN POLITICS
, and
Paralipomena
(Occasionally updated) and
Coral reef compendium
. (Updated as news items come in).
GUN WATCH
is now mainly put together by Dean Weingarten. I also put up occasional updates on my
Personal blog
and each day I gather together my most substantial current writings on
A WESTERN HEART
.
List of backup or "mirror" sites
here
or
here
-- for when blogspot is "down" or failing to update. Email me
here
(Hotmail address). My Home Pages are
here
(Academic) or
here
(Pictorial) or
here
(Personal)
****************************