NY Post cover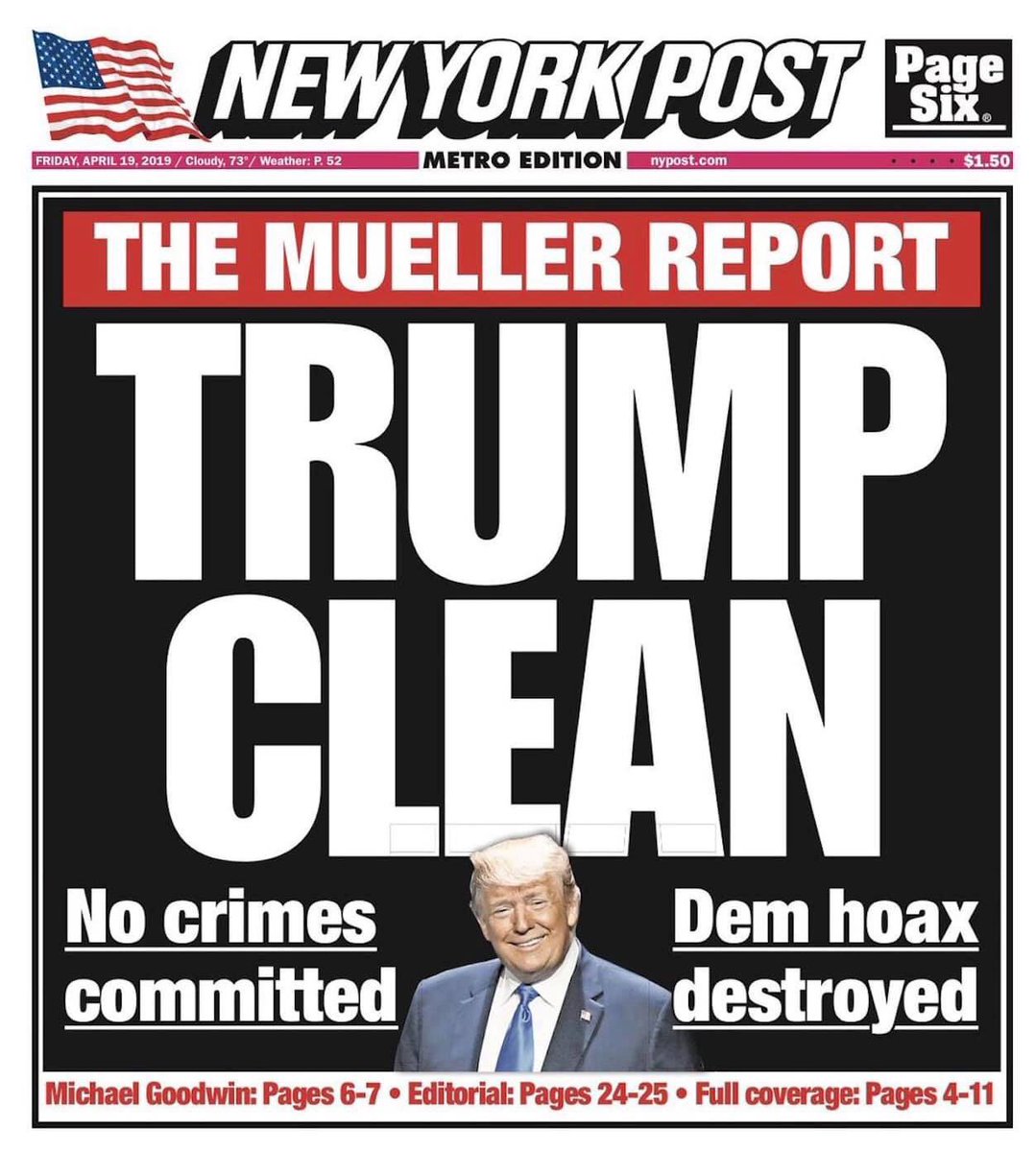 President Trump tweeted an image of Friday's New York Post cover, which had the bold headline, "TRUMP CLEAN."
The cover followed Thursday's release of the Mueller report and teased an editorial that began, "Not guilty. Of collusion or obstruction. That's essentially what the Mueller report… confirms."
Minutes after the Saturday evening tweet, the president retweeted White House social media chief Dan Scaviono, who wrote: "I am with the President at the Southern White House, I have never seen him happier!"
SOURCE
Trump says he was so happy because America was doing so well. But the Mueller report must have been a great relief for him. That he bore the most ferocious attacks for two years is an amazing testimony to his psychological strength and amazing evidence of the evil that was hurled at him. He deserves every bit of the relief he felt. What he endured would have crushed a lesser man. And through it all he still made a big difference
***************************************
Those imprisoned for breaking laws should have no say in making laws
by Jeff Jacoby
IN THE WORLD according to Bernie Sanders, billionaires, insurance companies, gun owners, and Wall Street have too much political power.
But criminals don't have enough.
During a campaign stop in Iowa on Saturday, the Vermont senator and 2020 presidential hopeful declared that convicted felons should have the right to vote. In his view, murderers and armed robbers ought to be allowed to participate in elections — not just after their prison sentence is completed, but even while they're behind bars.
"I think that is absolutely the direction we should go," Sanders told an audience at the West Middle School gymnasium in Muscatine. "You're paying a price, you committed a crime, you're in jail. . . . But you're still living in American society and you have a right to vote. I believe in that, yes, I do."
It's a daft idea, though to be fair to Sanders, it isn't unheard-of — his own state of Vermont, as well as Maine, allow imprisoned felons to vote. But those are outliers. In the other 48 states and the District of Columbia, people locked up for breaking laws don't get to play a role in making laws. Rapists and embezzlers serving time are excluded from electing legislators and statewide officeholders. Convicted burglars, sex traffickers, and racketeers may not vote on ballot initiatives and referendums.
Vermont and Maine are the safest states in the nation, which perhaps explains their lackadaisical attitude about giving political power to prisoners. Everywhere else in America, it is understood that when you are convicted and sentenced to prison for a serious crime, you lose certain rights: the right to liberty, the right to assemble freely, the right to bear arms, the right to privacy — and the right to vote. Criminals are locked up because they are deemed unfit to live among their fellow citizens and join in normal civic life. The harm they caused to their victims and the damage they inflicted on their community disqualify them from being treated as legal and political equals.
Society punishes convicted felons by denying them control over their own affairs. Permitting them to exercise control over society's affairs by voting would be not only irrational, but unjust. Incarcerated criminals should not have a say in shaping criminal law. Rapists should not be allowed to dilute the vote of rape victims. The crook sent to prison for election fraud has no business taking part in the next election.
Massachusetts used to be like Vermont and Maine; it not only permitted felons to vote while in prison but even to organize voter registration drives and run for office. When a group of inmates at the state prison in Norfolk launched a political action committee in 1997, the public was galvanized into action. In 2000, by a nearly 2-to-1 ratio, voters adopted an amendment to the state constitution, stripping incarcerated criminals of the right to vote. That brought Massachusetts into line with nearly every other state.
One state senator wants to yank Massachusetts back out of line.
Echoing Sanders' call for enfranchising prisoners, state Senator Adam Hinds of Pittsfield has introduced a proposal to repeal the 2000 amendment and once again authorize prison inmates to participate in state elections. "I feel it's incumbent . . . to dismantle laws and policies that reinforce inequality and unequal rights in this Commonwealth," Hinds told a hearing of the Legislature's Election Law Committee. He draped his proposal in rhetoric about "overincarceration" of "communities of color," but that is largely a red herring. Whites make up by far the largest share of Massachusetts prisoners, according to the Massachusetts Department of Correction. There may be legitimate concerns about race when it comes to policing and prosecution, but there is no insidious racial motive in denying felons the vote. The only class the 2000 amendment was designed to discriminate against is convicted criminals.
Like the right to travel freely or the right to own a weapon, the right to vote is a meaningful component of citizenship in our democracy. In the American system, those who commit serious crimes are penalized with the loss of many rights that law-abiding citizens take for granted. "You're still living in American society and you have a right to vote," Sanders told his Iowa audience, but he was wrong. Felons locked in prison are not living in American society. It is precisely their punishment to be taken out of society, and deprived of the privileges of self-government.
Not everyone gets to vote. For good reasons, there is no suffrage for children or for non-citizens. For equally good reasons, there is none for criminals behind bars. If felons want to vote, let them break the law in Vermont.
SOURCE
*********************************
IT BEGINS: Republican Governor Will Sign Bill That ABOLISHES 'Columbus Day'
Phil Scott, ever heard of him? He's the Republican governor of Vermont. Winning a GOP spot in the state of Bernie Sanders can't be easy, yet Scott needed to make it clear that he's not exactly proud of his country.
Phil is set to sign a bill that abolishes "Columbus Day," just like New Mexico and South Dakota have already done.
The bill to dump the traditional holiday passed through the state legislature in Montpelier on Wednesday and is now on the governor's desk waiting for a signature, the Burlington Free Press reported. "I see no reason that I would not sign it," Scott told the media, "but we're reviewing the bill as we speak."
"I know it's controversial from many standpoints, from many people, but you know, it's just a day, and we'll get through it," Scott added. "And we've been treating it as something different over the last couple of years through resolutions. Without any technical difficulties within the bill, I'll probably sign it."
Alaska passed an "Indigenous Peoples' Day" resolution in 2017 but had never officially recognized Columbus Day in the first place.
SOURCE
*************************************
After 'No Collusion' Fail, Guess How Many Times The Media Mentioned Impeachment In One Day?
Oh, the liberal media. When will they stop with their incessant and blatant spinning?
After the Mueller report was released on Thursday, it appears as though the media went into serious disaster-management after word was received that there really was no collusion between Team Trump and the Russians.
So what was the focus of the myriads of reporters faced with this dilemma? Impeachment. (yawn) And just how many times did they utter that silly phrase?
309 times.
As reported by Newsbusters: Although the Mueller report did not recommend any charges against the President, liberal journalists on cable and broadcast networks spent Thursday suggesting to audiences that impeachment was imminent, if not inevitable. Throughout Thursday afternoon and Friday morning, liberal talking heads on cable and broadcast news networks mentioned impeachment an astonishing 309 times during their coverage the of the newly-released Mueller report.
Are you serious? 309 times?
You would think that after the Mueller report, a phrase with that high of a number of utterance would be "no collusion."
But leave it to the Democrats to focus on damage control, rather than the truth.
So which media outlets feel it necessary to do such shameless spinning, according to Newsbusters? In total, the word came up 309 times, with the vast majority (286) coming from cable networks CNN (148) and MSNBC (138).
This study looked only at the 18 hours of regular daily programming, thus excluding any coverage that took place between midnight and 6:00 a.m. EDT Friday morning. An updated count of the full 24 hours is pending. Those numbers also did not include cases in which the term was uttered by politicians or other explicitly partisan actors, such as Trump attorney Jay Sekulow.
CNN's Wolf Blitzer and MSNBC's Lawrence O'Donnell were particularly keen on discussing the prospect of impeachment. The term appeared a whopping 34 times during the one-hour The Last Word with Lawrence O'Donnell. Interestingly, journalists also mentioned impeachment 34 times on Blitzer's The Situation Room, but over the course of two hours, between 5:00 and 7:00 p.m. EDT.
It's quite possible that their own redundancy started to annoy the viewers, which is why yet another phrase started to emerge as the day continued on:
By the early afternoon, numerous pundits had begun referring to the Mueller report as "a road map for impeachment." CNN's Dana Bash used that catch phrase twice during the 12:00 p.m. EDT hour: "What he did here, as Pamela just laid out, is a road map, a ten-episode road map for really serious consideration for impeachment." Hours later, MSNBC's Chris Hayes opened his show with the same terminology.
But luckily for them, not all of the Democrats are guilty of this sin-of-spin. Yes, every once in a while someone steps up and does the right thing.
Because of this, we need to throw a bone to the congressional Democrats who had the good conscience to not jump on the impeachment-wagon, as Newsbusters reported.
For their part, congressional Democrats did not appear keen on discussing impeachment. The closest any member of that party came to actually endorsing the idea on Thursday was when House Judiciary Committee Chairman Jerry Nadler was asked about the option during a press conference: "That's one possibility. There are others."
So there are at least SOME Democrats who are operating in good conscience. Too bad they aren't the ones who run the Fake News Media.
SOURCE
*********************************
BIG LEAGUE! Trump Smashes Another Economic Record, But The Media Could NOT Care Less
Another day, another economic record for the Trump administration. This one involves unemployment benefits hitting a 50-year low.
Those last two sentences alone should be enough to get the mainstream media to report, but they're more concerned about getting 45 out of office than anything else.
U.S. employment numbers continue to get better. Data released yesterday showed the number of Americans filing for unemployment benefits fell to its lowest in almost 50 years last week.
Why it matters: More important than the single print was the direction of the trend. The 4-week moving average of initial claims fell to 201,250 last week, the lowest reading since November 1969.
Will the mainstream media care to report?
Of course not. They are far too concerned about impeaching a president who has been exonerated of colluding with Russia because that is what truly matters.
The left does not want unity. They want division until they have complete control.
Americans are increasingly foregoing unemployment benefits as the job market remains strong and the economy shows signs of acceleration.
The initial claims of jobless benefits dropped to 192,000 in the week ending April 13, down 5,000 from the week before (pdf). That means less than 59 out of 100,000 Americans applied for the benefits—a record low. Economists had forecast claims would rise to 205,000 in the latest week.
Meanwhile, retail sales in March increased by 1.6 percent—the most in 18 months—as households boosted purchases of motor vehicles and a range of other goods, the latest indication that economic growth picked up in the first quarter.
When President Trump mentioned that black, Hispanic, and Asian unemployment has hit record low levels at the 2019 State of the Union address, Speaker Nancy Pelosi (D-CA) did nothing. She didn't stand. She didn't clap.
For Republican voters, the answer is simple. All you have to do is check President Trump's name on election day, 2020. Nobody else stands a chance.
SOURCE
****************************************
Thanks Mueller! Trump Campaign Gets FLOODED With Donations After Russia Report Shows No Collusion
On Thursday, the full un-redacted version of the Mueller report was released by Attorney General Bill Barr that proved President Trump in no way colluded with the Russian government.
In the 24 hours after the report's release, the Trump Campaign saw an increase in donations of 250% which totaled $1 MILLION dollars. Thanks Robert Mueller!
"The release of the full Mueller report directly led to the campaign raising more than $1 million. Relative to our recent daily average, the Mueller news drove a 250 percent increase in fundraising from grassroots donors," Trump campaign's COO Michael Glassner said.
The Trump Campaign was able to pull the bulk of the donations through a video that hammered the Democrats, titled "Now it's time to investigate the investigators."
According to the New York Post, "The video also asked supporters to check a page where they could donate $28 for a limited-edition "I SPY TRUMP TEE," which pokes fun of President Barack Obama's official painting — the one where he's surrounded by plants — and instead shows Obama hiding in those bushes with binoculars spying on Trump."
This boost in campaign donations has propelled the total campaign donations amount to over $40 million and has boosted their total amount raised since January of 2017 to over $97 million. The Trump Campaign has set a very high goal of $1 billion in donations by the time that the polls open in 2020.
Trump's camp and the White House has reveled jubilantly in the report's release since it emerged on Thursday.
Trump's campaign has raised more than $97 million since 2017. After expenses, he has a little over $40million
Most of Trump's re-election campaign money came from the first quarter in 2019 when he raised $30million. He had $10million to start the year off with.
The majority of the donations (nearly 99 percent) in Q1 were $200 or less.
Trump's fundraising far surpasses the other candidates who are running in 2020.
Bernie Sanders has the second highest amount with a little over $17million and John Delaney has $10million. Elizabeth Warren has $11million.
One of the most important donation statistics was the fact that 99% of Quarter 1 donations were of $200 or less. This means that we aren't seeing a few very rich people donating large amounts of money to the campaign and instead, we are seeing a very large amount of middle class donations considering most donations made are under $200. This shows the strength and support from the Trump base.
SOURCE
*******************************************
For more blog postings from me, see
TONGUE-TIED
,
EDUCATION WATCH INTERNATIONAL
,
GREENIE WATCH
,
POLITICAL CORRECTNESS WATCH
,
AUSTRALIAN POLITICS
, and
Paralipomena
(Occasionally updated), a
Coral reef compendium
and
an IQ compendium
. (Both updated as news items come in).
GUN WATCH
is now mainly put together by Dean Weingarten. I also put up occasional updates on my
Personal blog
and each day I gather together my most substantial current writings on
THE PSYCHOLOGIST
.
Email me
here
(Hotmail address). My Home Pages are
here
(Academic) or
here
(Pictorial) or
here
(Personal)
**************************