No, Melania's Christmas Selfie Was Not 'Offensive,' and She Did Not Deserve the Attacks on her
Being good-looking has its perils -- particularly with envious people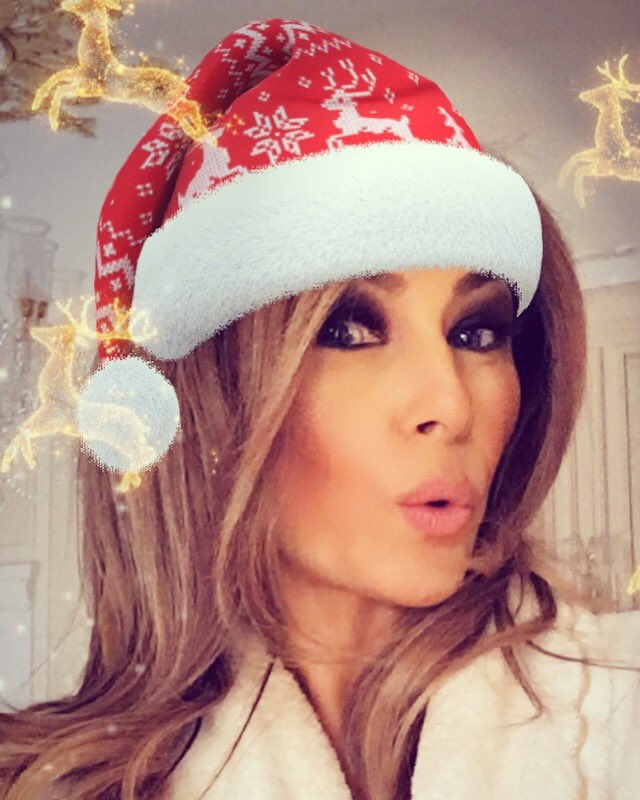 Melania Trump did a lot this Christmas. But perhaps nothing captured people's attention on social media more than a cheeky tweet she made using a Snapchat filter with golden flying reindeer and wishing everyone a #MerryChristmas.
It got 80,000 likes as of this writing and was retweeted 14,000 times. People seemed to enjoy the fun of it.
But then those on the Left made it their duty to smear Melania as a horrible First Lady for posting the innocent image.
They mocked and bullied her until the cows came home, attempting to use the innocent gesture as proof that Melania was a horrible First Lady and role model for our nation's youth.
"Disgraceful for a First Lady, Christmas or not. You look like a model on a photo shoot for the front page of Hustler. I'm sure the elderly and poor will appreciate this photo given how you and hubby don't care about them, only your millionaire friends at Mar-a-Largo"
From Ib Times:
"Seriously Melania??? That photo is excessively TACKY!!! Zero class in this," a critic shared, calling out the First Lady over the Christmas selfie that was shared on the official Flotus twitter and Instagram account.
"Incredibly tacky and an insult to the position of First Lady. #embarrassing #trumpban," a second user tweeted, as someone else chimed in, "Are you the FLOTUS or a Kardashian? Good Lord."
More:
A critic sarcastically added, "wow! Extremely First Lady-ish! How I miss Michelle Obama!" Speaking of sarcasm, some social media users didn't even hesitate to use harsh words to criticise the First Lady's latest selfie.
"Why do I immediately think that this is a cover of a "Playboy" magazines?" One follower of the Flotus shared in the comments section, to which another responded, "Because it looks exactly like the cover of a Playboy Magazine. Just a guess."
But the last laugh may be on the critics. A recent Gallup poll put Melania's favorability rating at 54 percent so it's not hard to see that she gets a lot of attention.
Melania and her husband, President Donald Trump are celebrating the holiday at Mar-a-Lago.
They went to a Christmas Eve service at The Episcopal Church of Bethesda-by-the-Sea, the church where they had been married in 2005. They were greeted with open arms and received a standing ovation.
SOURCE
******************************
Attorney General Jeff Sessions praised for opening Uranium One probe
Americans for Limited Government President Rick Manning today issued the following statement praising Attorney General Jeff Sessions for reopening the Uranium One matter:
"Various reports that the Attorney General has ordered a review of the facts surrounding the sale of Uranium One to Russian interests demonstrates that not only will internal determinations about legality of the sale be examined, but potential conflicts of interests of those involved. Also, whether information was deliberately withheld from the Committee on Foreign Investment by the Justice Department. And if Hillary Clinton had any culpability in the process of the sale.
Given that many of the same Department of Justice officials now overseeing major investigations at the department were a major part of the Rosatom subsidiary Tenex (the Russian atomic energy agency) corruption case, it is important to determine what, if any, Russian ties and conflicts they might have had.
"The Uranium One case has achieved notoriety in recent months as an FBI whistleblower has come forward with serious allegations of malfeasance in the handling of the case as persons affiliated with the deal gave approximately $145 million to the Clinton Foundation, while former President Bill Clinton received $500,000 for a speech to a Russian investment firm involved in the sale.
"Attorney General Sessions is right to look into these matters to ensure that the public interest and law were followed throughout the process in light of very credible whistleblower allegations."
SOURCE
****************************
The New York Times Left Socialism's Role Out of Its Report on Venezuela's Devastation
Kudos to The New York Times—yes, The New York Times—for running an excellent, detailed story on the mass starvation and economic catastrophe taking place in Venezuela.
As the Times notes, Venezuela has the largest known oil reserves in the world, yet is going through a starvation crisis exacerbated and hidden by its own government.
Common items like baby formula are almost unattainable for the average person and the crisis is deepening.
Alas, missing from the Times analysis is nearly any discussion of the reality that Venezuela is a socialist country once praised by America's liberal elite.
In fact, only a single mention of the ruling socialist party near the end of the piece can be found.
Venezuela was once praised by left-wing pundits—including in the Times' opinion section—for being a model of glowing success.
In fact, scoffing at claims of Venezuela's alleged mismanagement under then-President Hugo Chávez, one New York Times contributor wrote in 2012:
Since the Chávez government got control over the national oil industry, poverty has been cut by half, and extreme poverty by 70 percent. College enrollment has more than doubled, millions of people have access to health care for the first time and the number of people eligible for public pensions has quadrupled.
Less than half a decade later, the collapse has come. Venezuelan President Nicolás Maduro, who once published an op-ed in The New York Times, has made himself a dictator as the country faces runaway inflation reminiscent of Zimbabwe.
Venezuela's inflation spiked to 4,115 percent at the end of 2017, according to a CNN Money report, leading more than one economist to conclude that the country's economy is in a "death spiral."
So how did Venezuela get here?
The answer is that socialism, as always, ends with running out of other people's money.
James M. Roberts, the research fellow in economic freedom and growth at The Heritage Foundation, wrote about how dysfunctional policies such as nationalizing industries and redistribution schemes have destroyed a once thriving country.
The private economy has been almost completely wrecked, and is now unable to meet even the most basic demands of the population.
But it isn't just socialist policies that have led to this catastrophe. Venezuela is one of the most corrupt countries in the world and has very little economic freedom.
Roberts wrote: "Venezuela's score in the Transparency International Corruption Perceptions Index makes it the most corrupt country in the Western Hemisphere, and helped drag the country to the bottom of The Heritage Foundation's annual Index of Economic Freedom, too."
As Heritage's Latin American policy analyst, Ana Quintana, noted in The Hill, Venezuela's leaders have managed to secure for themselves absolute power and wealth through repressive government actions and turning their country into a criminal enterprise.
Their leaders are "directly involved in corruption, the drug trade, human rights violations, and support for terrorist groups," Quintana wrote.
For instance, the current Venezuelan vice president, Tareck El Aissami, was designated by the U.S. Treasury as drug kingpin with connections to Islamist terrorist organizations. He's been hit with heavy sanctions by the Trump administration, but is a good example of the kinds of problems that pervade Venezuela's government.
He's only one of many.
Despite egalitarian socialist rhetoric, Venezuela's ruling class has managed to both enrich itself and protect that wealth at the expense of the public.
With outright corruption rampant, promises of material care by a benevolent state can seem appealing as an alternative to "capitalism" when capitalism is simply defined as cronies in government working with cronies in big business for their own benefit.
Alas, like in George Orwell's "Animal Farm," the new overlords end up being just like the old ones, or worse.
The rule of law and a free economy have generally combined to form the secret sauce of a flourishing economy.
Lacking both, Venezuela has somehow squandered a gold mine—or oil reserves to be more literal—in its downward descent into bankruptcy, tyranny, and mass starvation. Being oil rich has only masked the deep dysfunction under the surface of the Venezuelan regime.
Perhaps this should be a sobering wake-up call to millennials who in worryingly large numbers say they'd rather live under socialism or communism rather than capitalism.
Socialism's failures in the last century should be enough to disabuse Americans of any notion that this broken political philosophy, which runs counter to human nature, is in any way the answer to our problems.
But if history fails to be a guide, then the modern demonstration of yet another socialist country immolating itself, starving its people, and destroying any measure of real democracy should be evidence enough.
SOURCE
******************************
Trump slams FBI, Obamacare in post-Christmas tweets
PALM BEACH, Fla. — After a quiet Christmas Day, President Trump was back at work Tuesday — on Twitter.
Trump began his day criticizing the FBI and claiming the now-famous dossier containing allegations about his connections to Russia and possible coordination between his campaign and the Kremlin is a ''pile of garbage.'' Trump, who is vacationing at his private estate in Mar-a-Lago, appeared to be watching and quoting from the morning cable news show ''Fox and Friends'' while tweeting.
''WOW, @foxandfrlends 'Dossier is bogus. Clinton Campaign, DNC funded Dossier. FBI CANNOT (after all of this time) VERIFY CLAIMS IN DOSSIER OF RUSSIA/TRUMP COLLUSION. FBI TAINTED.' And they used this Crooked Hillary pile of garbage as the basis for going after the Trump Campaign!,'' Trump tweeted.
The Hillary Clinton campaign and Democratic National Committee helped fund the dossier, which was first published by BuzzFeed. Officials have said some of the information has been corroborated, but other parts — including the most salacious claims about Trump — remain unverified.
SOURCE
********************************
For more blog postings from me, see
TONGUE-TIED
,
EDUCATION WATCH INTERNATIONAL
,
GREENIE WATCH
,
POLITICAL CORRECTNESS WATCH
,
AUSTRALIAN POLITICS
, and
Paralipomena
(Occasionally updated), a
Coral reef compendium
and
an IQ compendium
. (Both updated as news items come in).
GUN WATCH
is now mainly put together by Dean Weingarten. I also put up occasional updates on my
Personal blog
and each day I gather together my most substantial current writings on
THE PSYCHOLOGIST
.
Email me
here
(Hotmail address). My Home Pages are
here
(Academic) or
here
(Pictorial) or
here
(Personal)
***************************